Tile adhesive for exterior work
Cracked or fallen off tiles on the façade are not uncommon for our regions. Such a picture can often be observed. The reason for this situation is not the climatic features of our region, but the wrong glue that was used during the installation process. So that you do not have such a situation, we will learn to choose tile adhesive for exterior work.
Features
When it comes to laying tiles on the street, there is a need to use a special glue. Different requirements may be imposed on it, which is determined by the particularity of the facing works and the conditions in which the object will be operated. But one thing remains the same: the glue must be frost-resistant. This requirement is dictated by the characteristics of the region in which we live. For all outdoor works that require the use of tile adhesives, a cold-resistant mixture is required.
This feature is achieved through the addition of additives. These components do not allow water molecules to expand under negative temperature conditions. With ordinary glue, the water expands during freezing, the coating peels off, which leads to lagging of the tile or covering its surface with cracks.
In addition to frost resistance, a number of requirements are imposed on tile adhesive, which is selected for outdoor use:
high strength properties;
high ability to adhere to various surfaces;
resistance to deformations caused by exposure to negative temperature.
Varieties
Tile adhesive for exterior work is available in a wide range of varieties. Due to such a rich choice, you can easily choose a mixture for a specific purpose.
This requires at least a little understanding of the adhesive mixtures that are used for street work.
Versatile materials with the same success can be used for interior decoration and installation of tiles on the street. The only limitation concerns the size of the tile - no more than 30x30 cm. If large elements are used, the strength of their fixation on the surface will suffer.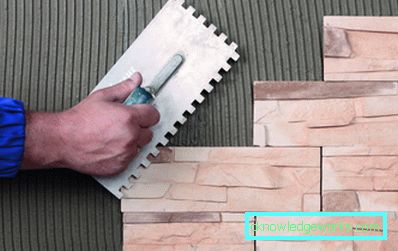 Reinforced options are also suitable for internal and external work. In their composition there are special components that are responsible for high adhesion strength. They cost, as a rule, more expensive. The need to purchase them is available when working with natural stone. It is better to finish the floor with such mixtures, although they can also be used on other surfaces. Reinforced tile adhesive is able to cope with high loads and pressure, temperature changes and high humidity conditions.
Waterproof glue is relevant when finishing surfaces that are in constant contact with water. The composition contains additives that do not allow pathogenic and harmful organisms to develop on the surface. The basis of the composition is white cement. This feature allows the use of moisture-resistant adhesive composition for working with transparent materials and in the process of laying mosaic with a translucent structure.
Frost-resistant adhesive material is a very popular variety. Such compounds can withstand low temperatures, immune to temperature extremes, sunlight and atmospheric loads. These mixtures contain additives that allow the glue to withstand high negative temperatures. Laying facade and paving tiles with such glue can be carried out even in winter at -15 degrees.
Heat-resistant adhesive materials are used for finishing fireplaces and stoves. They are able to withstand high operating temperatures and at the same time maintain their performance characteristics in full.
Transparent blends are suitable for laying tiles that have a transparent or translucent structure. It is convenient to use such compositions for working with stained glass.
Manufacturers
Although the market of adhesive tile compositions for outdoor work is rich in manufacturers, but not all of them can be trusted with their choice.
We have made our rating and selected the most reliable and conscientious manufacturers who produce high-quality product.
Ceresit - a company that offers an extensive range of building mixes. There are in this list and tile adhesives for outdoor work. Separately, it is worth noting two mixtures: CM 17 and CM 117. The first composition is characterized by high adhesion, good elasticity and cold resistance, which is able to withstand about a hundred cycles. For artificial ceramic granite there is no better glue. Installation work can be carried out at temperatures from -50 to +70 degrees. The second option is suitable for working with many varieties of facing materials. Only heavy marble does not fit. Many experts use this material for lining pools. Frost resistance exceeds 100 cycles.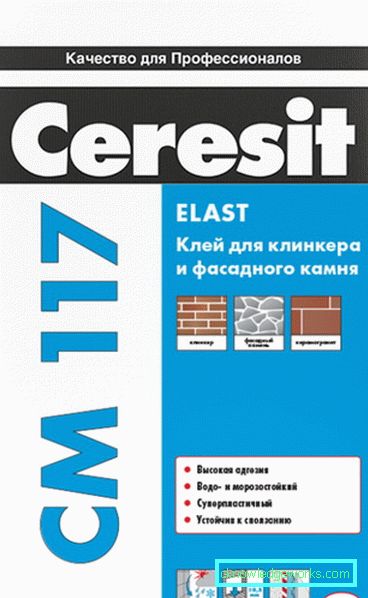 Knauf - Another popular manufacturer, which is preferred by many experts. Although the cost of the compositions of this brand is not low, but for the quality of this level it is not a pity to give money. These compounds exhibit good adhesion to many materials. With their help, you can install not only ceramic tiles, but also stone and porcelain stoneware. For a bag of such glue will have to pay about 500 rubles.
Not bad, but not so good is glue Unis 2000. Many characteristics are similar to the previous two compositions, but frost resistance is only 40 cycles.
Tile adhesive mixture "Will base Starpliks T-11" not as popular as Ceresit, but that doesn't make it worse. The advantages of this material include good resistance to high humidity and high frost resistance. Due to this set of characteristics, the adhesive can be considered universal. And also its affordable price makes me happy
The world famous brand received building mixes Vetonit ("Vetonit"). A rich assortment, a wide selection, impeccable quality - reviews about this product have something like this. It will be very difficult to find a negative characteristic from a real user who was left disappointed after using Vetonit glue. The cost of such products is different. The most affordable option costs about 200 rubles per bag, the cost of other mixes reaches 600 rubles.
Secrets of work
This is not such an easy thing - to lay tiles on the street.
Here you need to know about the intricacies of the work and follow a clear plan.
We prepare the working basis which will be revetted further. The essence of the preparation is to clean the surface, leveling it and processing the primer.
In accordance with the instructions, it is necessary to prepare a solution. The instruction is placed on the package, it is impossible to deviate from it and make your own corrections, since the glue may lose its properties.
With the help of a special notched trowel, the solution is distributed over the surface prepared in advance.
Before laying the clinker, ceramic or other tiles, the applied layer of glue mass must be "ironed". This secret is used by many experienced workers. The essence of this process is to coat the glue with a thin layer of cement. In this case, the cement will bind water that is released from the mixture while the tile is tapping, which will increase the strength of the joint.
PVA is sprayed onto the back side of the tile; if it is not at hand, you can choose ordinary cement. The tile is wetted, and cement is poured on top.
All further actions are similar to those that are produced with the inner lining.
These secrets will help to cope with the work not worse than a professional with many years of experience.
Tips for choosing
For each type of work you need to buy the appropriate glue. The only exceptions are universal mixes.
They are unable to fully replace specialized formulations.
The package should indicate the detailed composition of the mixture, the scope of use, operating temperature, the method of preparing the solution for work and the rules for its application. You need to choose the glue, on the package of which there is all this information. Some manufacturers provide recommendations for use, adhesion indicators with various surfaces and other useful information.
According to the information contained on the package, you can find out the exact consumption of glue. The better the surface is aligned, the less glue will be required.
Not all formulations are suitable for different substrates and cladding materials. These points also need to be considered when choosing an adhesive mixture. If glue, for example, is not suitable for stone, then no matter how good and expensive it is, but the facade finish will not maintain its appearance for a long time. After a short time, the tile will peel or crack.
The glue hardening time is an important indicator, especially for a person without experience. For some formulations, 10 minutes is sufficient for setting. During this period of time you need to have time to correct the tile, bringing its location to the ideal. The beginner needs more time for this work, and therefore the composition must be chosen with a longer setting time.
For how to choose tile adhesive for exterior work, see the following video.