Growing sweet peppers in such a difficult gardening region requires careful selection of the variety. In the 70s of the last century, varieties of pepper were bred for the Leningrad Region. Some of them not only have time to ripen in a cool summer, but also surprise with high yields and large fruits.
Choosing varieties of pepper for the Leningrad region
Features of the region
The Leningrad Region is an area with cool summer, a small number of warm days and a lack of light, oxidized soils. But modern science has allowed to get varieties that are suitable for cultivation in the Leningrad region and St. Petersburg.
Peppers are grown in this area in a seedling manner. Seeds for seedlings are sown in late February - early March. Grown up seedlings in 65-70 days are planted in a greenhouse. It is important to choose varieties that will meet the climatic conditions of the region. Varieties of peppers for the Leningrad region should have the following qualities:
early maturity (90-125 days);
resistance to low temperatures;
undemanding of soil quality;
undemanding to lighting;
high yield.
The best varieties of pepper
Domestic varieties are derived from all the qualities that pepper should have for this region. They have a special advantage over hybrids, which is that the seeds from the harvested crop can be sown next season. Plants from these seeds will be more resistant and adapted, and the fruits will retain their varietal quality.
Mastodon
It refers to early ripe peppers, which ripen 110 days after seed germination. On 1 square. m. can be planted 3-4 bush. On one bush 8-12 fruits are formed.
Characteristics of the bush
semi-determinant type;
Bushes grow 0.8-1.5 m.;
central stem well developed;
sprawling side branches with medium foliage;
leaves are oblong-oval green;
bushes require a garter to a strong support.
Fruit Characteristic
cuboid, three-chamber;
weight 200-250 g;
walls with a thickness of 7-8 mm;
dark red color.
The mastodon is cold-resistant, undemanding to light, highly resistant to tobacco mosaic.
Bagration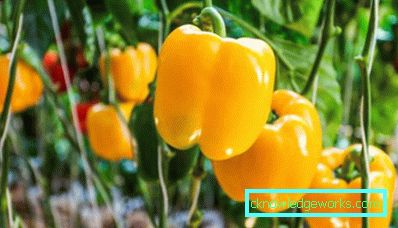 The variety will delight you with an early harvest.
It refers to the early ripe varieties of sweet pepper, in which the fruits reach technical maturity in 105-115 days, and biological in 125-130 days. Suitable for thick planting, 6-8 plants per 1 square. On a bush, 8-10 fruits are tied, which ripen gradually over 3-6 weeks.
Characteristics of the bush
shrub semi determinant;
height is 0,9-1,2 m .;
sprawling branches;
to increase the yield requires the formation of two main stems.
Fruit Characteristic
spherical shape with clear edges;
four-chamber;
walls 6-8 mm thick;
weight 160-200 g;
bright yellow color.
It has a crispy, juicy flesh and a sweet taste with a mild pepper flavor. Ideal as a fresh for summer salads, and for preservation.
Bagration is a high-yielding, productive variety, which allows with square. m. collect 7-9 kg of fruit. It has a high resistance to such diseases:
vertitstsleozu;
tobacco mosaic;
top rot.
Bagration peppers are sown for seedlings in March, and seedlings are transplanted into a greenhouse in May.
Barguzin
High-yielding sweet pepper, which begins to ripen in 95-110 days from mass shoots. Planted up to 5 bushes per 1 square. m. 6-7 wilted fruits are tied to a plant.
Characteristics of the bush
bush upright, powerful;
semi-determinant, height up to 110 cm;
branches not thickened, pasynkovanie is not required;
requires a garter to support.
Fruit Characteristic
Fruits are versatile to use.
conical shape with a sharp end;
walls 5-7mm thick;
weight 180-200 g, length 15-17 cm;
yellow color.
The fruits are not thick-walled, but have a sweet and pleasant taste, suitable for drying, canning and cooking various dishes and sauces.
Among the best varieties for this area are also noted: Prize, Intervent, Nathan, Snegirek, Country, Antiquary, Magician.
Best hybrids
Hybrid peppers combine the best qualities and show their productivity and quality even in difficult climatic conditions.
And many of them are suitable for cultivation in areas of high risk farming. The only drawback of hybrids is that the seeds of the grown crop rarely produce peppers with the same characteristics as the first generation.
Pinocchio f1
Superearly hybrid of sweet pepper, which begins to ripen after 95 days from the time of sowing the seeds. On 1 square. m. you can land 5-7 plants.
The fruit on the bush grows elongated drooping with an average weight, but is tied to a single plant 12-17 peppers.
Characteristics of the bush
shrub semi determinant type with limited growth of side branches;
grows 70-90 cm tall, sprawling with medium foliage.
Fruit Characteristic
conically elongated shape;
wall thickness 5-7 mm;
weight 90-120 g;
dark red color.
Pepper Pinocchio has a good presentation and transportability. Differs in high productivity, productivity more than 8 kg / sq. m. Resistant to tobacco mosaic and top rot.
Elephant F1
Thick-walled hybrid with early ripening (95-105 days) and high yield. Shrubs sredneroslye, semi-determinant up to 1.1 m in height. Optimal thickening when planting 4-5 plants per 1 square. m. On each bush is formed from 7 large fruits.
The best varieties of sweet pepper that I grow. Checked delicious varieties of tomatoes for the north-west of Russia. Super peppers in the greenhouse on 6 acres !. Site "Garden World" Review of pepper Venti, By the miracle, Dolce Spain
Fruit Characteristic
prism shape;
three-chamber with clear edges;
weight 200-250 g;
size 11x9 cm;
wall thickness 7-10 mm;
Red color.
Elephant F1 peppers have crisp and dense pulp with rich taste. Universal culinary destination. Differs in long storage at a temperature of 2-7 ° C. Fruits can be stored for 2-3 weeks.
Among hybrids, sweet peppers that are well recommended for cultivation in the Leningrad region, the best species are noted: Centurion F1, Isabella F1, Belladonna F1, Cardinal F1.
Conclusion
A large selection of varieties adapted for cultivation in difficult climatic conditions, allows to obtain high-quality crops in the Leningrad region. Cultivating the best of them, you will be satisfied with the result.