Furnace fireplace "Vesuvius"
Some acquire a fireplace in order to emphasize the refined taste of the interior of a country house, others want to set up an optimal microclimate indoors. The market offers a huge amount of various fire chambers, stoves and fireplaces. Each model has its own specifications, purpose and functionality. Particularly noteworthy products of the brand "Vesuvius". It produces dimensional and at the same time organic structures that operate on wood, not only for residential premises, but also for baths, saunas, reception areas, etc.
About brand
The company "Vesuvius" produces high-quality heating units for more than 10 years. Her products are loved for the safety, reliability, attractive design of each model. The brand uses the professionalism and developments of renowned experts from Russia, Finland, creates interesting developments in the field of stone heating systems.
Any collection is annually exposed to new innovations, improved. In addition, "Vesuvius" produces an important package for furnaces, such as a chimney, heat exchanger, tank, etc.
A distinctive feature of all products is one-piece welding instead of angular surfaces. Only here you will find reliability, durability, practicality in each presented model of fireplaces.
Device
From the brand "Vesuvius" you can expect effective and high-quality equipment in the categories: stainless steel furnaces, models of structural steel, cast-iron or brick construction. Each of them has its advantages. So, stainless steel fireplaces made of 2 mm sheet, almost no alloying additives.
Such models are heat resistant, have anti-corrosion properties. The weak point of the structure is in the welds. When buying fireplaces and stoves from such material, try to select products with blind doors.
The device is made of structural steel has a greater thickness of the furnace, reaching 12 mm. It is quite possible to load such a heating system with a huge amount of stones. Products "Vesuvius" in this category has a minimum of welds, which makes the furnace more reliable, less susceptible to deformation. For this model, the doors in cast-iron version are suitable, which preserve the integrity of the furnace itself.
For the bath and sauna is best to look after brick oven. It creates a comfortable and soft steam. On the other hand, for its "warming up" it will take more than 6 hours and a huge amount of firewood.
In the model range of fireplaces from the company "Vesuvius" brick can be found only in the decoration of the equipment. The appearance of the equipment will please the eye, wherever you install the furnace.
The greatest demand, as shown, enjoys cast iron construction. They are reliable, efficient. According to their technical characteristics, they are closest to the brick furnaces for the bath. Such models consist of 2 or 3 elements, durable ceramic cord, the working temperature of which is 1 200 °. Such fireboxes are absolutely sealed, safe due to reliable bolting.
The company has developed a special cast iron alloy, durable castings that support rapid temperature changes. Even if the equipment gets a small amount of water, guaranteed its integrity is preserved: the model will not crack, create inconvenience to its owner. Care for her is easy and simple.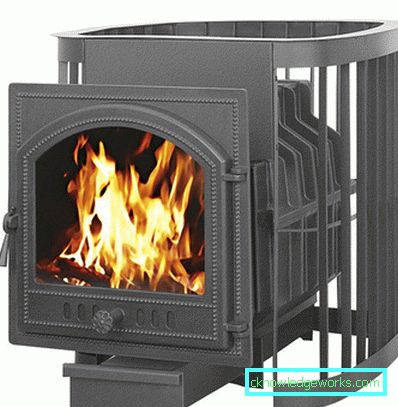 Advantages and disadvantages
The advantage of any model of the brand "Vesuvius" is:
durability;
heat capacity;
corrosion resistance.
Pig-iron, steel construction is practically not subject to deformation, it can withstand huge weight loads, aggressive environmental effects.
By purchasing a suitable model, you can be sure that the furnace will not burn oxygen either in the room or in the steam room. It also does not emit unsafe infrared radiation, but it will give soft, light steam. Fans of this Russian, Finnish bath will be delighted with such an acquisition.
Another important characteristic of Vesuvius furnaces is a long service life calculated for generations. Here you can look at:
steel stove for steam;
heating structures;
chimney or furnace casting;
fireplaces made of cast iron, metal;
chimneys, tanks and other accessories.
You will have at least 30 years in stock to use cast iron equipment purchased from Vesuvius.
Most products have a rounded shape, which ensures uniform distribution of heat. The fireplace compartment itself will be able to hold up to 60 kg of fuel. Excellent traction and the formation of soft steam are provided indoors by stones placed inside, which heat up to a maximum of 400 °.
Do you need to purchase a model for a bath? Pay attention to the design of alloy steel with a thickness of 12 mm. If we are talking about the heating structure, it is better to choose a model with a steel sheet thickness of up to 8 mm.
On stoves, fireplaces from the company "Vesuvius" can, including cooking, watch from the dance of live fire. Any model can be equipped with transparent fire-resistant glass or luxurious wrought door.
Among the disadvantages of such products can be noted rather rapid contamination of glass, the formation of soot. It is necessary to care for the fireplace much more often than, for example, for an electric stove.
Model overview
In the windows of the company "Vesuvius" you can find quality models with a heat exchanger, designed for long-term burning. The cast iron and bath collection is very popular.
Particularly noteworthy is the corner fireplace "Vesuvius" PK-01. The model is made of structural steel, have heat-resistant glass and cast-iron under a double door. You yourself will be able to regulate the burning modes. Here there is a fire chamber with chamotte and side ceramic inserts. The fireplace PK-01 angular will adjust the correct atmosphere in the house, will perfectly warm the room.
A product "Hurricane Suite 28" is designed specifically for the steam room. It has a closed heater. The furnace itself is made of heat-resistant cast iron with a thickness of 12 mm. Together with such a model, you can achieve the formation of a "soft" couple. There is a furnace tunnel, through which the furnace will be fired from the next room.
Model from "Vesuvius" Typhoon 16 demonstrates a compact size, lightweight design. With this system, you will save considerable space. The unit can be cleaned during operation due to the sliding ash pan. With "Typhoon 16" is very simple to regulate the intensity of thrust and combustion of wood.
For the steam room - it will be a great option: the flow of hot air quickly spreads, ensuring uniform heating of the room.
The Legend Suite 22 wood-burning stove is also designed for a bath, it has a solid, self-cooled door, a small heat-resistant glass. Such a system is equipped with self-cleaning and casing. Any bath stove from a famous brand can create a real Russian or Finnish sauna. The same can be expected from the collection "Skiff". Heating equipment will be able to heat the premises from 8 to 28 m3.
In the wide model range, you will also find products for heating residential buildings. There are quite powerful units with a performance factor of up to 80%.
"Legend Suite 22"
"Scythian"
Cost of
The cost of such furnaces is quite affordable for consumers with an average level of earnings. However, if you want a full-fledged heated system and decorative component, you will have to fork out for components and accessories for the Vesuvius fireplaces.
Reviews
Online reviews of satisfied owners of fireplaces and fire chambers are positive in their advantage. Buyers like not only the aesthetic appearance of the models, but also their rich functionality. They note the presence of a convenient combustion chamber, in which both wood and stones fit, an ideal combination of technical characteristics and aesthetics, as well as an impressive performance indicator. All models meet safety standards and serve for a long time with proper care.
Judging by the reviews, consumers are satisfied with the average price on a par with high-quality assembly, a huge choice of models with an open and closed heater. When searching for effective equipment for homes, saunas, baths, "Vesuvius" products will be the best choice for today.
About the furnace-fireplace "Vesuvius", see the following video.