A large entrance hall in a spacious apartment is convenient, you can place everything you need without worrying about the lack of space. However, the typical dimensions of the corridors, characteristic of standard high rises, are rather small, this imposes a number of restrictions. We have to carefully select the colors, finish and size of the furniture set. Small space involves more careful measurements, as well as the most efficient use of each available centimeter. For this, it is not necessary to use expensive materials, economy class halls in a small corridor can also look stylish and cozy.
The use of light colors and open furniture will help create a functional and cozy space in a small hallway.
How to organize space
The design of the hall economy class should be thought out to the smallest detail. The interior of the corridor is the first thing that guests see, the impression of it often affects the whole apartment. The design of furniture in the corridor may overlap with the decoration of the remaining rooms or, conversely, be something unique.
A huge mirror in the hallway will visually expand the space
It is best to design the space in the same style, without trying to experiment with different design options. Furniture set must be in harmony with the decoration of the room. For a small economy class corridor, it is better to choose models of the simplest forms. Too frilly models or unsuccessfully chosen dimensions will not only spoil the interior, but also interfere with movement.
Wardrobe with sliding doors is great for small hallways.
It is necessary to arrange cabinets with tumbam so that in the corridor two people could pass simultaneously. This is an important fire safety requirement. In addition, angular or mounted models of pedestals with shelves allow you to save space. Layout options for the corridor of a small apartment can be seen in the photo.
For a small corridor, you should choose functional furniture of light colors.
Color spectrum
Choosing a hall economy class in the hallway, it is worth refusing to use dark or saturated colors. It is best to choose light shades: beige, coffee, gray, blue, mint, milky. Snow-white is also better not to use in large quantities. It is not as dirty as it seems, but too much white makes the decor of the room fresh and boring. Various options for the color design of the small hall can be seen in the photo below.
Peach shades of open shelves in the hallway create an atmosphere of lightness and comfort
Furnishings
The choice of furniture is extensive, which allows you to furnish the corridor without much effort. Simple inexpensive cabinets with tumbami look stylish and neat. Choosing a furniture set, you should take into account some features. If the walls are high enough, the available space can be conveniently used to install wall cabinets or simple open shelves under the ceiling itself. The mezzanines are convenient for storing seasonal items, and the corner cabinets will hold the things you need at the moment.
In a small area you can place compact and very functional furniture.
Furniture in a small corridor can be selected from photo catalogs, but this is best done at the preparatory stage for repair. For economy class interior it is important to find a balance between price, practicality and acceptable design.
With proper planning, even ordinary coat hooks will look stylish and modern in a small hallway.
The footwear stand
If there is no room in the corridor for the wardrobe, then at least there should be a shoebox in it. Curbstones differ in size and configuration. For furnishing a small room, it is better to use multifunctional models.
It is better to equip a small hallway with a bedside table for shoes with seats for seats and an open hanger.
When choosing a cabinet for shoes, it is important to remember that it should be well ventilated. Keep shoes on the fully closed shelves can not, it will be bad to dry, and the risk of fungus is great. Modern closed models are equipped with a built-in dryer with a UV lamp, disinfecting shoes.
Important! Opened shoe models take up less space, but dust and dirt accumulate faster on shoes, and pets can easily damage a favorite pair of shoes or shoes.
Open shelf for shoes looks very stylish
Obuvnitsa with a seat and shelf for the phone is convenient when there is no possibility to put several items at once. Some shoeboxes are complemented by a coat hanger, which is very practical. How this furniture looks in the design of a small hallway can be viewed in the photo.
The perfect combination of storage space for shoes, open shelves and seats in the interior of the hallway
Mirror
This is an important detail of the interior corridor, regardless of size. Mirrors can be an independent element of the decor and hang on the wall, or be part of the facade of the closet, complementing the design. For both cases, it is better to choose growth mirrors, they are not only more convenient, but also reflect light well.
A composition of gold-framed mirrors will create a luxurious interior in a small corridor.
Important! If you place a lamp above the mirror, it will give more light.
Cupboard
The most popular option for the corridor is a wardrobe. High cabinets 40 cm wide fit well into a narrow room. Small width is compensated by length and height. If there is a niche in the corridor, the cabinets are often installed directly into it. Long corridors are often equipped with a closet at the end wall, constructing a whole dressing room or a small closet there.
To save space, you can position the wardrobe compartment around the door
Corner hallways
Convenient option for small spaces. The corner model of the cabinet takes up less space, it is roomy enough to store everything you need. If the room is very small, you should purchase models with rounded edges. This makes the cabinet smaller, avoiding accidental injury. Design options for small corner hallways for practical furnishing of an economy class corridor can be viewed in the photo.
Corner hallways take up little space, while they are roomy and functional.
One of the variations on the corner hallway is a trapezoidal closet. It also occupies a whole corner, but the facade is a single straight surface from wall to wall.
The corner cabinet for a small corridor may have rounded ends with open shelves.
Modular hallway
A good choice for a small economy class corridor. Modules of simple design and made of inexpensive materials will fit into the hallway of any size. The modular kit is great for small rooms because it allows you to select the required number of parts.
There is a wide choice of modular cabinets for hallways of various shapes and colors on the market.
By purchasing a modular headset, you get only those offices that are right for you. For a small room, a set of a shoebox, a hanger, and several pedestals or a tall cabinet will suit.
In addition to the price and functionality of the modules have significant advantages over the cabinet hallway. First, each component of the headset can be used separately. Secondly, it is easy to replace modules with new ones or to purchase new elements. This is possible due to the fact that such furniture is produced immediately by the collection, made in the same style and color. Thirdly, the modules can be placed as you like, as well as, if necessary, swap. This makes it easy to freshen up the interior design of a small hallway, such as in the photo below.
The modular hall includes a closet, coat rack and cabinet for storing shoes.
How to save on furnishing
Economy class furniture does not mean boring design and the cheapest materials. To save on the acquisition of a hallway in a small corridor, you should not make spontaneous purchases. This is perhaps the most important rule. Before going to the furniture store should have in advance a list of necessary things. You can save on the number of parts or materials. It is also much less costly to go to the hallway, made by one's own hands in whole or at least partially.
Minimum of things
This approach will especially appeal to lovers of minimalism. A complete set of furniture in a small room will look too cumbersome, and it is unlikely to fit completely in such a small area. Even if there is an opportunity to squeeze a complete set into the hallway, it is far from always convenient to arrange cabinets and cabinets.
To save space in the hallway, you can install an open hanger for clothes
In the design of the hallway is not always enough space for a chair or at least a pouf, so you can change your shoes while sitting. Often you have to do it standing up, so you should take care of the availability of shelves, which you can lean on with your hand.
The white hallway in a minimalist style looks very modern and stylish in the interior of a small hallway.
The problem can be solved using a shoe rack or shoemaker, combined with a stool. It is functional and practical, and also does not take up much space. In order not to spend too much, it is better to immediately consider how much furniture will fit in a small corridor.
In the long narrow corridor you can get by with a long bottom shoe rack.
DIY Furniture
If you have the necessary skills, you can make everything you need for the interior of the corridor on your own or breathe new life into old things. Considering that vintage and retro are in fashion, the renewed old furniture will look harmonious. To do this, it is enough to tint the old lockers with shelves, as well as replace the accessories if it is out of order. This approach to the design of the hallway allows you to create an original and trendy interior, examples can be viewed in the photo below.
A small shoe box and a narrow table fit perfectly into the small hallway.
An old chest of drawers can handle the role of a shoemaker. If the surface has scuffs or cracks in the paint, you can leave it as it is. This design perfectly complements the design of a small hallway in the style of country, Provence or Chebbi chic. To store shoes, it is enough to remake the bottom drawers of the dresser for roomy shelves.
If the corridor is quite small, instead of a closet you can choose a modest clothes hanger in the "grandmother's" style. Such models are inexpensive and are sold in almost any store.
Storage system
Massive cabinet furniture is too expensive for an economy class hall. It often seems that the choice of wardrobe will save space and money, but it is better to abandon this idea. Instead of a coupe, you can put light open shelving, and use storage boxes for storage. This is not only more economical in terms of money, but does not overload the interior.
If the hall compartment is still needed, then you need to correctly and accurately calculate the dimensions, as well as think out the internal content. The more details, the more expensive the cabinet will be. You can save on the number of valves and depth, making it less.
For the case, you can choose cheap chipboard panels or MDF, and the doors can be the simplest. Inside you can use lightweight baskets, they will cost less than full-fledged boxes.
Economy class materials
For an inexpensive hallway, you will have to abandon the expensive wooden compartments, pedestals, obuvnits, etc. Natural wood is durable and durable, but there are more economical materials that are not inferior in quality.
For economy class models, use chipboard or MDF with veneer coating. Externally, these materials are indistinguishable from natural wood, but it is easier and cheaper. Both materials are easy to process, and a variety of colors and textures allows you to choose furniture for any style of interior.
Cunning when buying
Save on the purchase of furniture set for the hall economy class, you can right in the store. What to look for when buying:
Watch for promotions and discounts, it will give the opportunity to purchase good furniture at a bargain price;
Sale of old collections is a good reason to furnish the corridor with a big discount;
In shops from local manufacturers, furniture is often cheaper than in large shopping centers;
The goods can be sold at a lower price, if a minor flaw is found (spalling on the paint, scratch, etc.), it is important not to be greedy - if you cannot repair the damage yourself or in a visible place, it is better not to buy;
The number of fittings and finishes affects the price, it is more profitable to purchase the simplest models with a minimum of parts.
In addition, to save on a headset in the hallway you should not make purchases in the first store. It is more practical to bypass several points, comparing prices, it will help you choose the best option.
Design choice
Small hallways can be decorated with stylish and tasteful. Of course, the hallway should be in harmony with the finishing of the corridor, matching the chosen style in terms of colors and materials.
Scandinavian style
A characteristic feature of this style is the conciseness of decoration and furniture. Designed by a natural color palette and materials. However, in the economy class interior you can use high-quality imitations.
For the Scandinavian style is characterized by the use of a large number of white. Furniture for the decor of the room should be extremely simple and practical. Light negligence of finishing is also welcomed. How to design a small hallway in the Scandinavian style can be seen in the photo.
Provence
Provence style corridor will look warm and cozy. Despite the fact that only natural materials are used for Provence (natural wood, stone, etc.), in the economy class interior one can make some concessions. For example, instead of wood, you can choose cabinets with thumbs from MDF or chipboard with high-quality veneer.
Furniture in the style of Provence different rough finish. Aged surfaces are one of the main features of this direction. The color range is natural, for interior design they use white, beige, brown, gray, lavender, turquoise, ocher. It is not necessary to purchase a new hall, you can renew the old furniture, it will perfectly convey the spirit of Provence.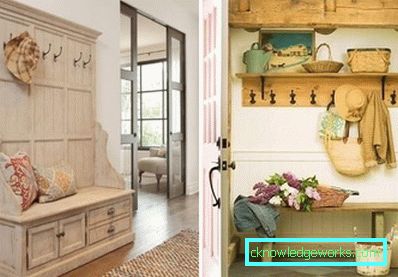 Minimalism
Such an interior best meets current requirements. In minimalism, only the necessary amount of furniture is used, and its form and decoration are extremely simple. The main selection criterion is practicality and ease of care.
The best option for a small room in a minimalist style is modular furniture. Modules are performed in the same style, which allows to purchase the missing part if necessary. Modular kit can be replenished gradually as far as possible. Furniture design should be extremely simple and uncomplicated.
The colors of the small space in the style of minimalism are strict and often monochrome. For facades use white, gray, brown, beige. Bright accents and combinations are not welcome, and the decor in this interior is minimal or absent altogether. It will look good smooth glossy surface.
Classic
Despite the fact that classical styles require space for full implementation, the basic elements of the classics can be used in a small hallway. The basic design rules are simplicity of lines and symmetry. The color scheme in the classic interior is simple and restrained. Usually these are light shades, sometimes diluted with stripes or plant patterns.
In the classical style there are no too bright details and bold combinations of colors. As for furniture, as a rule, these are cabinet models made of natural wood. However, such furniture is very expensive and does not resemble the interior of a small hallway. Modern cabinets and cabinets made of MDF or chipboard cost much less expensive, and outwardly almost indistinguishable from real wood. How to tastefully decorate the interior hallway in a small apartment in a classic style can be seen in the photo below.
Making a small corridor is quite difficult. In order for the economy class interior to look stylish, and not to seem a senseless heap of cheap things, it is important to select light shades and simple furniture models. Functionality and practicality play a big role in creating a cozy space.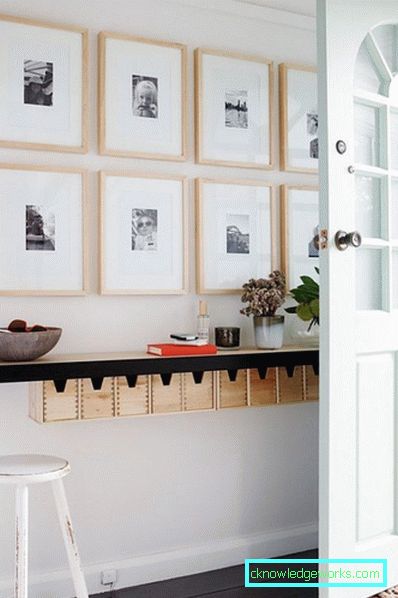 Video: