The question of where to place shoes is relevant regardless of the season. Often a lot of shoes accumulate at the threshold of the corridor, especially in the evening when the whole family is at home. Compact shoe shelves, which can often be found in the photo interior, can solve the problem in the hallway. Which model is better to choose and is it possible to make a shoebox with your own hands?
You can create your own stunning interior in the hallway.
Principles of choice
Before purchasing a shelf for shoes, several factors should be considered:
The climate in the area of ​​residence is warmer in the southern regions and there is often no need for heavy winter shoes;
Number of residents in the apartment;
Convenient location, protected from dirt and mechanical stress;
Hallway design.
To make the interior of the corridor easier, it is better to use light colors and open shelves
In addition to individual shoes, you can often find built-in or modular lockers with an existing shelf for shoes. Stands inside the cabinet save space indoors.
Modular cabinets with built-in shelves for shoes
Types of shoe shelves
The main qualities of the shelves for shoes is compactness, coupled with the versatility, since the hallway, as a rule, has small dimensions. Shelves may vary in size, availability of additional items, type of storage.
Shoe rack with seat
This is a low shoebox, on top of which is a soft seat. It happens with a back or without, in the manner of a bench or pouf. Often a shelf of this design does not have doors and drawers, all shoes are visible. Often, such a shoebox is complemented by a hanger, a phone stand or small drawers for storing shoe accessories.
This shelf is very convenient to use and looks great in the interior of the hallway.
The advantage of shoeboxes is comfort and convenience - you can sit, shod or take off your shoes, and shoes quickly air out and dry. If additional shelves, brushes and cream are always at hand.
For open shelves, closed shoe boxes can be used.
Important! Open shoe shelves of any type are not suitable if there are animals in the house - they can easily ruin shoes with teeth and claws.
Wall models
These shelves are a great option for a small corridor, they are light and shallow, but they are not very suitable for solid footwear. This shoe shelf in the hallway is easy to build with your own hands, a few boards and metal fasteners are enough.
In skillful hands, ordinary metal pipes can become a highlight of the interior.
Slim
High narrow cabinet for shoes with folding door system will fit into the hallway of any size. It can be embedded anywhere, the minimum shoemaker is only 20-30 cm. The curbstone slim is well suited for storing shoes worn according to the season. But the shoes or boots that do not yet need to get, should be stored in the closet, there they will keep the appearance until the new season.
Considering the small depth of the slim shelves, she is quite spacious and copes with the storage of a large number of seasonal shoes
Design options
Often cabinets for shoes are purchased as part of full sets, they correspond to the design of the rest of the furniture, without getting out of the interior. You can purchase a shoe box separately, but it will be more difficult to find a suitable option. Shelves for shoes in the hallway, decorated in different styles, can be seen in the photo below.
Classic
The classic style is suitable for people who love the quiet rhythm of life and the traditional way. Furniture for such interiors is made of solid natural wood and is quite expensive. Often, classic shoe cabinets are designed for spacious halls, but if the hallway is small, then finding a compact model will be difficult.
In classic interiors, cabinets for shoes of the closed type are often used.
The shoebox can be open or closed. Wooden shelves with wrought iron details, upholstered upholstered benches look beautiful. Textile materials should be natural - leather, satin, thick cotton, taffeta. The main colors are calm and natural, on textile details, let's say an ornament in the form of strips, an inconspicuous cell, and plant motifs.
For the classic interiors are ideal shoe shelves from a wooden array
High tech
This is a style for big cities, it corresponds to the pace of modern life. Forms are preferred simple, practical design, materials - metal, glass, good plastic. Obuvnitsa in high-tech style is suitable for small hallways, this style is minimalist and does not require a large number of finishes and fancy decor elements. The built-in stand for footwear or high narrow slim with glossy facades will well fit into hi-tech. The main colors are neutral - white, gray, beige, black, metallic.
Open forms and clean lines are irreplaceable details in high-tech style.
Provence
Shelves for shoes in the hall in the style of Provence should only be made of wood, artificial materials are not suitable. This style involves the use of natural materials and natural colors. The shoebox can be combined with a seat with a back or clothes hangers above. The tree is usually painted in muted colors, with the effect of burning out in the sun: green, turquoise, brown, lavender, terracotta or white.
In the design of the hall in the style of Provence often used open shelves with wicker drawers for storing shoes
Provence style furniture has an aged look. On the surfaces visible scuffed, paint and varnish as if peeling in places. If you make such a shelf for shoes yourself, you can use craquelure to create cracks. When drying, the coating is covered with a network of small cracks, which looks quite atmospheric.
Light scurf of antiquity gives the furniture a provence of certain zest
Country music
Simple rustic style, like Provence, featuring natural materials. Country furniture is less commonly used colored furniture, usually a natural wood gamma. Obuvnitsa can be made a little rough with a rough surface and not too smooth lines.
Open shelves superbly handle the storage and drying of shoes
For the country hallway, open coarsely shelved shelves or massive dressers for shoes with opaque doors that open wide open will be suitable. Metal fittings should be muted, without glitter.
Country-style furniture will add homely comfort to any entryway.
Chebbi chic
Sometimes shebbi-chic is called embellished with Provence. In terms of colors and natural materials used, both of these styles are really similar, but shebbi-chic is more decorative. The abundance of textile parts, lace in the decoration, floral designs, worn surfaces - all this is characteristic of this style.
Chebbie-chic shelf for shoes can be easily made by hand
Shabby-chic obuvnitsa can be painted in any pastel color. Do not forget about the effect of aging - cracks and abrasions have not gone away. It will look good shelf for shoes with a soft seat, upholstered in cotton fabric with a flower print or small peas. Wooden surfaces of the shoebox can be decorated with flowers using decoupage technique.
Pastel light shades of furniture fit organically into the interior of the Chebbi-chic hallway.
Minimalism
This style is very popular, due to the simplicity of the lines and the lack of decor, it is the most practical of the most interior solutions for the hallway. The main principle of minimalism is the rational use of the room, which means that there should not be superfluous things.
Minimalist shoe cabinet with a huge mirror looks very stylish
The obuvnitsa for economy of space is combined with other pieces of furniture and can be a detail, for example, a sliding wardrobe. The main materials for furniture: durable plastic, thick glass, metal, less wood. Obuvnitsy should be as simple and roomy. Primary colors are beige, brown, gray, white, less commonly chen.
This closet can be placed in the hallway, bedroom and even bathroom.
Materials for the shoemaker
It is not necessary to purchase a shelf for shoes in the hallway, if you can make it yourself. The simplest models do not take a lot of time, even from beginners. If you have the necessary skills and talents, you can design complex and intricate shelves for shoes.
Plywood
Plywood sheets are simple to handle, from this material you can easily build a shoe stand for the hallway with your own hands. It will look good practical shelf mounted on the wall. Such position of a shoebox will allow to save the place in a hall. For the manufacture of such a shelf you need to cut plywood rectangles 20 by 30 cm.
Plywood can create a sturdy and functional shelf for storing shoes.
All parts are carefully ground, after which you can proceed to assembly. Sheets are assembled in three pieces in the shape of the letter P, then such designs are easily placed on each other. The tiers of the shelves are held together with each other, after which the shoemaker can be hung on the wall. For fasteners use wooden pins or metal holders. The shelf can be varnished, painted in a shade suitable to the interior of the hall, painted or decorated using decoupage technique.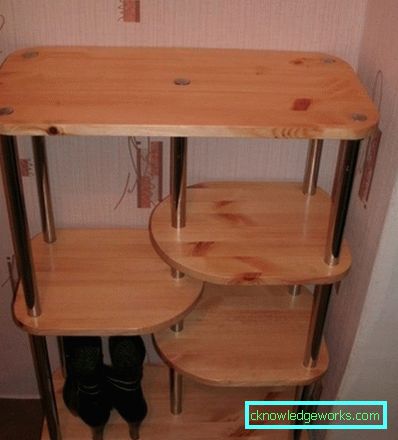 Plywood can create a shelf of unusual shape.
Metal
Metal shoe shelves, purchased or made by hand, look stylish and beautiful. The metal is very durable, not afraid of mechanical stress, practical in care, it does not absorb odors. The model of the shoemaker can be the simplest, on the basis of chrome-plated pipes, which will fit well into high-tech. For classic hallways, a forged shoe shelf is better suited. Openwork details will give the product lightness and refinement.
Tree
Wooden furniture is appropriate in almost all styles of interior. Wood is a material that is durable to handle, products look expensive and beautiful. Since there is a lot of dirt and moisture in the hallway, it is necessary to purchase models with a water-repellent coating. Such a shoebox will last longer. If you make a shelf for shoes in the hallway of wood yourself, then you will need the following tools to work with the material:
Hammer;
Plane;
Saw;
Skin;
Pencil for marking.
In addition, the fastening elements - nails, screws or screws will be useful.
How to make a shoe shelf made of wood
Shoe racks are easy to manufacture, they can easily be made with your own hands if you have the necessary materials and tools. If there is no experience in such matters, you can start with a simpler model. Find photos with simple drawings is not difficult, in addition, they can always be slightly modified to suit their own needs.
Materials and tools
To create a simple standard size shoebox you will need:
Wooden bars (6 pieces);
Screws (3x25 mm);
Wood screws;
Luck;
Brush.
Creating a shelf takes place in three stages from the sides to the cover.
Sidewalls
The depth of the shelves, convenient in everyday life, is about 33 cm. To create the sidewalls, 6 bars of such length must be sawed off. Then four bars need to be distributed at an equal distance from each other and make gash equal to their depth.
In order for several pairs to easily fit on one tier, the shelf width must be at least 62 cm. For each tier, four blanks of the required length will be required. Blanks are inserted into the already finished grooves and fixed with screws. When the necessary number of tiers is, they need to be sanded smoothly with sandpaper.
Racks
For them, you will need strips with a height of 80 cm. To do this, you need to make gash at a distance of 25 cm from each other, the depth of each of them must be equal to the thickness and depth of the bar. All you need are four racks and insert ready-made shelves into the cuts. The bottom shelf should be at a distance of 25 cm from the floor, and the top one should not reach the edge of the racks about 10 cm.
Top shelf
From the remnants of the material to make the upper part of the shoemaker To do this, cut the workpiece 33 cm long. The side of the bars facing up must be perfectly sanded with sandpaper or sanding machine. When the product is fully prepared, all parts of the shelf should be fixed with screws. After grinding, you can proceed to the decor, for example, lacquer a shoe roll.
Important! It is more convenient to use 4 screws on the shelves and 2 in the bar to secure the top.
Original ideas
If the hallway is of modest size, you can install compact holders for shoes or choose a system of hanging containers. Such furniture does not take place on the floor, if necessary, it can be raised higher or lowered. You can save space by using wall shelves. Open structures visually increase the room, but this configuration is not very convenient for the hallway. So that the shoes do not collect dust, being constantly visible, it is better to purchase shelves with the doors closed.
If you use several tiers, for example, a modular system of shelves and cabinets on the wall, you can store shoes, umbrellas, bags, accessories, various trifles. Original will look shelf-carousel, which consists of round rotating tiers. For each pair of shoes there is a separate place.
For the shoe shelf, you can adjust the old ladder, which is a pity to throw away, and climbing is already dangerous. Having renewed the paint and decorating the ladder, it is fixed to the wall for stability. The steps serve as shelves, and the crossbar are used as the basis for hooks. Interesting ideas for the shelf under the shoes in the hallway can be viewed on the selection of photos below.
Obuvnitsa - an important element of the interior hallway. This compact shelf or compact chest helps to better organize the room and hide shoes from prying eyes. Shelves or dressers both are purchased with the rest of the furniture, and are made independently. In the latter case, you can safely connect to the process of fantasy and choose those materials and decor.
Video: