Polyurethane adhesive: characteristics of species and compositions
Features and benefits
Properties and specifications
Purpose
Kinds
Application rules
How to dilute and wash?
How long does it dry?
How to store?
Manufacturers
Polyurethane glue has gained popularity due to its versatility. The scope is not limited to household repair of products and connections of diverse materials. It is also used for decoration and decoration, in the production of building and finishing materials. High strength and adhesion characteristics make it possible to glue wood, plastic, metal, fabric and mineral materials.
Features and benefits
Polyurethane adhesive differs from other water-based adhesives with the hardening principle. When interacting with a hardener or moisture from the surrounding air, polymerization occurs with the formation of a film. During the chemical reaction, foaming occurs due to the release of carbon dioxide.
The versatility of polyurethane is multifunctional use. Suitable for bonding natural and artificial materials in various combinations. It combines plastic, fabric, wood, metal, stone, ceramics, glass, rubber, cardboard, polystyrene.
When using a polyurethane composition, the following advantages are distinguished:
the durability of the connection;
high adhesion with smooth and porous materials;
moisture resistance;
sealing glue seam;
resistance to high temperatures;
frost resistance;
the curing process allows to achieve high bond strength;
chemical resistance to oils, acids;
long working time
Polyurethane can not glue polypropylene, polyethylene, coatings of silicone and Teflon. Surfaces with oil and wax coating will not be able to mate with quality. Components of liquid glue can irritate mucous membranes and skin, therefore it is necessary to observe safety measures during operation.
Properties and specifications
Synthetic polyurethane adhesive consists of film-forming polymers. Its composition can be supplemented with viscosity regulators, stabilizers, resins, surfactants, crystallization accelerators. Isocyanates and hydroxyls are used for curing. The main difference from formulations based on aqueous dispersions is the ratio of solid particles. In polyurethane mixtures, the ratio of solids is higher.
The glue seam is operated from -40 to +120 degrees. High adhesion strength of smooth, rough, porous materials is ensured while observing the application steps. Gluing should be no lower than +15 degrees. The polyurethane composition exhibits thixotropic properties, so be sure to withstand the recommended time for drying. Since the glue has moisture-resistant qualities, it is not affected by bacteria and mold.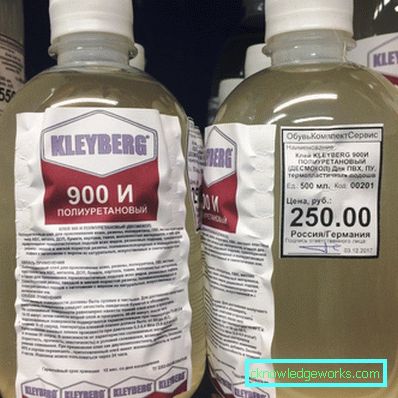 Adhesive consumption in continuous application ranges from 500 to 1000 g per 1 m2. The amount of glue used varies depending on the type of material and the thickness of the applied layer. With a point application, an average of 150 g is spent. When applied over zones, the consumption may vary depending on the distance between the strips.
The color and viscosity of the adhesive varies depending on the purpose and composition. For gluing wooden parts, the shade of the adhesive varies from amber to brown. Often, polyurethane mixtures produced white, gray, yellowish. All-purpose adhesive is made transparent. The consistency is liquid and gel.
Adhesive mixtures based on polyurethane vary in packing volume. For domestic use, the glue is poured into tubes of 20, 30, 50, 125 and 310 ml. A large amount of 750 g is Packed in tin or plastic cans or cylinders. With private construction and repair it is advisable to purchase buckets from 2 to 20 kg. For production needs, the polyurethane composition is packaged in barrels of 200 kg and cubes.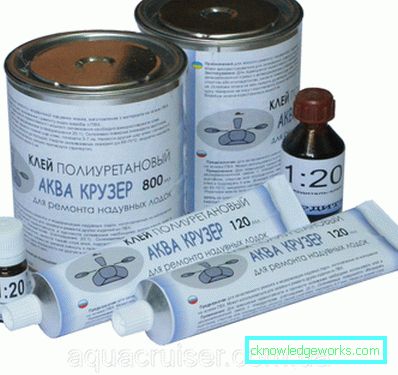 Purpose
Polyurethane-based glue is used for internal and external work, as it is not afraid of moisture and frost. Polyurethane is used for the production of flexible stone, where graphite, limestone and marble chips are glued to the fabric base. Polymer composition connects the details of the window profile, the edges of PVC, lamellae, used for gluing glass into the frame.
Used in professional construction and improvement of children's and sports grounds with modern coatings. The plot is glued with artificial turf grass or special rubber mats. Polyurethane is a binder in the production of tiles and coatings from rubber and rubber chips. Even ordinary foam sponges are glued with this tool.
The widespread use of the adhesive composition for the production of sandwich panels. The facing layer of wood-fiber plates is connected with the internal filler of mineral wool or polystyrene with the help of polyurethane glue. During curing, SIP-panels are under load with further drying.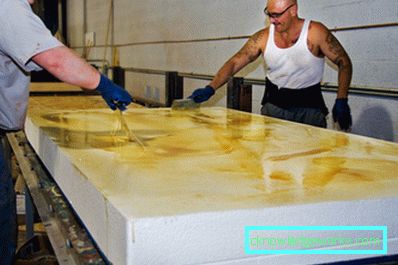 In everyday life, the use of polyurethane glue is justified for all types of repair work and repair of various products. It is indispensable for fixing ceiling plinths, cornices and moldings to the walls and ceiling. Suitable for fixing wooden baguette, plastic parts. Used as glass glue for bonding ceramics, plexiglass, porcelain. Indispensable in the repair of garden and home furniture made of wood and metal.
Special polyurethane shoe composition is produced for self-gluing of the sole, heels and insoles. It firmly holds the skin, fur, suede, fabric with different types of soles. Glue is suitable for repairing rubber boats, PVC pools, inflatable circles and balls.
In construction works, polyurethane is used as tile adhesive for fixing porcelain stoneware, mosaic, ceramics, decorative stone, marble on any bases. Its use for laying ceramic tiles is recommended by manufacturers and craftsmen. The glue base does not peel off, tolerates moisture and adverse outdoor conditions.
They produce a special parquet glue based on polyurethane, which is intended for arranging wooden floors. Suitable for gluing mosaic and end parquet, parquet boards made of solid wood and engineering multi-layer boards, plywood, laminate. The heat-resistant properties of polyurethane make it possible to use under floor heating in the system.
When building a house of aerated concrete, polyurethane adhesive foam is used as a masonry material. Laying concrete blocks on the foam is an alternative method for building walls. Glue foam is also suitable for bonding gas silicate blocks and foam concrete. The minimum thickness of the seam reduces the material consumption and prevents the structure from freezing through cold bridges.
For fixing polystyrene foam, foam glass, foam plastic, foam polystyrene and other artificial heat insulation materials, special polyurethane glue in a balloon is used. The finished adhesive foam allows you to evenly and quickly distribute the composition with the nozzle. The mixture allows the sheet to fit within 10 minutes before setting. And also the adhesive mixture for insulation suitable for sealing joints in insulation, replacing the usual mounting foam.
Kinds
Polyurethane adhesive - polymer in its structure. Depending on the composition, one-component and two-component polyurethane adhesive is distinguished. One-component mixture is produced in finished form, the polymerization process occurs in the presence of water. The moisture-curing composition foams better when the humidity is at least 60%. During the reaction, the volume increases and the expanding composition exits along the edges of the seam.
A two-component tool consists of two components that are mixed before bonding. You can not make a homemade glue, because if you change the proportions of the hardener will not occur a chemical reaction and freeze. Available quick-drying composition, which is subjected to treatment with hot temperatures from 80 to 110 degrees.
Universal one-component contact adhesive sticks together various combinations of materials. The polyurethane composition is able to replace the heat-resistant automotive sealant for repairing car parts and corrosion protection. For fixing insulation used special mounting polyurethane adhesive, similar to foam.
Application rules
Before applying the adhesive based on polyurethane, it is necessary to prepare a work surface. The entire area needs to be cleaned from dust, dirt and debris. The working area is cleaned from old remnants of plaster, paint, cement. The key to successful bonding is to degrease the surface, since you need to get rid of traces of oil and grease. Clean the place from contamination can be a solvent or alcohol.
Security measures must be taken. Provide ventilation in the room and protect hands with disposable gloves.
Glue is applied with a thin layer, evenly spreading over the surface with a plastic spatula or improvised means. Polyurethane with the addition of solvents covers both sides. This feature is indicated in the instructions. The composition of the porous material is applied in two layers with a break of 2-5 minutes. Aerosol glue-foam is distributed on the basis of strips, around the perimeter at least 8 cm from the edge. The distance between the strips can be changed from 10 to 25 cm.
After applying the glue after 5-10 minutes it is necessary to connect the prepared surface, strongly pressing. If possible, roll with a roller for a strong grip. To accelerate the setting, the glue side is sprayed with water. The wet method increases the rate of chemical reaction.
The following method of bonding can improve the moisture-proof properties of the seam and speed up the drying. Polyurethane layer is allowed to dry for 20 to 90 minutes according to the instructions. The glue surface is heated by a hair dryer for several minutes, then put together and put under a press for 5 minutes.
How to dilute and wash?
When mixing a two-component polyurethane mixture with a hardener, the addition of additional ingredients is unacceptable. To improve the heat resistance and adhesive properties of the composition, you can use the Desmodur activator, adding no more than 6-7% of the total adhesive mass. The finished one-component composition can not be diluted with water or alcohol. If the glue is thick, it is difficult to spread over the surface, then it can be diluted.
There is a thinner for polyurethane glue, which is used to regulate the viscosity. But also can be dissolved with acetone, ethyl acetate, methyl ethyl ketone. When interacting with toluene, the composition swells. All brands of polyurethane glue are effectively diluted with a mixture of solvents from acetone, toluene and MEK.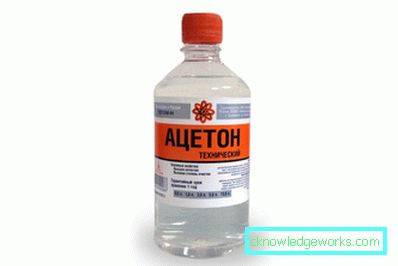 The tool after work needs to be cleaned immediately, without waiting for drying. Contaminants are removed with a cloth soaked in acetone or any solvent. The remains of the means which got on clothes and other surface are washed by acetone. Cured adhesive can be removed mechanically.
How long does it dry?
The setting time of the polyurethane adhesive depends on the additional components in the composition, on average from 20 minutes to 1 hour. While the glue is liquid, it is necessary to press the glued surfaces tightly and fix for a few minutes. If possible, you can position the product under the press for 1 hour to ensure a snug fit. The closer the parts are adjacent to each other, the higher the quality and strength of the adhesive joint. If a part of the adhesive has come to the surface after curing, it is necessary to remove the surplus mechanically.
Full curing occurs within 24-48 hours, during this period the strength in the adhesive joint is gained. At this time, the glued product must be at rest, it is impossible to apply a mechanical impact. Drying time depends on the ambient temperature. If the polymerization was carried out by a hot method, then complete curing will take place after 4 hours.
How to store?
Closed unused packaging with polyurethane composition should be stored at temperatures from +10 to +30 degrees away from heaters and direct sunlight. The shelf life of different manufacturers varies, it can be from 12 to 24 months from the date of manufacture.
Polyurethane glue needs to be spent no later than six months from the moment of opening the package. Moist air penetrates into the open container, part of the mixture hardens. Cap tightly tighten to limit the access of moisture and air. To prevent clogging of the hole, the tube should be stored vertically, installing on the cover.
Manufacturers
The volume of the market of polyurethane adhesives in Russia is divided between domestic producers and import imports about equally. Imported products are represented by Italian, American, Turkish manufacturers. Production of polyurethane adhesives in Russia is engaged in many companies focused on the use in production and in everyday life.
The Italian company Adesiv produces a two-component adhesive composition Pelpren PL6 based on polyurethane and epoxy resin for professionals. It is intended for laying parquet and wooden solid on any surface. Allows you to get a non-shrink elastic and durable glue seam.
The American company Bostik produces two types of polyurethane mixtures for gluing parquet - one-component Tarbicol PU 1K and two-component Tarbicol PU 2K. The single-component composition is packaged in packages of 7 and 21 kg, Tarbicol PU 2K is packed in 5 and 10 kg.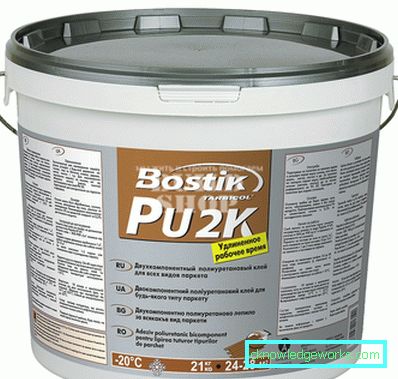 The international company Dow Chemical Company produces versatile polyurethane adhesive composition Insta-Stik in cylinders of 750 ml and 10.4 liters. It is designed for attaching any insulating materials to vertical and horizontal surfaces.
Since 2001, the Turkish manufacturer Duayen has been supplying polyurethane-based adhesives to the Russian market. Duayen A-121 and A-338 is used for coatings of rubber, concrete, wood, metal, rubber. Glue for sandwich systems A-138 is used for the manufacture of decorative outdoor surfaces on sports and children's playgrounds, walkways. The two-component thixotropic polyurethane composition A-118 is designed for gluing any kind of parquet. Brand A-128 is used in shipbuilding and furniture manufacturing. Duayen R-244 glues foam sponges, fabric and fibrous materials.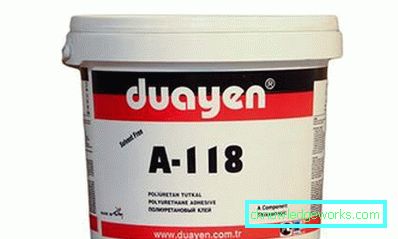 The German brand Henkel with production facilities in Russia produces polyurethane adhesive solutions for industry and home use. Four types of Henkel Technomelt PUR are designed for gluing window profile and lamination. Universal contact compositions based on polyurethane brand "Moment" connect dissimilar materials from glass, plastic, rubber, ceramics, fabrics, wood, leather. Available in tubes of 30, 50, 125 ml.
The plant of polyurethane adhesives Purtis with production facilities in Moscow and Almaty. It produces adhesive compositions for PVC and CIP sandwich panels, building wooden beams, parquet. Purtis 2K. Sport is used when gluing rubber crumb, sports mats, artificial grass. Marks Purtis SE. 10, SE. 15, SE. 60 are used in the manufacture of foam sponges. A single component blends natural and artificial fibers, textiles, cardboard, fiber, and foam rubber to dissimilar polymeric surfaces.
Since 1991, LLC NPF "Adgeziv" has been producing polyurethane adhesive products. The range of more than 10 varieties of adhesive mixture, including the two-component adhesives brand "Vilad", one-component compositions of the brand ADV.
CJSC "Anles" is engaged in the release of polyurethane adhesive products for industrial and domestic purposes. Polyurethane and PvcFix glue based on urethane rubber is intended for bonding polyurethanes, thermoplastics, PVC, metal, glass, leather. Products based on natural rubber "Rubber" and "Gum" are used in the manufacture of footwear, for the repair of leather goods, rubber and textile products, gluing paper and cardboard. On the basis of chloroprene rubber, the following brands are produced: Universal, Radical, 88, and Shoe for a wide range of works. Available in tubes of 40 ml, 1 l cans, 17 kg buckets.
LLC ATK-Alliance produces polyurethane adhesives ATK-3M, ATK-8M for sandwich panels, ATK-3D for door and window production, ATK-10 for shoe production, bonding plastics and PVC, ATK-19 glues foam rubber to any bases .
LLC Cleon produces industrial adhesives 704 and 501 for shoes.
The release of polyurethane chemical products is carried out by CJSC Blockform. Glue BFM-1 glues elastic materials, BFM-11 binds rubber crumb coatings, BFM-20 is used to make sandwich panels, BFM-22 is designed to protect engineering structures from climatic effects.
Popular shoe glue "Desmokol" is produced in Ukraine. NPP Rogneda LLC produces universal multifunctional polyurethane compositions "UR-600", "Master", "88" put up in 0.75 l banks and 20 l buckets.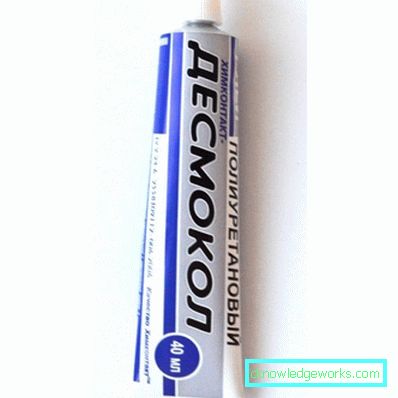 Firm "Neomer" - a manufacturer of polyurethane binders and adhesives for the formation of outdoor coatings and rubber crumb tiles.
Soudal is a major supplier of polyurethane aerosol foams. In the range of 7 types of compositions for fixing various materials, the consumption of the cylinder is 12 m2.
Polyurethane glue "Slavyanka", manufactured by "Rastro", is intended for bonding insulation to any bases.
About polyurethane shoe polish - bonding technology, see the following video.