Japanese style is characterized by harmonious rigor and conciseness, which is a big plus for the interiors of modern apartments. When you make a hallway in the Japanese style, you must follow these rules, not cluttering the space, using a minimum of decor and natural materials. Photos of the corridor in the Japanese style, see below.
Laconic and strict Japanese style is perfect for the design of hallways.
Color solution
The basic philosophy of Japanese stylistics is to know oneself by becoming one with nature and contemplating it, therefore the color palette of the interior should consist of natural shades, such as:
Yellow;
Light brown;
Green, herbal;
White, pearl;
Pink, cream;
The black.
The color of pink sakura flowers is very popular in Japanese style.
It is unacceptable to use too saturated, flashy colors. When applying deep dark shades in the design, there is a chance to create a gloomy, boring interior.
The bright yellow color of the hallway walls soothes the creamy shade of the floors.
Pastel shades are an essential attribute of this style, especially in the decoration of the walls, as they serve as the background for the decor and the overall arrangement of the room. In most cases, designers use a combination of gray shades with beige or sand color.
Beige pastel shades in combination with brown color is a perfect union for Japanese style.
The dark shade of a noble tree, walnut, chestnut color is perfect for furniture. Also, the Japanese style is characterized by standard color contrasts of black and white or red shades, which are found among furniture and finishes, but it should be noted that this solution is suitable only for rooms with large dimensions. Therefore, for standard hallways choose a combination of green with brown shades and a few bright accents. A spectacular solution would be to finish the walls in light yellow or cream color, along with black furniture or a door.
Black wardrobe in the hallway can be supplemented with an original pattern in the Japanese style
Furniture
A popular solution for the Japanese-style hallway are various modular designs that can save space in the room by following the basic rule of this style or dividing it into specific zones. When choosing furniture, it is necessary to take into account its functionality, conciseness, clarity of form. In addition, it should not be high, so give your preference to low stools, pedestals, poufs, cabinets, tables.
A stylish wardrobe built into the wall fits perfectly into the interior of the hallway in the Japanese style.
The closet in the hallway should be in harmony with the walls, have a smooth front side without elements of decoration or carving. For such a hallway will be practical closet. Instead, you can choose a custom dresser on wheels or specialized chests.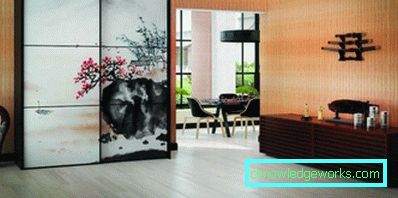 Stylish Japanese style dresser and wardrobe in the spacious entrance hall
Important! When arranging the hallway, you must remember that this style is characterized by minimalism, practicality and the availability of free space.
The original bench made of bamboo will be the main decoration of the hall in the Japanese style
Finishing materials
In the design of the room it is preferable to use wooden or stone materials for surface finishing, as well as various modern technologies.
Floor
In Japanese homes, it is customary to have a warm, pleasant bare foot floor, so in the hallway decorated with this style, it should be just that and, ideally, with a coating of natural wood. With a limited budget, it is permissible to use bamboo laminate and various similar finishes.
Walls
Standard Japanese walls - sliding frames made of wood covered with rice paper. This material, like rice paper, can be safely replaced with stylized paper wallpaper with the image of bamboo, oriental ornaments, and painting. Thereby, it's not difficult to create a Japanese-style hallway with your own hands; it is enough to decorate the walls with suitable wallpaper.
For the uneven surface of the walls, roll coverings made of natural wood are ideal.
Ceiling
The ceiling in a similar hallway should be dull, monophonic. Sometimes applied technology stretch or suspended ceiling with different characteristic decor, for example, specialized plates with light.
Lighting
The lighting in the Japanese-style hallway should be soft, creating a cozy, pleasant atmosphere, dissipating, but not pinpointed, bright and cutting eyes. In most cases, a large lamp is installed that is in harmony with all the decoration of the room. Additionally, small lamps, wall lamps or floor lamps with an inherent design and different intensity of light supply are installed. This effect will create soft lighting, which the Japanese call "moonlight".
Decor
Despite the fact that this style is characterized by minimalism, it is permissible to decorate the interior of the room with various traditional figures, dolls, caskets, incense, accessories made from rice paper or plant elements: bamboo, exotic ikebana. Also as an ornament, the details of the marine theme are perfect - corals, mother of pearl. Popular use of classic Japanese vases, decorated with images of cherry blossoms, cranes or pagodas, with a composition of bamboo, corals and live plants. In addition to decorating the space, you can apply the practice of Feng Shui, using thematic attributes and accessories.
Traditional Japanese images and hieroglyphs are applied on the sconces and lamps made of glass. Lamp shades for floor lamps and lamps are made of wood, parchment, silk, in rare cases of porcelain or glass. On the walls you can place stylized paintings or panels. The window in the hallway is decorated with panel curtains of a strict form, made of cotton or silk, without decorations. For furniture upholstery fit linen, cotton, leather, suede.
Important! Do not overdo it with decorations and decor. Remember that it is necessary to keep the interior concise and harmonious.
Japanese style is harmonious laconicism, which honors nature and naturalness, without welcoming excess, disorder, inconsistency and pretentiousness. Everyone can make a peaceful, elegant, cozy design of the hallway in the Japanese style. It is enough to get acquainted with various photos and have the desire to create a room that can invite your guests to the atmosphere of true rest and tranquility.
Video: