Types of infrared heaters for greenhouses
Features
Classification
Advantages and disadvantages
Functional
Possibilities of the heated greenhouse
Types of IR heaters
How to choose and place?
Usage Reviews
In order for plants in the greenhouse to produce abundant crops throughout the year, it is necessary to use specialized heating devices. Thanks to them, it is possible to maintain optimal temperature conditions for good growth and fruiting of crops. There are many types of such devices on the market. Especially popular among agrofarmers and private gardeners are infrared heaters.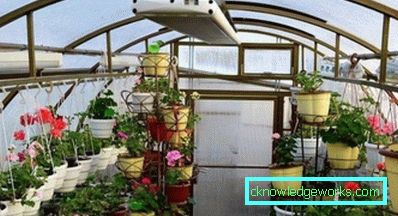 Features
Infrared heat sources work on the principle of natural solar heating: the devices emit rays absorbed by the surfaces of various objects. Those, in turn, give the received thermal energy into space. IR heaters have a robust housing made of metal. The design also includes sealed glass tubes in which heating elements are located. The principle of operation of the equipment is simple: energy is transferred to a reflective surface covered with a special film, after which heat is evenly distributed throughout the greenhouse or greenhouse.
The device does not create air movements. It scatters radiation in all zones, in each of which optimal temperature conditions can be set. If it is necessary to heat not the whole greenhouse, but only its parts, the radiation flux can be directed in the right direction. This feature allows you to significantly save on energy costs.
Classification
Infrared heaters are classified according to the energy source used. The most common are electric models. They are small. Differ in high efficiency and simplicity in operation. Most often they are used for arranging private greenhouses.
Electric infrared heaters can be:
Each of these types of devices has some features. For example, ceramic modifications are famous for their high strength. They quickly heat up to the set temperature and cool down quickly. Carbon models are less energy consuming than ceramic products, but they are more expensive. Film heaters are easy to install and reliable.
IR devices can be gas. Unlike electrical variations, they have greater heat output. Because of this feature, they are most often exploited for heating large-sized greenhouses with a ceiling height of more than 10 meters. Gas units can operate on natural or coke oven gas.
Manufacturers also produce diesel or kerosene infrared thermal equipment. Its rated power is comparable with the power of gas devices. However, unlike them, the devices working on a diesel engine are distinguished by smaller dimensions. There are common pros and cons characteristic of any type of infrared heaters.
Advantages and disadvantages
Infrared heating in greenhouses has many advantages. favorably distinguishing such types of heaters from other systems.
Directional and uniform heating of a given area of ​​the greenhouse.
The speed of heating. Air heating is felt immediately after switching on the equipment.
The profitability caused by high efficiency and small thermal losses.
Versatility. Infrared thermal devices can be used to create the optimum temperature conditions both in the greenhouse and in other premises (warehouse, hangar, garage and others).
Infrared equipment does not dry the air, so that constant humidity is maintained in the greenhouse. This is a prerequisite for good growth and fruiting of all types of vegetable and fruit crops.
Reliable and uninterrupted operation of the units throughout the day. The durability of devices is achieved due to the absence in their design of moving elements, which often wear out and require repair work.
Convenient transportation of equipment, due to its compactness.
Easy installation. Due to the clear step-by-step instructions, you can install the heaters yourself.
Through the use of infrared heating devices in the greenhouse creates unfavorable conditions for the occurrence of fungal diseases on the foliage of plants and the reproduction of insect pests. Despite the fact that infrared heaters for greenhouses are considered one of the best heating units, they are not without drawbacks.
Their main disadvantages are:
high cost;
noisy work (the operation of any type of infrared heater is accompanied by the appearance of extraneous noise);
powerful energy beam (a feature typical of older models of the first generation);
fire risks in case of overturning.
Often, equipment from "promoted" brands is faked, which is why buyers have a chance to purchase low-quality goods. A fake can be very different from the specifications stated by the manufacturer. Because of the possible risks of buying substandard products, it is necessary to purchase equipment in checked stores and require all supporting documentation from sellers.
Functional
Modern infrared heaters have many options that facilitate the operation of devices.
Depending on the model, the units may have the following functions.
Temperature adjustment. This option is possible due to the presence of a thermostat or thermostat.
Automatic shutdown of the equipment at its overheat. Thermal switch is responsible for the function.
Automatic shutdown of floor models when overturning.
Protection against the formation of a layer of ice on the surface of the devices. Thanks to this option, heaters can be used in harsh Siberian winters without fear of their performance.
Turn on or off devices after a specified time period. The timer allows you to operate the heating units with great comfort.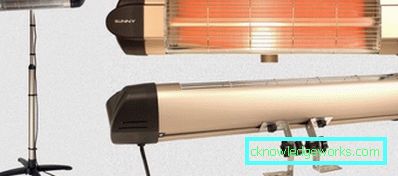 Some modern models are equipped with a light indication designed to alert the user about a system malfunction. Thanks to timely notification, it will be possible to take prompt action to resolve the problem.
Possibilities of the heated greenhouse
In a heated greenhouse it is difficult to grow vegetables throughout the year, since heat is not the main factor affecting the growth and fruiting of plants. That, regardless of the season to harvest, the room should also be equipped with lighting devices. If the greenhouse does not provide additional lighting, but only heating, in a harsh climate in March, it is allowed to make crops. You can sow parsley, dill, radishes, kale, lettuce.
After harvesting in April, seedlings of tomatoes, cucumbers and other crops are planted in a heated greenhouse. Basically, greenhouses equipped with infrared heating devices begin to "work" for a month - one and a half earlier than usual. If you achieve optimal heating of the premises and the ground (not below +6 degrees) and install additional lighting units, it is possible even in winter to harvest good yields.
Types of IR heaters
On the market of climatic equipment for greenhouses, many models of infrared heaters have been proposed. They can be produced in the form of ribbons, lamps and panels. Film panels or tapes are much more economical than lamps. And they differ in the most uniform heating of the soil.
IR heaters can be: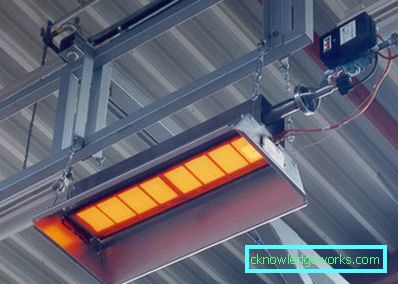 The difference between these two types of devices lies in the way they are mounted. Mobile units are equipped with wheels or legs by the manufacturer. This is a compact thermal equipment that can be placed in the right place, and if necessary, move it.
In turn, the stationary models may be as follows.
Suspended. Designed for embedding in hinged greenhouse ceiling (such a structure must be built in advance). Fasteners made with brackets and bolts.
Wall mounted. This group includes household appliances that are mounted on the wall through tripods.
Ceiling. Mounted on the ceiling with anchor fasteners.
Plinth. They must be placed under the windows or under the entrance group. Thanks to this arrangement, it is possible to eliminate drafts and "block" cold air currents coming from outside.
IR heaters can be high temperature, medium temperature and low temperature. Equipment operating in medium and high temperature conditions is ideal for overall rooms with a ceiling height of 15 meters. Low-temperature devices are the best option for equipping small private greenhouses.
How to choose and place?
To create optimal conditions for rapid plant growth, you need to take a responsible approach to choosing a device. First of all, it is necessary to determine the purpose of the equipment. To use devices in home greenhouses, it is advisable to give preference to household long-wave models. These options are designed for heating small greenhouses. For commercial applications it is best to stop the choice on light modifications working on gas.
Before buying it is important to determine the performance of IR devices. This parameter will directly depend on the area of ​​the room. Depending on the model, the units may have enough power to warm up from 5 to 100 m2. If the user plans to frequently move devices from one place to another, you should look at the mobile options, since they are easily transported.
For the owners of the greenhouse, who appreciate the safety of the equipment, the devices that run on electricity are best suited. In addition, they are much more convenient to install. For example, electric models can be fixed on the wall or baseboards, while gas models require the additional construction of air vents to remove harmful combustion products.
Before buying any kind of infrared heater, you need to carefully inspect the product for damage. It is necessary to refuse to purchase goods with a damaged case (scratches, dents) or other external defects. When choosing you should not be guided only by the cost of the heater. As a rule, low prices for the climatic equipment testify to its unsatisfactory quality. To reduce the cost of production, manufacturers of cheap products use low-quality components in the manufacture.
To organize the "correct" and uniform heating of the greenhouse with IR devices, you must follow a few rules when placing.
Between lamps and landings should be kept at least one meter distance.
Heated appliances should be placed away from each other. Allowed the distance between installations with a weak power of at least 1.5 meters. In spacious greenhouses it is advisable to place the equipment in a staggered manner to better warm up the space and save energy.
You should know that the higher the heater is located, the larger the area it is able to heat. Because of this feature, it is best to place devices on the ceiling. With a ceiling mount for heating the same room, you will need fewer instruments than with wall or floor fixation.
Usage Reviews
Analyzing the responses of people who bought infrared heaters, we can conclude that they do not regret such an acquisition. Most often, buyers share reviews on the work of household electrical models. According to them, these devices have the best value for money. They possess high efficiency that causes their efficiency.
Among the advantages, buyers note:
rapid heating of the room;
quiet work;
maintaining optimal humidity in the greenhouse (heaters do not dry the air);
the rapid growth of crops located near the climatic equipment;
automated heating process (possible with devices equipped with special sensors).
Electric models have some drawbacks. These include the need to purchase a gas generator, which may be necessary in the event of a power outage. And this is an additional financial cost.
An overview of infrared heaters for greenhouses is waiting for you in the next video.