Not everyone can afford to go all summer outside the city, so a beautiful balcony is the only place where we can be left alone with nature every day. What is the best way to arrange a balcony so that it would be a place of rest for us and could serve as a place to store a part of things. We present for you 25 photos of beautiful balconies, where a practical and aesthetic task with the help of various approaches.
The only thing that is located on this beautiful narrow balcony is a window-sill-tabletop at the level of the railing and high bar stools. The only decorative element - the boxes with grass between the table top and the railing look very unusual. More practical natures can use them to grow herbs, more romantic owners of the balcony can use them for flowers.
Beautifully decorated balcony decorated in the same style. Simple storage boxes are complemented with pillows in a nautical style, an improvised curtain for the lower part of the balcony is made of the same fabric.
Such a decision is not only aesthetically pleasing, but also quite economical; any hostess can always change the fabric on the pillows and curtains according to her taste and mood.
Beautiful balcony do it yourself.
Luxurious landing on the balcony is the basis of its aesthetic appearance. Well, if you are friends with flowers, and they respond to your care with healthy growth and abundant blooms. Then, instead of numerous pots on the balcony, you can make a small box under the railing, where to collect all your houseplants in a single composition. Fill the space between the pots with gravel and minimally decorating the surface of the box, you will get a stunning effect.
If your scale suggests a smaller number of plants, then the same idea can be implemented with small wooden boxes.
Elements from natural materials give a special mood to the balcony.
If you like tinkering, then to make such a pot of wood sawn you will not be difficult.
This idea is suitable for both the horizontal surface of the saw cut and its side part - in this case the piece of wood should be larger in height, but smaller in diameter.
The same approach can be applied to create miniature flower pots from scraps of wood. This option is perfect for a collection of succulents or cacti.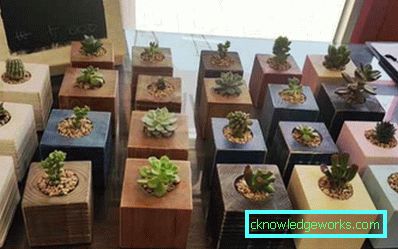 Beautiful balcony implies that it will be pleasant and interesting to watch all the small details of its design as well as the development of plants. A simple wooden flower stand can unexpectedly become the highlight of your balcony.
Flower pots of the original form can be made with cement.
Cement will allow you not only to show imagination in the form of pots, but also to create a spacious flower container with your own hands - inexpensive, stylish and, practically, of any size.
If you do not like the concrete surface, simply decorate the surface of the pot with branches. They can be put on glue and glued to the pot, but it is better to tie them together on a thin wire, because their service life is small, and next year, glued to the pot branches, will turn into dust.
A beautiful balcony is for everyone - for someone it is simplicity and convenience, for someone a small garden, but there is no doubt that its original inhabitants will appeal to everyone.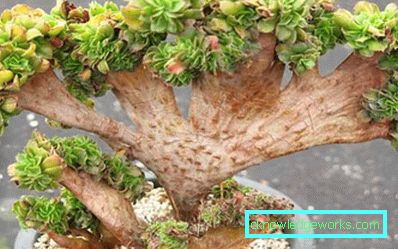 Beautiful balcony. Choose your style.
Experiment, try different plants, different styles, different moods. It is important that your beautiful balcony pleases you.
On a small balcony, storage boxes can serve as a support for shelving, which in this case should not be fixed to the concrete wall of the balcony. 
If you arrange a storage box on a small balcony not along the wall with a window, but under the wall of the balcony itself, you will get a longer bench for rest, on which you can even rest lying down.
Maybe someone was not lucky with the apartment in the attic, but the balcony was a success here for the glory.
A well-designed and beautifully decorated balcony is not only convenient and practical inside, but also impresses with its appearance outside.
The bright colors of the balcony can cheer us up after a busy day at work. Even if there are no flowering plants with bright colors on the balcony, you can always add color with the help of textile elements.
The surface under artificial turf looks great on a balcony - a green lawn, flooded with sunlight, brings about pacification and relaxation.
Wooden bu pallets will help you to make inexpensive and reliable benches for a balcony.
More ideas for pallet furniture in our Android app "100 furniture ideas from pallets."
In this version of the professional solution for the design of a balcony, flowers are used in containers that are lowered below the floor level, and artificial turf is used for the floor itself. So the plants look more natural and harmonious, and our view is not distracted by many small different-style parts, like flower pots. This technique visually expands the space.
The same techniques can, if desired, be used in the design of a very tiny balcony.
In order to create an atmosphere of a country house on the balcony, we use wicker furniture, garden lamps, and, of course, fragrant flowering plants.
Even if we are talking about the design of a balcony in a country house, then adding artificial turf as a floor covering, we will make our wonderful balcony even more beautiful.
The cushion chairs will help us hide from prying eyes on the balcony.
For natures delicate and aesthetic, you can make a design of a balcony in the Japanese style with a waterfall, pebbles and natural wood.
For those who are passionate about yoga and meditation. this rock garden on the balcony will serve as a real retreat.
For energetic natures a bright juicy accent in design is more attractive. It is enough to paint flower pots in the most inconceivable colors - and you already have a more active and positive attitude.
Every lover of indoor plants wants to heal their flowers under the summer sun. In order for the flower pots not to create a little chaos on the balcony, you can visually combine them with such a decorative fence.
Your beautiful balcony is your creativity: someone needs a relaxing swing, someone needs flowers or original design techniques.
For example, you can use solar-powered small garden lights on your balcony. Or make such a simple, but original shelf for flowers. In my opinion, it would be safer if the pots entered the hole in the board. Although, if these are plastic containers, they can be securely glued to the board with superglue.
A person naturally relaxes in nature - make your balcony a cozy little garden.
Use to design your balcony, even the view outside the window.
Turn your beautiful balcony into a real recreation area!
Using a minimum of natural materials and a maximum of your imagination, turn a small open space in your house into a real oasis among everyday work. And your beautiful balcony will become a favorite vacation spot for the whole family.
 Cottage with Your Hands