Glue 88: Specifications and Scope
Nowadays, the chemical industry greatly simplifies any technological process, offering consumers products that have a wide range of applications. Glue 88 is considered to be a unique product, as it can be used for joining materials that are incompatible at first glance.
What it is?
Glue 88 is a versatile, water-resistant compound that is commonly used for attaching various coatings, from glass to wood. This glue sticks together everything that other universal glues can hold together - leather, metal, glass, rubber, they even stick hair to toys. Many ask the question - why 88, why not 39 or 74, 51 or 62. The answer to this question can be found in the technical literature, which was released in the 80s of the last century. As it turned out, any adhesive composition after its creation passes mandatory test procedures that test its strength and elasticity.
As a rule, the frozen composition is subjected to boiling, the effects of chemical reagents, give an increased load on the gap and compression, and even lower or raise the temperature. All these tests last for 7 days, but as the story goes, with this glue, tests were randomly conducted for 8 days. Noticing this at the last moment, they gave increased pressure to the gap by a force of 8 joules - and the glue endured it all. Hence its name, which indicates unconditional quality, since not all types of glue are able to withstand such experiments. Glue 88 is made in accordance with the current GOST 12172-74.
Features and composition
The main feature of glue 88 is the ability to glue a variety of surfaces, such as:
wood;
cardboard;
thick fabrics and leather;
rubber;
porcelain and ceramics;
glass and mirror.
Glue 88 is a truly versatile composition., which is equally effective both for carrying out minor repairs in living conditions and in production areas - it is no coincidence that it is actively used in shipbuilding and mechanical engineering, as well as in light industry. Glue 88 is thermally and water resistant, it is characterized by plasticity and high speed setting. The seam formed by glue can withstand temperatures from -50 to + 70ºС. It is not prone to cracking and shattering over time, can not be mechanically damaged.
It is very important that it does not emit any harmful and toxic substances either at the time of use or as it dries out, thanks to which you can work with glue even indoors, without the slightest risk of harm to the health of children and adults.
Another undoubted advantage of the composition is its anti-corrosion ability, which allows it to be widely used when working with metal products. Glue is quite simple to apply, while economically consumed. So, on 1 square meter of the processed surface only 300 mg of structure is necessary. The product is distinguished by structural stability. The product retains its technical characteristics unchanged in the conditions of adverse effects of moisture, temperature differences and UV radiation.
Glue 88 is a thick mass of beige or greenish-gray color, while its shades may vary. The glue contains chloroprene rubber, ethyl acetate, nephras solution and phenol-formaldehyde resin. The presence of these components determines the resistance of the adhesive to diesel and gasoline products, as well as the optimal setting speed. From application to gluing, you must wait only 3 to 5 minutes. During this time, it is possible to move the glued surfaces, if initially they were fixed not entirely accurately.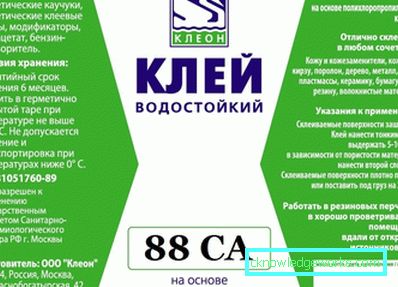 Types and purpose
Glue 88 is commonly used as a connecting substance for leather, rubber, wood, cardboard and glass products, as well as for bonding polymeric materials based on natural, isoprene and synthetic rubbers.
Modern industry offers several options for glue, among which it is worth highlighting the most popular.
Bf - It is also called rubber, as the name implies. It perfectly connects rubber surfaces, as well as metals and porous materials. Molded seam can withstand low temperatures up to -40 degrees and at the same time maintains its strength and ductility. It is widely used in everyday life and for the repair of shoes.
88 NP and SA These are the types of glue 88 used to fix rubber to plastic, wood, or concrete. The compositions are characterized by high resistance to moisture, therefore, are widely used in shipbuilding and during installation work in the open air.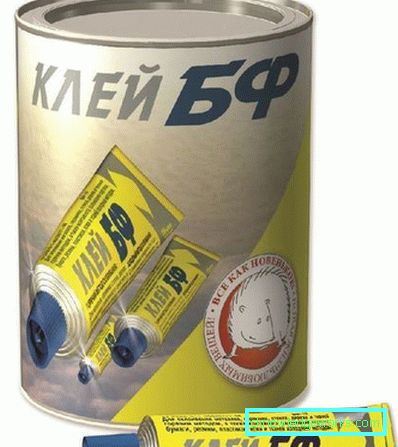 88 M and H - These are adhesives that are used during auto repair and other types of equipment. Such modifications can glue any materials. They differ in special durability in comparison with other options and have the wide working range of temperatures - from-40 to +75 degrees.
88 nt. This composition is most often used in everyday life. It solves all problems associated with minor repairs to household items, toys and household items.
"Lux" is a universal product that is used to bond any kind of materials - from paper to linoleum.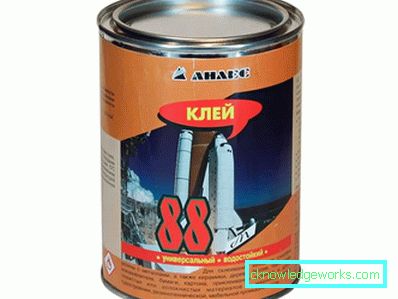 Any glue is distinguished by versatility and preservation of functionality in various thermal conditions.
Manufacturers Overview
The release of glue brand 88 are engaged in various manufacturers, the most common products of the companies "Moment", "Rogneda", "Expert", Kleyberg and "Mitsar". The quality of the presented compositions may vary significantly. Users note that imported adhesives have higher performance features, however, and their cost is also much higher. Rogneda specializes in the production of glue 88, which is widely used in everyday life and industry. It is used to bond materials in the production of furniture, as well as to repair shoes.
Another high-quality product is created by the domestic company Expert. Its glue differs in reliable fixing, forms a strong, durable and elastic seam. Products brand "Moment" is well known to all. Glue "Moment" - this is perhaps the most purchased product for domestic use in our country. It is the Russians who buy it to carry out minor repairs on footwear and toys at home.
Instructions for use
Glue 88 can be used in two ways.
Cold method. This option is common in solving household problems. In this case, the surfaces to be glued must be cleaned of dust and dirt, degreased and apply the composition for 10–15 minutes with a thin layer, then firmly press the surfaces to each other and wait for 3–4 minutes. After that, leave items for 1–1.5 days. As a rule, this time is sufficient for the final adhesion of the composition.
Hot method lies in the fact that before applying to the details of the composition is heated, thereby providing greater adhesion strength.
In this case, the sequence of actions is as follows:
surfaces should be cleaned and degreased;
need to apply glue for half an hour;
Heat treated surfaces with glue should be heated to + 85–90 degrees and pressed tightly to each other, then leave to "reach" for 3-5 hours.
Important: the second method provides a more durable connection of the elements, but at the same time it requires caution, since the glue 88 refers to flammable substances and if you are careless in handling or working near sources of fire, you may cause injuries.
Useful tips
Experts recommend sticking to a few tips when working with glue 88.
When stored for a long time, the glue thickens quite often. To return to his working condition should be dissolved with benzene. Dichloroethane is also recommended for this purpose. You can begin to use in 6–12 hours after combining materials.
There are no exact proportional tips, since they depend on the degree of thickening. In any case, when diluting an adhesive with a solvent, there should be a mass with a consistency of liquid sour cream.
Glue should be stored in hermetically sealed packaging at a temperature not higher than +25 degrees. Proper storage conditions allow the composition to be used within 1 year after its unpacking.
Further you look at testing of glue 88.