How to cook eggplant? Each housewife has her own home secrets. But how many more new and tasty eggplant recipes are waiting for our attention! It is very convenient to cook eggplants in the oven: for 5-10 minutes while the eggplants are baked, we prepare the stuffing and sauce, then we make our eggplants beautifully for a couple of minutes and bake until ready for another half an hour. Those. our time takes no more than 15 minutes. and what beautiful and tasty Turkish dishes can be made from eggplant!
1. Eggplant in the oven with tomatoes (Imam Bayaldy).
Everyone likes tasty dishes, if they are seasoned with an exciting story. Translated from the Turkish İmam Bayıldı (Imam Bayaldy) means "Imam in a swoon," and here is his story: "Once upon a time there lived a Turkish imam, well known for his love of good food. One day he surprised his friends by announcing his engagement to the beautiful young daughter of a rich olive oil merchant. Part of her dowry were twelve cans with gorgeous olive oil. After the wedding, the young girl quickly revealed her talents as an excellent cook, and every day she prepared a new dish for her beloved husband.
Eggplants in the oven with tomatoes and peppers became his favorite dish, and he asked his wife to cook this dish for dinner every day. Being a good wife, she cooked this eggplant dish for twelve days in a row. However, on the thirteenth day, when the imam sat down to dinner, his favorite dish was not on the table. The imam demanded an explanation, the wife replied, "My dear husband, I can no longer make your favorite dish, because the olive oil is over. The Imam was so shocked by the news that he fainted. Since then, his favorite dish has been called Imam Bayaldy (imam in shock). "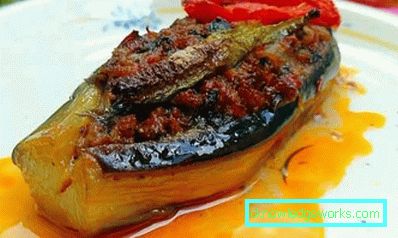 Ingredients:
6 medium eggplants;
3 medium tomatoes;
4 hot green peppers;
1 medium onion;
6 large cloves of garlic;
greenery;
1 teaspoon black pepper;
1 glass of water and 1 tablespoon of tomato paste for gravy;
vegetable oil.
Cooking:
Clean the eggplants. Sprinkle with butter eggplants, tomatoes, peppers and onions, lightly salt and bake them in the oven for 5-10 minutes.
We open the finished eggplant in the middle with a fork so that we get a petal. Fill eggplant with baked vegetables, add crushed garlic, spices and half greens. Tip A good housewife will always remove the skin from baked peppers and tomatoes. Fold the hot peppers and tomatoes in a deep plate and cover for 5 minutes. After that, you can easily remove the skin.
We part one tablespoon of tomato paste in a glass of water and add to the baking sheet with eggplants.
Bake eggplants in the oven for 30-40 minutes.
2. Eggplant in the oven with cheese and garlic.
Ingredients:
2 eggplants;
1 cup grated cheese;
vegetable oil;
2 cloves of garlic (finely chopped);
4 tablespoons chopped greens (parsley, coriander, cilantro, basil);
salt pepper.
Instructions:
Preheat oven to 180 ° C.
Wash the eggplants and towel dry.
In a bowl, mix the vegetable oil with chopped herbs and garlic. Season with salt and pepper.
Using a small and sharp knife, cut the longitudinal lines in the eggplant, but do not cut through it. Then cut the lines in the perpendicular direction to make cubes.
Gently use your fingers to open the sections between the cubes of eggplant and a teaspoon. Pour in the prepared mixture of oil, herbs and garlic. Add grated cheese there. Take care not to destroy the eggplant cubes.
Wrap the prepared eggplant in foil so that the foil does not touch the cheese. Using a thicker foil speeds up the baking process.
Bake for 20-25 minutes until the eggplant is soft and the cheese is completely melted.
Tip: You can prepare the eggplants in advance, wrap them in foil and put them in the fridge, baking just before serving.
3. Eggplant pizza.
Ingredients:
1 medium-sized eggplant, sliced ​​along 1 cm thick;
4-5 small tomatoes;
grated cheese;
basil.
Cooking:
Preheat the oven to 180 degrees.
Sprinkle each piece of eggplant with salt and let it stand for 20 minutes. Then rinse and dry with a paper towel.
Spread eggplant slices on a baking sheet, sprinkle with cheese and half of basil, garnish with small tomatoes.
Bake for 3-5 minutes until the cheese has melted. Sprinkle with the rest of the fresh basil and serve hot.
Another option for pizza is to cut the eggplant lengthwise into two pieces and bake in the oven for 15-20 minutes. When the eggplant is soft, use it as a base for pizza. Stuffing, as in traditional pizza, can be any - meat, mushrooms, ham, pepper, etc.
You can make a mini-pizza from eggplant - in this case, cut the eggplant slices across, bake in the oven. Then we smear a circle of eggplant with ketchup, put a slice of tomato, add cheese and greens and bake for 1-2 minutes until the cheese melts.
You can make eggplant sandwiches: cut eggplant mode along flat slices, add salt and bake in the oven. You can use almost anything you have in the fridge for a sandwich topping - cheese, tomatoes, mushrooms, greens, baked peppers, or ham.
4. Eggplant in the oven stuffed with meat (Karnyaryk).
Karnyaryryk means "broken stomach". But, in fact, this is the same Imam Bayaldy ("imam in a swoon"), but with meat.
Ingredients:
6 eggplant;
vegetable oil;
250 g minced meat;
4 tablespoons oil;
2 large onions;
1 tablespoon of tomato paste;
1 teaspoon salt;
1/2 teaspoon black pepper;
chopped greens;
1 tomato;
2 peppers.
Cooking:
Onion mode half rings and passeroem until golden brown in the pan. Onions should be a lot - then the dish will be exquisitely sweet.
Add minced meat to the finished onion, knead it in a frying pan with a fork. When the juice from the meat is evaporated, add a tablespoon of tomato paste. Add salt, spices, and finely chopped greens. All mix. Cook another 3-5 minutes.
Eggplants are cleaned with strips, sprinkled with oil, salt and put in a well heated oven for 5-7 minutes. When the eggplant is soft, remove it from the oven and open it with a fork in one of the cleaned strips in the form of a boat.
We salt, we fill with the prepared forcemeat. From above we decorate with a slice of a tomato and pepper.
Place the prepared eggplant on the baking sheet and add some water. Because we have minced salted and with tomato, then the selected juice will be the sauce for eggplant.
Bake the eggplant in the oven preheated to 180 degrees for 10-15 minutes.
5. Eggplant with minced meat in the oven in Turkish.
Ingredients:
1 kg of eggplant;
400 gr. ground beef;
1 onion, parsley;
salt, pepper, cumin;
tomato paste;
vegetable oil.
Cooking:
Partially peel the eggplants with longitudinal strips. Make transverse cuts of 1.5 cm thickness and depth to the middle of the eggplant. Salt it.
Sprinkle the eggplants lightly and bake in the oven for 7-10 minutes until soft.
While eggplants are being prepared, knead the mince, adding finely cut onion, spices and salt.
Place the finished eggplants on a baking sheet and gently place the mince circles between the slices. Add pepper slices and tomatoes.
Pour eggplants with tomato at the rate of 1 tablespoon of tomato paste per cup of water. Cover with aluminum foil and stew in a 200-degree oven for 20 minutes.
Then open it and let it redden for 15 minutes.
You can make several variations of eggplant kebab.
For example, such a fast hand.
Or a particularly beautiful eggplant dish for guests.
You can use this recipe not only for eggplants, but also for zucchini and potatoes.
6. Eggplant rolls with minced meat.
Ingredients:
1.5 kg eggplants;
minced meat 500 gr .;
1 onion;
parsley;
salt, pepper, cumin;
tomatoes - 4-5 pieces;
pepper - 3 pcs .;
1 onion;
vegetable oil.
Cooking:
Slice eggplants lengthwise. Sprinkle with salt and wait about 1 hour. Rinse and dry.
Sprinkle the eggplants lightly with butter and place in the oven for 3-5 minutes. You can fry eggplant slices in a toaster.
Prepare the filling - mix the minced meat with onion, parsley, salt and spices.
Remove the eggplant slices from the oven. Form a piece of minced meat the size of a small walnut. Wrap the minced eggplant.
Prepare all the eggplant slices in the same way and place them on a baking sheet.
Add small meatballs from the remaining mince between the rolls.
Finely chop the tomatoes, peppers and onions. Salt, drizzle with oil, mix. Put this salad on your eggplant.
Add 1 cup of water. Cover with a lid or foil and bake for 1 hour in an oven at 200 degrees.
After this time, remove the foil and roast in the oven for another 15 minutes.
Serve with delicious rice.
You can bake eggplants in the oven immediately with a side dish, for example, with potatoes.
Instead of rolls, you can also create eggplant envelopes.
7. Eggplant fan with minced meat.
Ingredients:
5 eggplants (eggplants should be thick);
300 g minced meat;
2 onions;
parsley;
1- 2 cloves of garlic;
salt, black pepper;
1 large tomato;
3 green peppers;
1 tablespoon of tomato paste;
1 cup hot water.
Cooking:
Cut the eggplants fan off the tip and squeeze them a little.
We bake eggplants for 3-5 minutes in the oven so that they become soft and easier to open.
Prepare minced meat: add finely chopped onion, garlic to the meat, season with salt, pepper and spices.
Lightly baked eggplants stuffed with cooked stuffing.
Put the eggplants on a baking sheet and pour a mixture of tomato paste, salt and hot water.
Cover the baking sheet with foil and cook in the oven heated to 200 degrees for 30-40 minutes.
We hope you are inspired by the new recipes of how to cook delicious eggplants in the oven, and you will certainly surprise your family with these tasty and beautiful dishes!