In D. N. Ushakov's explanatory dictionary, crocheting is called "a metal device of different shape with a bend at one end". At the time of the famous linguist, strict classical forms of such products were in use. Today hooks for clothes in the hallway are not easy objects of the front accessories, but elements of interior design. No wonder so many designers have cherished love for them, coming up with the most incredible shapes and sizes.
Advantages of using hooks
The use of hooks in the interior of the hallway is not only a necessity, but a real design method. Sometimes they are attached to create an original decor, which further emphasizes the unique image of the room. And if these are not ordinary objects, but truly original products (for example, made by the owners themselves), then such a rarity becomes the accent point of the entire hallway.
Hooks for clothes are used as independent elements, and can be part of hangers, wardrobe rooms, hallways. The usability of this hardware is as follows:
Hooks occupy a minimum of space in the room. If it can be difficult to find a place for an entire cabinet or shelf, then for such a small object this can be done anyway. They often carry things that should always be at hand: keys, an umbrella, a shoe horn.
Obvious indispensability of such simple fittings. A few hooks at the entrance are necessary so that it is convenient to hang right after the street, and not to hold outerwear, bag, bag, keys. Later, everything will fall into place.
Hooks are able to revive the space, become an indispensable element in the style of the hallway. This, coupled with the low price and simple methods of fastening makes such accessories convenient, practical to use.
Which hooks are better to choose
The choice of accessories today is huge. Adhering to some recommendations, you can purchase practical and aesthetic hooks specifically for each hall. Consider what exist:
Hooks are single-horned, two-horned, three-horned. For heavy clothing, the first option, which is designed for a good load, is preferable. Trehrezhkovye not so reliable, but provide more space for things.
Which hook to choose - metal, plastic or wooden - depends on the design style of the hall, purpose, weight of things that will hang on it. For example, for keys suitable light stylish plastic.
Pay attention to the shape of accessories. Manufacturers offer a lot of various options for hooks, but it is better to get safe with rounded edges and without sharp ends.
Note! The appearance of accessories affects the holistic perception of furniture and the whole environment. Ideally, hooks for clothes in the hallway should be combined in color, texture with the rest of the room decoration.
Of course, the hooks are not a machine to puzzle over what model is better and safer. But for the modern home are important all the details, from large to small, which make the face of our house.
What are hooks made of?
Such a simple, but much-needed object in the household as a hook carries heavy loads. Therefore, there are often specific requirements for the material and its manufacture.
You can purchase plastic, wooden, metal hooks. Let us consider in more detail each group:
Plastic. These are the cheapest. They are simply attached, for some even double-sided tape is provided. In the hallway, such accessories are useful for placing small items: keys, hairbrushes, shovels for shoes.
Tree. Such models have sufficient strength and ease of attachment. Their design is diverse due to the softness, flexibility of the material. They look great in interiors made in eco-style, country, Scandinavian. There will be wooden loft hooks.
Metal. Fittings made of metal may carry a sufficient load. It is durable and also has a long service life. But for fixing the hooks will have to drill the wall, as such products are mounted on the screws. There are samples of steel, bronze, copper, chromium.
A special group are forged handmade hooks. On top of them are applied special compositions that protect the metal from the effects of temperature and moisture, which helps them to serve for many years, without requiring special repair and maintenance. Such models look good in a variety of interiors, sometimes adding heavy, bulky furniture of lightness and grace. Hooks are decorated with various decorative elements.
Important! Traditionally, hooks are located 150-180 cm from the floor. The height of their attachment depends on the growth of family members. You can attach a few more pieces below or slightly. There will be children's clothes and various accessories.
Earlier, the hooks were simply fastened in one or two rows. Today, designers offer to create an unusual composition that will look original in the hallway interior: attach them diagonally, randomly, in a checkerboard pattern, and so on. Such fittings on a plank made of wood or metal, made to the style of the hallway, look stylish.
Types of Mounts 
The endurance and reliability of this element of accessories depends on what method of fastening the hook is chosen. Here the total weight of the clothes that will hang on it is important.
Fastening with screws and nails: the most reliable and common, metal hooks with such fixation can withstand a large load, used for any clothing;
Glue fastening is not so strong: it is used to fix wooden and plastic models;
Hooks with Velcro and suction cups: suitable for interior doors of cabinets, where you need to store a bunch of keys. Such a mount will not sustain a lot of weight. Fittings can be easily removed and moved to another location.
Hooks for hallways of different styles
As the image forms the details, so the hooks are able to maintain a single design style. Modern interiors prefer bright unusual decoration of accessories, abstract forms and compositions, non-standard solutions.
Art Deco
The hall in this style shines with glossy surfaces, mirrors in fancy rich frames, small details such as hooks, door handles made of bronze, brass, chrome.
High tech
Hi-tech prefers concise forms of metal hooks and hangers. They fit perfectly in futuristic design.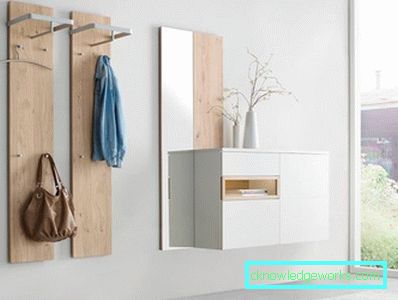 Loft
Loft as a style industrial, industrial support original parts from unusual things, such as nails, pipes, wrenches. Similar hooks are made literally from everything that comes to hand.
Minimalism
Minimalism chooses a simple situation without any frills. Accordingly, the fittings in the hallway can be laconic, devoid of various decorating delights.
Modern housing allows you to experiment with shape and color. Possessing imagination, you can think up original things for your home that will allow you to express yourself, and will also exist only in a single copy. Hooks made of tree branches, dresser handles, forks, bicycle parts, and many other simple things will look stylish. The main thing is that everything should follow the main design principle - harmony. See photos of various wall hooks for clothes in the hallway.

Photo Gallery