Children's bedrooms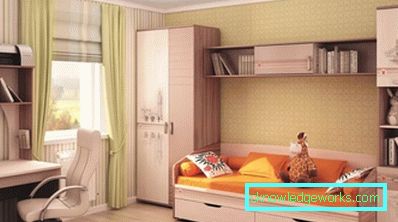 The nursery is a cozy nest for the child. Therefore, it should be not only a place for recreation, but also a play and work area. It should be a place for the reception of small guests and games. And most importantly - this place should be safe in all respects.
Making a nursery is an interesting process in which not only parents but also children themselves should be involved. Their opinion is decisive in interior design, of course, if their age presupposes their own opinion.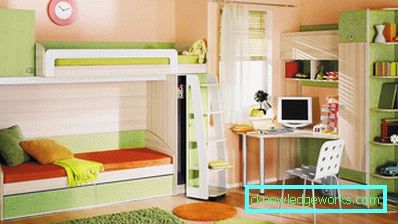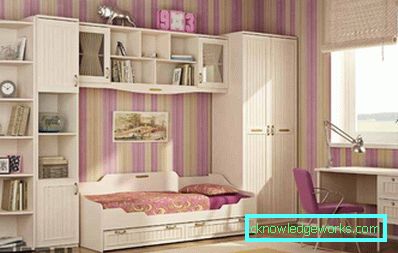 Design options for different areas
From the size of the room depends on the finish and location of the furniture. After all, if space is limited, you will have to choose compact furniture and a minimum of accessories.
Even in a small room of 8 square meters. m. you can create a cozy corner that will meet all the needs of the child. The main thing is to prioritize, and only then engage in the arrangement of furniture. For such an area, it is important to visually raise the ceilings and expand the walls.
To make the room seem larger, you need to use only light colors, such as white, beige and milky. It is good if a large mirror hangs on the wall or the wall panels are mirrored.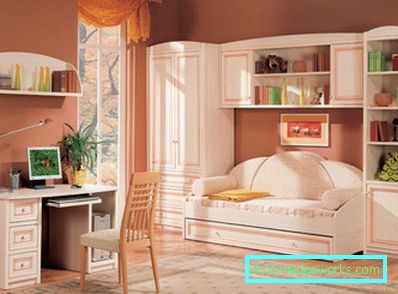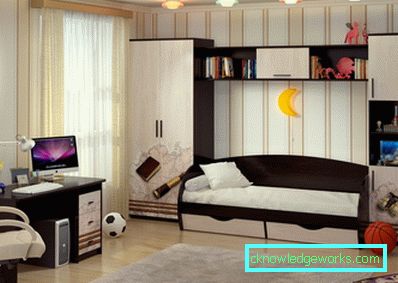 As for furniture, it is better to choose a sofa or a transforming chair. When folded, they take up little space, which is a huge plus. Furniture stores sell baby seats of any shape and design to please the little buyer.
If we talk about the design of a bedroom for children with an area of ​​12-15 squares, then there are more options. In such a room is easier to arrange furniture and save them do not have to. It can easily fit a cot, a desk, a wardrobe and a chest with toys.
In the interior design, you can use unusual combinations of colors in textiles and upholstery. For the girl, the ideal solution would be the presence of a floral ornament and lace, and for the boy, geometric shapes and clear lines are preferable. Of course, it all depends on the age and number of children living in the room.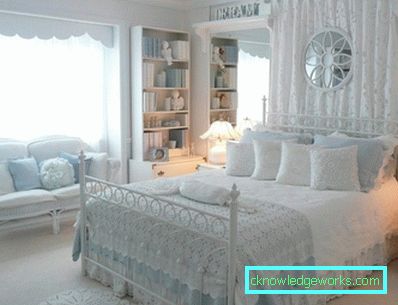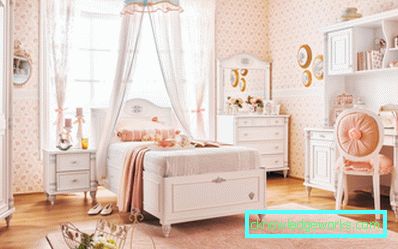 Features of planning
Not always the area of ​​the room allows you to make in it the design that you like. For example, in the "Khrushchev" are usually narrow rooms, and their sizes are not intended for scope. Therefore, residents have to go for some tricks that allow you to improve the quality of space.
One of the best layouts in the children's room is to install a podium. On it you can install a bed or a sofa, and in a niche to make boxes for storage of things. This saves space, so a room with a podium is a pragmatic way of planning a room.
Another interesting option is to combine the room with a balcony. This is especially useful for a small nursery, in which in addition to the necessary pieces of furniture nothing more fits.
Warm balcony can be a gaming area, a gym or a place to study. The main thing is that the glazed balcony is well heated and lighted.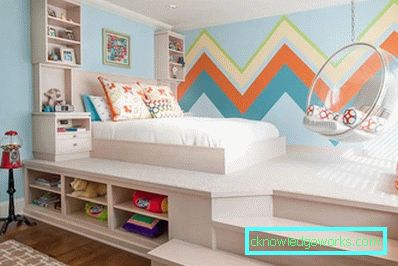 If the repair of the nursery is started in a wooden house, then it is important not to lose the individuality of the housing. It is better not to repaint the wooden walls and not to close them with wallpaper, but it is better to simply walk with varnish for furniture. You can decorate the walls with paintings or photographs that will add comfort to the room.
All furnishings should be made of natural materials so as not to stand out from the general style. The bed is placed near the window so that the sun's rays help to wake up in the morning.
To make the interior bright, you can use baby bedding with cartoon characters or colorful bedspreads and pillowcases.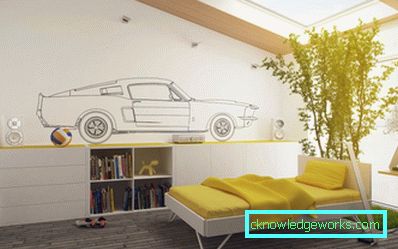 Interior for children: subtleties
In the interior of the children's room in the first place takes into account the interests of children. Adult children themselves will express their dreams and fantasies about how they see their personal space. And for kids, parents themselves will choose the style direction and location of the furniture.
The most important aspect of a child's room is a unique and bright design that will not make you bored. In such a room it will be interesting to play, relax and bring friends. Therefore, the room should be furnished with objects that emphasize the child's individuality. For example, a collection of cars or airplanes.
You can also emphasize the style with the help of various decorations. It can be funny stickers, lamps of unusual shapes, murals, wallpapers and a suspended ceiling with a three-dimensional pattern. In such an environment, any child will feel like a full-fledged owner of his own place.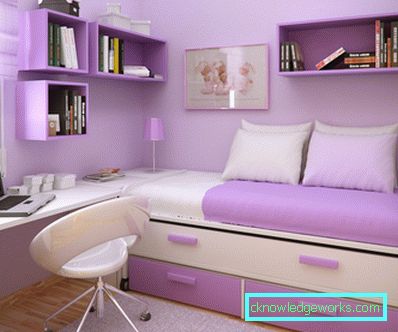 The walls in the nursery can decorate the painting or drawing on the entire wall. Painting the walls with their own hands, parents not only create an unusual and unique design, but also invest their soul in it. This process is particularly interesting with the participation of the smallest owner of the room. The prints of the hands of all family members are the original wall decoration.
Colors in the nursery can be absolutely any, because children love brightness. For girls, the room can be pink or in purple tones. It will look very unusual rainbow in the design: bedding, curtains or pattern on the wallpaper. For boys, Turkish flora or sea wave combined with pearl-green lettuce suits.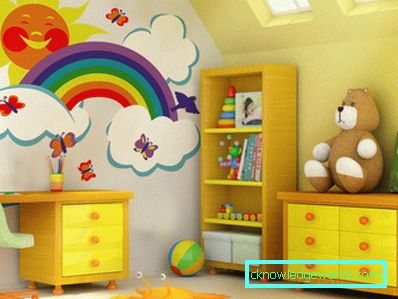 As for the style, there are no specific recommendations. It all depends on the overall style of the apartment or house, the views of parents and children, as well as financial possibilities.
Preferred for the children's room classic style. It assumes an abundance of light colors and natural materials. This option is safe for the health of the child and does not affect his psyche. A classic-style bedroom with bright accents is ideal for a child.
Another interesting option is Provence. He is known for his love of light pastel colors and light aged furniture. Floral motifs are interwoven with porcelain or ceramic items.
As for furniture, it should be not only colorful, but also practical in use. Now in the furniture stores are new items of children's sets, which have a fairly simple assembly. Parents can choose a furniture set of any color and from any material.
Projects by age
The age of the child plays a huge role in the decoration of the sleeping area. After all, what is suitable for a newborn baby is absolutely not suitable for the student.
For baby the main thing in the room is the presence of a strong crib, which should have strong sides. If desired, an electronic mobile can be hung over it, which will interest almost any child. Also in the room should be a changing table, children's wardrobe and toys.
For children of preschool age in addition to a solid bed, the room should have its own table at which he will draw, paint, sculpt from clay and read books. It is important that the child has his own chest of drawers with toys and educational games. So he will feel significant and will develop.
Student completely different priorities. The most important thing for him in the nursery is the presence of a comfortable working area, which should have everything you need and be well lit. Indeed, in this part of the room he will spend most of his free time. But do not forget about the hobbies - sports equipment and designers must be present in the room.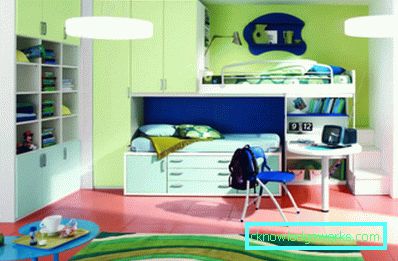 Feng Shui Decoration
Comfortably to equip the children's area can be by all the rules of Feng Shui, which has long become popular in our country. By following his recommendations, you can create a harmonious and cozy nest in which each element will have its own meaning.
By Feng Shui, you cannot put a bunk bed in the room, because the one who sleeps on top is in a suspended energy state. And this adversely affects his health. You can not buy and hanging bed, and a sofa on wheels. The bed should only be a place to rest, and on to play.
Above the bed there should be no voluminous items, and she herself should stay away from the window. It is believed that volumetric objects put pressure on the sleeper with their energy, and a closely spaced window will not give a quality rest. If the sleeper has nowhere to move, then on the window you need to hang thick curtains or blinds.
A very bad sign is the location of the bed opposite the door. Even worse - the decoration of stuffed animals. It is better to replace them with paintings with a landscape.
In order for the child not to be ill, Feng Shui recommends that all mirrors and blue tones be removed from the room.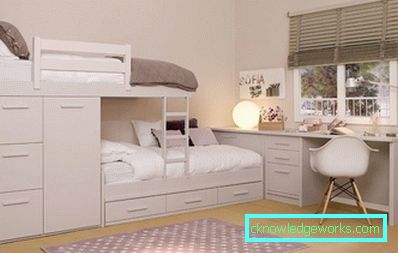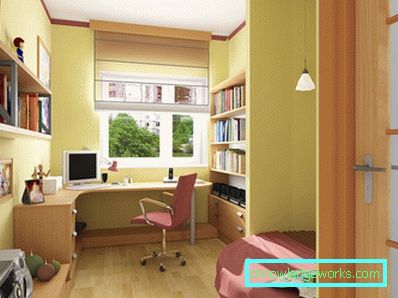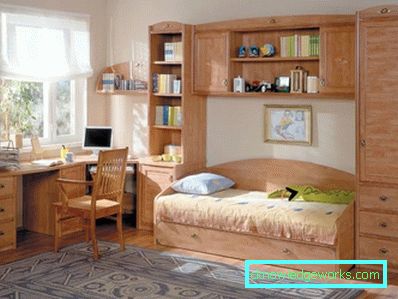 Original and practical ideas
Experienced designers advise to adhere to a number of rules that will help make a children's room a comfortable area for the child.
If there is a baby in the house, it is desirable in addition to their own room, to make a children's corner in the parents' bedroom.
Schoolboy it is better to install a berth at the window so that it would be easier for him to wake up in the morning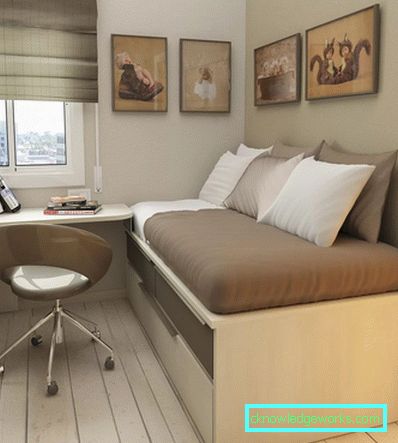 Children's room should be equipped with a working area., in which the child will be engaged in lessons and creativity.
If the nursery adjoins balcony, then you can make a game or sports field.
Walls, ceiling and floor in the nursery should be painted with non-toxic interior paint, which will be resistant to moisture and damage.
From children's space is better remove items that collect dust. These are carpets, many soft toys, artificial fabric.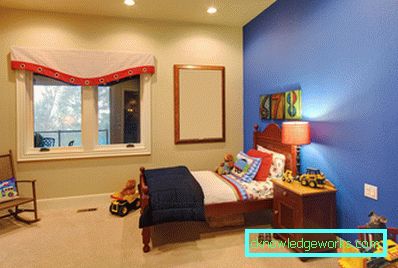 All surfaces must be washable., therefore, it is better to lay parquet on the floor, and to glue washing wallpaper onto the walls.
Do not hang bulky items above the bed, to eliminate the possibility of their falling on the baby.
To create a multifunctional space, you need use modular or built-in furniture.
One of the walls can be painted with washable paint. or put a special board on which the young artist will be able to calmly draw.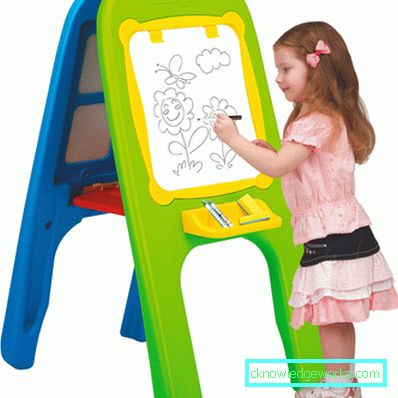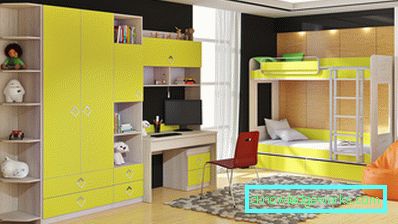 Repair for several children
Arrangement of a child's room for one child is easy work, since the area completely allows to contain everything you need. And if there are two or more children in the family, and only one children's room, there are not so many design ideas.
To equip a bedroom for two children is a difficult task, especially if they are of different sexes. A creative approach to business will help solve the problem of repair.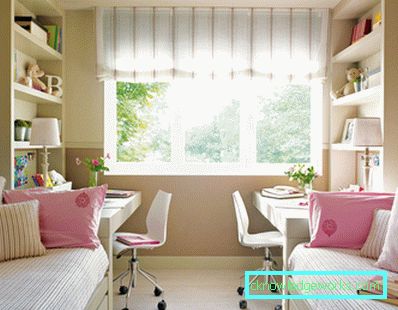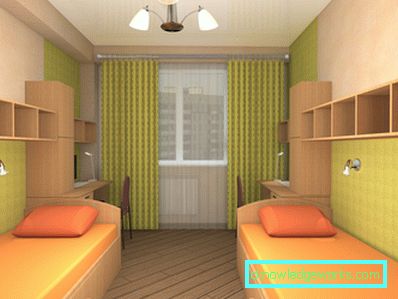 7 photos
The best option for a small room is a bunk bed. It takes up little space and looks interesting. Some models include the availability of storage shelves to save space. But for bunk beds, ceilings of at least 2.5 m are needed so that the child on the top shelf has enough ventilated air.
In the spacious room you can install the podium, which will be followed by a bunk bed. In a niche, you can build drawers and set the backlight along its perimeter.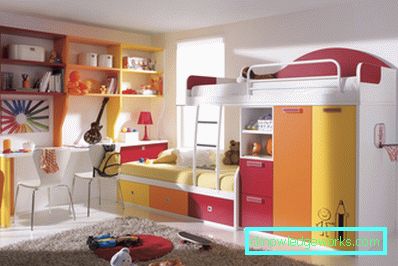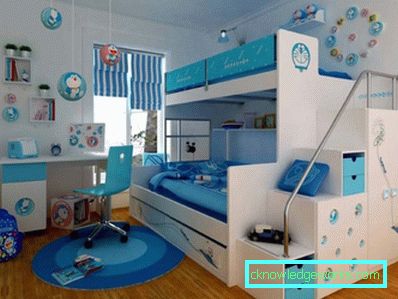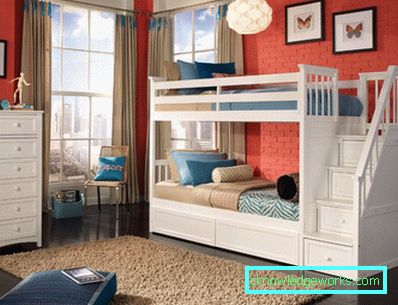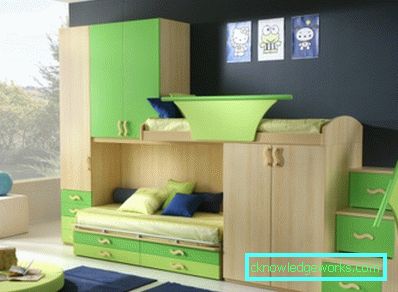 7 photos
If the room has a good square, then for children you can install two single beds, which will be located parallel to each other. For two brothers or sisters, this option is the most suitable, because it will be easier for them to communicate at bedtime.
If in the room there are two children of different sexes, then you can install a screen between the beds. It will create a sense of a barrier so that children do not interfere with each other in their personal affairs.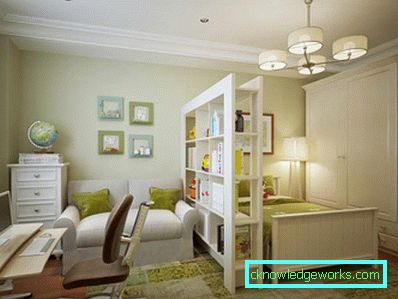 Making a children's area for three or more children is much more difficult than for one child. After all, the room should have three functional areas: work, play and recreation area. In furniture stores special children's slides and beds are sold, providing for a small floor space. Here are some nuances at registration:
For three children you can buy a bunk bed, which has an extra bed on the bottom shelf. It is convenient and in terms of space saving, because in the daytime this shelf moves in and free space is obtained.
If there are three or four children, you can put 3-4 chairs in the room. This is also practical from the point of view of saving space, because at night they turn into full-fledged sleeping places, and when folded during the day they practically do not take up space. "
The desktop for several children should be as large as possible, the use of a transforming table is possible. It also saves space.
If you think over all the nuances in advance, then at the repair stage you can make a large podium from which three or four beds will be put forward.
And in a room with high ceilings you can put a three-tier bed. This will save most of the room space, and therefore there will be plenty of room for games.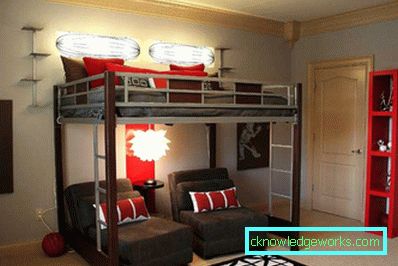 Designing a children's area for children is not an easy task, especially if there are several of them and they are opposite-sex. It is important to properly prioritize and highlight the main zone, which will occupy the main place in the room. In addition, it is important color direction and design solutions that will make children's stay in the room comfortable and cozy.
Organizing space for three or more children is not easy, but if you use innovative technologies, then all children can be placed on the same area. The main thing is to use square meters rationally and take into account the wishes of children.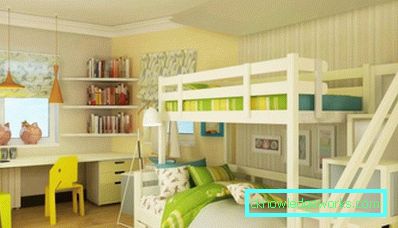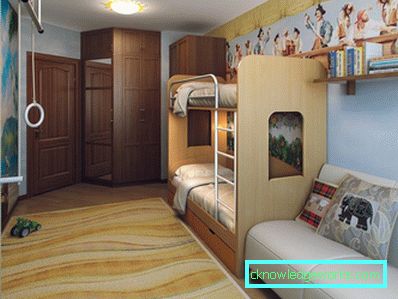 7 photos
And here is what the children's room looks like with the eyes of a "little princess".