Children's bedroom for two children
When you need to equip a children's bedroom for two children, many parents clutch their heads. However, the design of such a room is not as difficult as it may seem. It is only necessary to take into account certain nuances.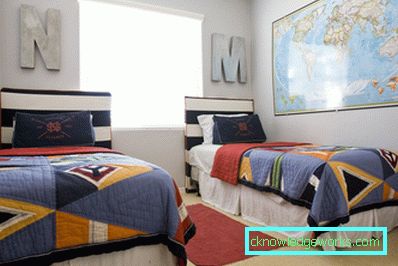 Subtleties
When choosing a room for a nursery, you should choose the room that is far away from the kitchen and the room where guests usually gather. After all, there is noisy water, knocking dishes, overstaffed guests can make a fuss - all this will interfere with the rest of the children or their activities. It is desirable that the windows of the nursery overlook the western or eastern direction. With this arrangement in the room in the daytime will be uniform lighting.
It is preferable for children's bedrooms, in which several children will live, to use rooms of non-standard forms, with protrusions and recesses. This will help in zoning the room easily. The most impractical are rooms with cut corners.
Prior to the arrangement of the children's room, it should be clearly defined what functions are assigned to this room. Beds, bedside tables and a wardrobe are enough for sleeping. Wallpaper in this case should be calm, one tone, perhaps - a pastel shade. It helps to calm and prepare for bed.
When designing the interior of a nursery for babies (up to 3 years), the needs of the mother should be taken into account: everything should be available (changing table, beds, and much more).
If the room performs other functions, it is best to zone the room.
Zoning room
Children under 6 years old must be given the opportunity to fully experience all the delights of childhood. The room should have areas for games, creativity, sports and sleep.
Older children must have individual jobs. There should be comfortable desks and bedside tables or shelves for storing school supplies and books. Ideal when private areas are divided by partitions. On them there are shelves, drawings. Zones for games and sports are shared.
Zoning is carried out using a specific placement of furniture, lights, screens, curtains, blinds, different colors of wallpaper or other finishing materials. Color zoning is a good idea: zones for games and sports can be made bright, rich, creating an atmosphere of energy release, and zones for sleeping and working are usually drawn in soothing pastel colors. This creates the necessary mental attitude.
One of the new-fangled design ideas is a maze of furniture. Sometimes division of zones is done by using different levels of the floor: some zones are lower, some are higher.
Furniture
When choosing furniture in the nursery, preference should be given to light products. The wardrobe is better to choose built-in, with mirrored doors - this will visually enlarge, move apart the narrow space. The number of cabinets should be equal to the number of children living - or it can be one cabinet, but with shelves for each child. You can mark the shelves with a certain color or sign the names of their owners. Cabinet must not be high. It is necessary to ensure its sustainability.
It is very important to arrange beds. Bed arrangement options for a children's bedroom for two children:
near the walls, to the right and left of the passage;
perpendicular to the entrance;
trailer.
To separate the zones of children in this case, use partitions of different heights. They can be made from drywall or from shelving. Will emphasize different territories using different color finishes of the walls.
To save space in small rooms can bunk beds, beds, lofts. Children usually like ladders in these constructions. The main thing is that the children observe security measures, are not afraid of heights and do not argue about where to sleep. Beds are attics on support racks. Under the beds are located other areas: work, play, and so on.
For beds, you must purchase orthopedic mattresses.
Table selection is important. It can be a long table placed at the window and divided in the middle by a shelf. Many use two tables. It should be borne in mind that psychologists do not recommend seating children with their backs to each other. This position develops closure. The best position in relation to each other - at an angle.
A chic option for a nursery is a combined version combining sleeping and sports zones. There are bunk beds, sports ladders, horizontal bars, ropes and much more. The use of sports equipment requires precautions: you must additionally purchase soft carpeting.
Color design
When selecting colors, you should not limit yourself to the strict framework of monotonous tones. Baby allow a large number of flowers. This is especially true in rooms for children of different ages or different sexes. At the joints of flowers, you can use picture frames or shelves. Young children like cartoon characters, little animals, and many teenagers are fascinated by travel, sports, and adventure.
Usually girls want to find themselves in the fairy world of fairies and princesses, while boys dream of technology. Girls traditionally "are friends" with pink, and boys - with blue. All this can be beaten with the choice of the color of the children's room. Of course, all children have their own tastes, this should be considered first of all. Girls, too, may well be interested in technology and love less delicate colors.
It is important to choose a binding window design or a place where two different shades will occur. For example, a pink-blue design can combine white, yellow or lime curtain textiles. At the same time everything should be a measure. Saturation with rich tones will be a psychological perception. Especially carefully it is necessary to use red color.
Children's room is unthinkable without toys, bright posters and other decorative items.
7 photos
Walls
You can stick wallpaper on the walls, paint it with paint, cover with decorative putty, use panels. For the boyish bedroom, a choice of painted walls with chrome-plated panels is successful. For romantic girls, you can arrange a room in the style of Provence, using non-woven wallpaper with pictures. With the combined living of heterosexual children, it is possible to create spaces with decorating with various finishing materials. As an example: brickwork in one part and textile design - in another.
Flooring
Linoleum, parquet, ceramic tile, laminate and other materials are used as a floor covering. Prerequisite: the floor must be warm. When staying in an apartment building should take care of sound insulation. Here can help cover the carpet.
Lighting
Must be high-quality natural lighting. It should ensure the presence of thick curtains for daytime sleep. Near the beds need bedside lamps.
Features of living together
For children of different sexes, it is required to provide a fenced place for changing clothes (screen, curtain, plasterboard partition).
Girls usually live together. Therefore, it is probably not necessary to divide the room. It is worth discussing with girls. It is possible to design both in pink and pastel colors: beige, sand, lilac, mint and others. Decorate the room can be soft toys, bows, ryushechkam, dolls, heroes of Disney cartoons.
When boys live together, it is possible to design a bedroom in the form of a ship deck, a computer game, a safari or a space station. Each boy must have his own personal space, otherwise conflicts may arise. It is desirable in the boyish room to provide a sports area.
When a boy is living with a girl, the room is divided. A good option - the connection of separated spaces with one theme. The part for the girl can be decorated in the form of a fairy-tale palace, and the part for the boy in the form of a ship arriving at this palace.
With a significant difference in age, it is also necessary to divide the spaces for children.
Each of the children should have their own zone to practice their favorite activity.
The arrangement of bedrooms for twins does not substantially differ from the general rules for accommodating children. Everything should be discussed with the guys.
The need to accommodate more children in one room complicates the task. The main problem is the size of the room. Designer tips for accommodating three children:
you must select the largest room in the apartment;
if there is a loggia, you can add it to the living area (or arrange a working area or dressing room there);
wide window sill can be used as a desk;
the use of furniture on wheels will provide the ability to easily place products;
if children of different sexes, then the room can be divided into 2 zones: for girls and for boys;
beds can be used not only bunk, but also roll-out (or those that are cleaned into the wall).
9 photos
Mandatory requirement for any design of children's rooms: everything must be durable, cleanable, environmentally friendly, without any toxic impurities.
With a creative approach it is quite possible to make rooms for children comfortable and beautiful.
All the necessary conditions for rest, self-expression and development will be created in such rooms.
10 photos
You will learn more about how to place two beds in the bedroom in the following video.