A wall with a wardrobe will fit into the living room in a contemporary style. Long gone are the days when this piece of furniture was perceived as cumbersome and monolithic. Modern walls are compact enough and at the same time roomy, and modular models can be supplemented and modified at their discretion. This multifunctional furniture saves space, which is especially important in small apartments.
A modern functional wall with a wardrobe will become a stylish highlight in the living room interior.
What to look for
A wall with a wardrobe should not only correspond externally to the interior of the room, but also be quite functional. Shelves and cabinets should be roomy enough to put everything you need there, including clothes and linen. If, in addition to clothing and small things, there are books, then you need to take care of a sufficient number of bookshelves. If the kitchen does not have enough space for dishes, you should purchase a wall with built-in wardrobes with transparent doors. On the shelves you can store beautiful sets, crystal, porcelain and other expensive sets of dishes.
A small modern wall with a built-in wardrobe looks very stylish and does not take up much space.
Important! If a family of several people lives in an apartment, the shape of the wall should be such that the things of each of them fit.
In small rooms it makes sense to put a wall along the entire length of the end wall, this is especially convenient if the living room is elongated. Then this furniture will help to make the space more harmonious and square. If the hall is of non-standard sizes or there are many niches in the room, protrusions, the furniture is most often made to order according to individual measurements. If this option does not fit into the budget, you can choose a modular model.
Wall with wardrobe for the entire length of the front wall of the living room
Modern walls are equipped not only with dress cabinets and drawers for other things, but also with shelves designed for equipment - TV, DVD-player, speakers. This configuration allows you to place a home theater in the hall without any problems. Therefore, when choosing, consider the availability of the necessary shelves so that you do not have to buy additional TV cabinets or bulky dressers for linen and clothes. One wall, combining several pieces of furniture at once, occupies a much smaller area and saves valuable space.
Functional living room furniture
Basic materials
The walls for the living room are made of a variety of natural and modern synthetic materials:
tree;
DSP;
MDF;
metal;
glass;
plastic.
Built-in furniture with mirror facades saves space, is functional and looks very stylish
Natural wood, such as oak or pine, look very nice. In addition, the tree is more durable in contrast to MDF and particleboard, but it is more expensive and requires special care. Wooden surfaces are afraid of water, are subject to various pests. To prevent this from happening, wooden furniture should be periodically processed with special solutions.
Elegant wall with wardrobe in the living room
In addition, the tree, especially the dark, looks cumbersome, which is not always appropriate in small living rooms. MDF and chipboard outwardly can not yield to wooden furniture, they are cheaper and look modern in the interior. However, the service life of such a wall will be less.
The walls of modern materials look very stylish and do not cause damage to the family budget.
Types of walls
Monolithic giants of Soviet times went out of fashion long ago, giving way to lighter and more compact furniture. The most popular in modern apartments are modular and corner models.
Modular wall
Universal version, which is becoming more popular. Modular furniture has an undeniable advantage - the ability to assemble parts at its own discretion, if desired, change modules in places, changing the interior. Such walls are convenient, because you can always buy the necessary parts or purchase exactly as many modules as you need.
Light modular wall with cabinets in the living room interior
Important! Modular furniture is convenient because if one part breaks down, it is not necessary to change the entire wall; it is enough to replace the damaged module with a new one.
Modular walls in a modern living room make it possible to change the interior if necessary, while taking up less space, unlike classic cabinets. The latter is very important, since in many typical apartments the rooms are not very large. In addition, custom-made furniture costs several times more expensive by individual measures, and modules can be immediately selected by size and assemble exactly the version of the wall that fits.
Modular wall in the living room with wardrobe
Corner walls
Corner models are a good option for living rooms with a non-standard layout. Such walls save space and harmoniously fit into square rooms. Most often in the corner is a wardrobe, and already from it are open and closed shelves and pedestals along adjacent walls.
Wall with corner wardrobe for clothes in the living room
The angular walls themselves are divided into two types - hull and modular. The advantages of body models are that everything you need is already included. No need to think about what elements should be present in the wall, and which should be removed. Cabinet models are also distinguished by a variety of designs, materials, textures and colors, which allows them to fit into the living room in any style. The lack of such furniture is one, it can not be supplemented with new elements or rebuild in the new configuration.
In some corners of the corpus wall is already built TV. Such furniture, of course, takes up more space and is more expensive. But modular corner walls are often not equipped with wardrobes, so you have to spend more effort on finding the necessary.
Style selection
A variety of wall models in manufacturers' catalogs allows you to create any kind of interior composition. It is not difficult to choose furniture for any interior style. Variants of walls for living rooms in a modern style with a wardrobe can be seen in the photo.
Classic
Classic style is the actual embodiment of luxury and sophisticated taste. Immediately it seems the decoration of palaces with an abundance of stucco, gilt, marble and expensive fabrics. Of course, the interior of modern apartments in a classic style is far from this, but the characteristic features are still present in the design of the living room. It is simplicity of form, symmetry, expensive natural materials, harmonious colors and rich finish.
A wall made in the best traditions of the classical style will cost a lot. Classic involves the use of expensive natural materials of the highest class. For furniture, it is only wood: oak, walnut, cherry, etc. Wooden furniture is durable and can last even several centuries. The color of the facades should be in a natural range, preferably as close as possible to the shade of the tree itself.
Modern style
Such furniture fits perfectly into the modern rhythm of city life, fast and impetuous. The walls in modern style are functional and compact, they harmoniously fit into the decor of the living room. As a rule, the modern style is eclectic, combines several elements of different directions:
Minimalism;
Art Deco;
High tech;
Loft.
Color and materials can be any, most importantly follow the rules of color combinations. Furniture can be in harmony with the decoration of the walls or stand out in contrast. Natural wood is easily combined with glass, metal parts and plastic. The decor can be the most diverse.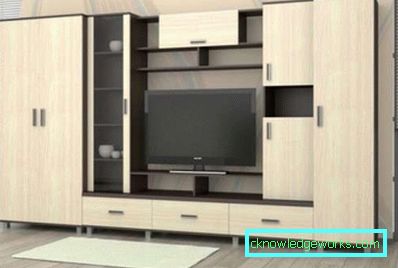 Minimalism
This style minimizes the decor to a minimum or complete absence. Minimalism is radical and the choice of furniture is solely on the basis of functionality. Such a wall is simple, strict and flawless. The facades of the cabinets are perfectly smooth, often glossy. The shiny surface allows you to visually make the living room more spacious.
Facades are usually opaque. All things and objects are hidden behind the doors of the lockers and stored in boxes. The color scheme is simple and unassuming. It is black, shades of gray, white, beige, discreet pastel colors.
Japanese style
The difference between Eastern and Western cultures is minimalism and clarity of form. The Japanese style follows the canons of minimalism, but it differs from other styles of this kind with greater contrast. The light facades of the wall are outlined by a contour of darker shades.
The color scheme is harmonious and natural. The walls for the living room in the Japanese style should be made in warm colors. Facades should be smooth and no frills decor. A distinctive Japanese feature is low furniture, so this wall is easiest to reproduce using modules. All parts must be located low.
In this style it is not necessary to adhere to strict symmetry. Placing the details of the modular wall according to your taste, the main thing is to be guided by the harmonious composition. Material - only natural wood. Facades should not be transparent, but they are allowed to use frosted glass and rice paper with a classic Japanese painting.
High tech
The most adapted style to life in a big city. Hi-tech glorifies a rational approach to the decoration of the living room, comfort and simplicity. The main materials are glass and metal. The facades of the wall can be frosted glass or fully transparent. Glass does not have to be white, it can have different colors, echoing the decoration of the room or decorative elements.
As in minimalism, furniture in high-tech style is distinguished by the severity of lines and the correctness of forms. The fasteners and legs are made of metal, often chromed. Among the shades lead neutral colors. Popular so-called metallic, this effect gives any color characteristic gloss metal.
Ethnic
The ethnic style reproduces the characteristics of a particular people. This style is loved by people who travel the world and have visited many exotic countries. The main focus is on characteristic national features. So, some and Japanese style are classified as ethno.
The wall, for example, in the African style, should be made of dark wood. Plastic, chrome parts are not allowed. Furniture lines can resemble the natural curves of trees or animal horns. On the facades are valid prints that mimic the skin of a giraffe or cheetah.
The wall in the living room with a wardrobe is a traditional element of the furniture for the living room. The choice of this piece of furniture must be approached most carefully, take into account the number of things that must be hidden from prying eyes. A variety of models, colors and textures will allow you to easily choose a roomy wall, in harmony with the interior of the hall.
Video: