We make the interior of the living room in turquoise color
Turquoise is associated in most people with the coolness of the sea, splashing waves and a fresh breeze. However, with this shade you can create a surprisingly delicate and cozy atmosphere. Turquoise is perfect for decorating the living room, at the same time setting the rest and giving the room refined elegance.
Turquoise color consists of a combination of green and blue in various proportions. Green has a calming effect, helps relieve tension and fatigue. Blue also causes a feeling of purity and coolness. A variety of options for living room design using turquoise shades are widely represented in the photo.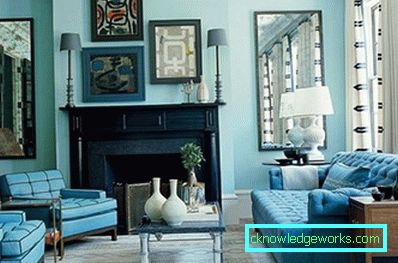 Psychologists believe that this noble natural color is liked by confident people who are in harmony with their inner world and are confident of themselves. Turquoise is not only able to relieve anxiety and nervous feelings, but also stimulates creative activity.
Finishing options
You can set the turquoise basic tone in the room. For example, choose the appropriate wallpaper, paint or decorative plaster. This technique is good for rooms located on the sunny side, since the blue-green color brings coolness and air. In darkened rooms, this solution will not look the best.
Extravagant people will love the furniture in turquoise. It will look most harmonious against the background of neutral beige, milk or sand walls. Bright sea-green upholstery will turn a sofa or armchair in the living room into a spectacular dominant.
Any interior will gain freshness by adding individual colorful turquoise elements. These can be curtains, decorative pillows or other textiles, various vases, flower pots, paintings and so on.
An important advantage of turquoise color - relevance in almost any style of interior. Suitable shades can be chosen for use in the living room in the style of Provence, modern, classic, minimalism, high-tech. The universality of turquoise can be seen by looking at photos of living rooms in various styles.
Photos: turquoise colors in the art deco living room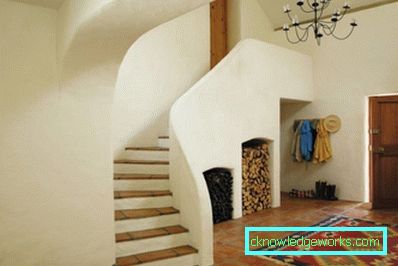 Photo: turquoise elements in the interior of any color will give freshness to your living room.
Tip: Lovers of frequent changes in the interior is better to stay at the neutral overall design of the living room with the use of eye-catching contrasting accessories, for example, turquoise. This technique will allow you to easily refresh the annoying situation, without undertaking a major repair.
Harmonious combinations
Turquoise color, especially deep and rich, goes well with pure white and its shades: milky, beige, sandy. The interiors in this range look especially elegant and elegant. If the room turns out to be too "cold," you can dilute the combination with spot warm blotches.
Black details will look very stylish on a turquoise background. The main thing is to find the optimal balance at which the room does not become too gloomy. Just a few elements of black are enough to show the guests their impeccable taste and sense of beauty.
Perfectly complements the turquoise sunny orange color. A living room in such a range will give a joyful mood even when it is dim and overcast outside the window.
The original combination of turquoise and coral looks original. The latter is best used moderately to create accents, so that powerful color contrast in large volumes does not tire or irritate the eyes.
An interesting image can be obtained by betting on the nuances - the use of turquoise in combination with various similar shades of blue, cyan and violet. The relaxed atmosphere of a carefree sea holiday will prevail in the living room. The combination of turquoise and pink tones will appeal to sophisticated lovers of romance.
The living room decorated in a turquoise palette can be diversified in details of green. At the same time it is necessary to select cold shades.
Shades of blue gamut are not very well combined with brown tones. However, the interior of the living room, in which coexist turquoise, beige and chocolate colors, can look surprisingly stylish and harmonious.
A combination of turquoise and noble gray will look beneficial. Such a design simply envelops you with coolness, therefore, this combination can be used for bright sunny rooms. Before interior design it is worth looking at various photos of living rooms - so you can draw a lot of good ideas.
With the turquoise color of the living room, you can easily add elegance and luxury to the palace interiors, create a delicate atmosphere of romance or a relaxing setting, which can be creative. Turquoise is a cool freshness and a reminder of the sea on a clear sunny day.
Even if the living room is located on the shaded side of the house, you can always bring bright, rich turquoise accents into the interior. Such accessories will bring a spectacular zest to any design and emphasize an individual style. Living in a turquoise range will be a favorite place for the rest of all family members and an ideal place to receive guests.