The walls became very popular in the mid-90s. They were large-sized furniture that occupied a large part of the room. Modern walls are not made in the form of monolithic structures, but consisting of separate elements - modules. They are cabinets and shelves of different sizes, designed for different items. Each owner can choose for his living room only those modules that he needs, without cluttering up the room with unnecessary furniture. In the photo of the walls in the living room you can see how modular designs fit well into various interiors.
Classic wall design always looks stylish and elegant in the living room interior.
The choice of the wall in the living room
Of course, monolithic furniture walls are available for sale in a huge range, but it is recommended to install them only in living rooms with a large area. For rooms of small and medium sizes, modular designs are recommended.
Modular furniture is the most suitable option for a modern living room.
To determine which modules and in which quantities should be purchased, it is necessary to decide for what purposes they will be used. Furniture wall can have such modules:
A closet in which clothes are stored. It can have different sizes, one or several flaps.
Wall open shelves. They have books, movie discs, vases, figurines, audio speakers and other items.
Closed wall lockers. They place any things: clothes, albums with family photos, medicines, bed linen and stuff.
Floor bollards. Inside store any items, and put on top of the TV, laptop, desktop computer.
Cabinets with glass doors - sideboards or display cases. Inside they are placed beautiful things that guests should demonstrate: crystal glasses, porcelain tea set, bowls, jewelry boxes and more. You can see the wall in the living room with glass inserts in the photo.
Modules with drawers. They store various small items, such as sewing needles, documents, and stationery.
Tip! The most popular wall colors are white, wenge and oak bark.
Functional wall with drawers and lighting in the living room interior
Types of furniture walls
According to the method of location in the room, modern walls in the living room are divided into:
Straight or linear: installed along one of the long walls. They may resemble traditional monolithic slides, but at the same time take up much less space;
Corner: one of the modules of this design has an angular shape, usually a wardrobe, furniture of this type is installed in both large and small living rooms, saving room space (below you can see a photo of the corner wall in the living room in a modern style);
U-shaped: this furniture occupies three walls at once, it is recommended to be installed in large spacious living rooms.
Wall furniture for a drawing room with P-shaped placement
Manufacturing materials
Furniture walls for the living room, as in the photo, are made of such materials:
Wood. Natural wood furniture looks luxurious, expensive and homely. It is made from cherry, oak, walnut and other types of wood. The disadvantages of this material include the high price and the need for care. The tree may crack or shrivel from moisture, under the influence of low and high temperatures.
DSP. Furniture made from this material is the most affordable. Chipboard is practical and durable: it does not stratify and does not crack with time. Chipboard is not afraid of temperature fluctuations, mechanical damage, resistant to moisture, undemanding to care.
MDF. This material is more expensive than chipboard. Furniture made of veneered MDF outwardly practically does not differ from elite furniture made of natural wood.
Classic wall with veneered chipboard frame
Dressing
The ideal wall should be not only comfortable, but also beautiful. The methods of decoration include:
Mirror inserts. The mirror reflects the light, visually making the living room more spacious and lighter. Furniture with mirror elements looks easier.
Art painting. Performed by professionals, it is not cheap, it looks unusually beautiful. Typically, cabinet furniture decorated with geometric patterns, ornaments of plant and animal themes.
Photo printing is an inexpensive modern way of decorating. You can choose any picture you like.
Inlaid with gems, amber, ceramics, stained glass.
Thread. Actively used in the design of the living room of classic and rustic interior styles.
Backlight. On each shelf you can install one built-in lamp. Another option is to mount the LED strip along the entire wall. Artificial lighting will allow the best side to show the contents of the shelves and cabinets behind transparent doors. For example, additional lighting will make crystal glasses shimmer and sparkle, and gilded heirlooms shine mysteriously. The backlight does not have to be yellow or white. You can use light bulbs in red or blue. Below are photos of the wall in the living room with light.
Tip! Furniture lighting can be used to create a romantic atmosphere or as a night light.
Furniture wall with open shelves in the living room interior
Walls for different styles
To date, many furniture walls are produced, differing in color, shape and configuration so that you can choose furniture for any interior style.
Classic
Classic style is associated with luxury and elegance. The wall should be massive, good-quality, bulky, made of natural wood of valuable species. The facades are decorated with glass inserts, carvings, fancy accessories, gilding, rounded elements. Suitable colors are light, dark or mahogany. Modules should be installed symmetrically. Gilded statuettes, antique clocks and bronze candlesticks are placed behind the glass. Below are photos of the wall in the interior of a classic living room.
Furniture wall in a classic style in the interior of the living room
Provence
Furniture in this rustic style should create an atmosphere of lightness and simplicity. The wall is made of natural wood, usually pine or bleached oak. It should be artificially aged, have a rough surface, abrasions, chips and cracks. The color scheme of Provence style consists of calm pastel tones. Furniture should be white, light brown, ivory. The presence of glazed cabinets and open shelves, which have beautiful ceramic and porcelain dishes, vases, caskets, family photos, is required.
A set of furniture in the style of "Provence" for the living room
Minimalism
The wall in this style should have modules of strict rectangular shape. Grade should be minimal. It should install only those cabinets that are really needed. Facades must be completely closed, monotonous. The wall can be white, gray, black or beige. With the location of the modules can not observe symmetry. There should be no threads, gilding or other decorations on the facade. Accessories are selected modest, concise. Usually these are small, straight shaped metal handles. In the photo you can see beautiful modern walls for the living room in the style of minimalism.
Wall in the living room interior in a minimalist style
Japanese style
This style is similar to minimalism. Furniture in the living room should be a bit, it should be made only from wood. Lockers must be covered with solid mono-colored door, frosted glass or fine-painted rice paper. Japanese symbols, images of birds or flowers are put on the paper.
Japanese style suggests straight strict lines.
Tip! Furniture wall, consisting of open shelves can be originally masked with the help of sliding doors made of bamboo or other material.
High tech
The wall in this modern style should be simple and comfortable, made of plastic, metal or glass. Suitable colors for furniture: white, gray, black. If you make it an accent of the interior, then you can choose a glossy model in a bright color: green, red, lilac, orange. The smooth flat surface of the cabinet furniture is necessarily equipped with lighting. Below are photos of the beautiful wall for the living room in a modern high-tech style.
Living room walls are popular among the population because of their versatility. The range of materials, colors and forms of modular designs allows you to choose a wall that fits perfectly into the interior. Before choosing furniture it is necessary to determine what exactly and in what quantities will be stored in it. Then it will be possible to purchase a spacious, high-quality, stylish wall of individual design, suitable for a particular living room.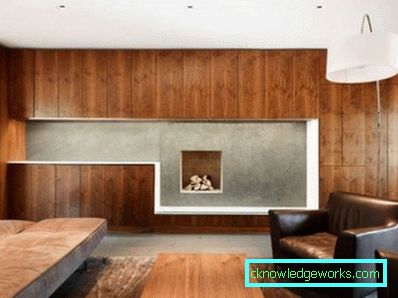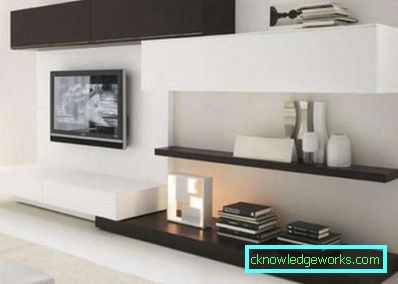 Video: