We make out a drawing room in English style
English style is, above all, wealth, combined with restraint, expensive furniture made of natural wood against the backdrop of a calm finish of the room itself. English-style living room looks spacious, a little strict, but definitely stylish.
What distinguishes the English style
Room decoration
There are several options. The most common one is monochromatic coloring or wallpapering with medium-sized, low-key ornament. Classic design in this style - the alternation of thin and wide stripes. The ornament may be brilliant golden elements. The main thing is that it does not look gone.
If space dimensions and budget allow, it is possible to cover the walls with plain wood panels from floor to ceiling. As a decor use of stucco, ceiling eaves is popular. From Victorian times, the English style inherited the tradition of decorating the walls with family portraits.
The English-style floor is undoubtedly a luxurious parquet made of natural wood and a large carpet of delicate milky or cream color. Will look great and the carpet with a dark edging or small floral ornament.
Furniture
Furniture for the living room in the English style can be chosen in light or dark colors depending on the overall design of the room, but it must be made of natural wood. As a rule, noble species are used for this purpose: oak, walnut, and mahogany.
Tip: Under neutral quiet wallpaper should choose furniture rich or dark shades and vice versa. Such a contrast always gives the interior a special expressiveness.
Traditional furniture for the living room in the English style is low tables with curved legs, large bookcases, soft cozy chairs, floor lamps and table lamps. From the lamps are popular elegant chandeliers with crystal pendants.
Photo: natural wood furniture will emphasize the style of your living room
Photo: an important detail of the English style - large paintings in carved frames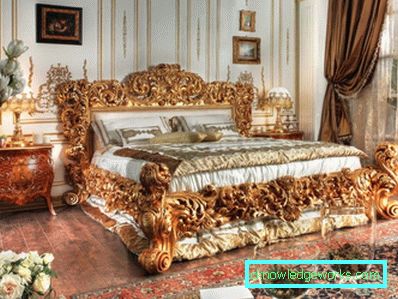 Furniture fittings can be selected with an underlined pretentious figure, so that it also looks expensive. Before choosing furniture, you should study photos of existing interiors, then it will be easy to determine the details.
Textile
English-style furniture is upholstered in both textiles and leather, sometimes quilting it in a special distinctive way. The color scheme may be monochromatic, but there are also fabrics with medium-sized patterns. You can combine different materials with each other, as long as they harmoniously look with each other.
Sofas are decorated with many decorative pillows, both smooth and with embroidery, fringe, tassels. Fringe and tassels can be decorated and heavy curtains. Often they are still tied up with ribbons or twisted cords.
An almost indispensable element of the living room in the English style is a rich carpet of natural material with floral patterns or ornaments. Often, the pattern contains English roses favorite. On the Internet and specialized interior design magazines you can find a lot of photos of living rooms in the English style.
Photo: a carpet of natural material in the interior of the living room of the English style
Accessories and parts
The main focus of the living room in the English style - a fireplace. They give the room a unique luxury and at the same time comfort. If you can not install this, will help out a huge selection of electric fireplaces. On the shelf above the fireplace place all sorts of memorabilia, decorative vases and dishes, photographs.
Photo: above the fireplace is the best place for the location of various decorative gizmos.
Often the walls are decorated with paintings in beautiful carved framing frames. The traditional solution is portraits of ancestors or family members, but landscapes and various subject matters are also possible.
English style is a timeless classic that will never go out of style. This option is well suited for confident people who value family values ​​and want to create in the living room an atmosphere of homely peace, comfort and warmth.
The English way of life as a whole was formed on the islands, that is, in geographic isolation. Hence the famous reverent attitude to traditions and conservatism. In the interior, the English style is a bit like Baroque due to the smooth lines, curved legs of furniture and massive expensive textiles, however, it is more strict and conservative.