We consider the living room a business card of the owner, because it is here that he meets his guests or holds family gatherings. The living room should be comfortable so that you can relax from the hard working days and also spend time, both with your family and friends. Interior living room 2019 - 100 photos of new designs in our selection:
Do not think that only a spacious room can be comfortable and attractive. After all, even a small space can be made free and interesting place to relax. And the small living room can be easily freed from clutter and crowdedness, you just need to know what you need to use for this.
Mirror decor - living room trend
It has long been known to all that a mirror can not only increase the space of a room, but also makes it light and modern. Natural light becomes greater when the light from the window falls on the mirror.
It will be interesting to look at the mirror decor, which can be hung over the upholstered furniture of your fashionable living room 2019. Thanks to the stylish wall decoration, your small living room will visually increase in size.
It would seem that a minor decor can be a powerful tool for increasing space.
Long corner sofa
Now, even in spacious apartments, people try to avoid cluttering up furniture, and what can we say about the tiny space. It is clear that in a small room, a large closet noticeably "eats" your square meters.
But not any cabinet furniture in the living room of a large size will reduce the space in the house. For example, a long corner sofa, not only will be a great decoration for your living room, but also be able to accommodate quite a few guests.
It will occupy the empty space in the house, without overloading the interior, and will not look huge. And in order not to be mistaken in the choice, pay attention to the compact and concise design. Your friends will surely be comfortable on such a sofa.
Eclectic style living room design 2019
Eclectic lovers prefer to hide the small size of their room with bright wallpapers, as well as a wide variety of attributes and decor. Similarly, they can surprise their guests with unusual furniture.
When all this exquisite beauty catches your eye, you no longer think about how big the living room is. But this option is not for everyone, only those who really appreciate the style of eclecticism.
Modern trends in living rooms - well structured horizontal stripes and geometric shapes. Stripes make the room wider, horizontally pulling it out. Your living room design with fashion trends will also become wider if you place a carpet with horizontal stripes on the floor.
Suspended and modular furniture
Suspended furniture also has the advantage of visually increasing the space, making it light and airy. The modular furniture in the interior of the living room in 2019 also does not take up much space, so hang on the wall modular cabinets instead of wardrobe.
All focus on one wall
New items in the living room design can be expressed in details, it so happens that uneven corners in the room or the layout is not quite right. In this case, all attention can be focused only on one wall, which will be well decorated (for example, paintings, photographs) and will be able to fill the entire space.
The situation is made up of little things
It really is. Often, thanks to modest details, you can create a cozy and favorable atmosphere in the interior of the living room. Novelties in the design - various souvenirs and accessories will create a relaxed atmosphere in your home.
Baroque living room - 120 photos of beautiful design

Interior design of a modern living room - 120 photos of ideas and novelties of interior design

Furniture for the living room - 150 photos in the interior
Do not be afraid to experiment with interesting decor. Small parts will be able to decorate a small space, but do not forget to clean them often of dust.
Souvenirs can carry some history, memory. Perhaps someone gave them or you yourself brought them from travels. Design trends say, overloading the interior of the living room in 2019 with too much decor is also not worth it, everything should be in moderation.
Built-in book wall
If there are too many books in your living room, and you simply have no idea where to put them, then you should definitely use the built-in book wall instead of a large closet or bookshelf.
So you will not only save living room space, but also be able to put much more of your favorite literature. The book wall will completely occupy the space from floor to ceiling, leaving no void.
Living room design - 200 photos of the best interiors in the living room

Color of the living room - 140 photos of perfect harmony of color in the interior

The wall in the living room - 100 photos of beautiful walls for the living room
New design living rooms
All items of furniture in the living room should complement each other. The perfect combination should be not only in the design of the room, but also in its functionality.
It will not be superfluous to place two or three comfortable ottomans to the coffee table.
Natural flowers
Almost every home has home flowers, because they are not only able to improve our mood, but also make the air cleaner. Fresh flowers not only delight the eye, but also enliven any room.
Therefore, thanks to the plants, a small room becomes attractive. Just do not put them on the windowsill and those places that prevent a direct source of light.
Better let the flowers hang in pots in the corner. So the interior of the living room will be both harmonious and complete.
Bedroom living room design: how to divide 2 interiors correctly (100 photos)

Kitchen living room - 105 best photos in the interior of the kitchen combined with the living room

Modular living room - 75 photo interior design ideas
Black and white in the living room design
Black and white colors will always be in fashion. After all, this combination makes the room solid and stylish. Your fashionable living room in 2019 will look neutral, which means it will not cause psychological stress. And in a small room, this color scheme will make the room positive due to its clear and clean lines.
High ceiling emphasis:
If the ceiling in the living room is high, then you can attract attention to the ceiling.
Now on sale there are very beautiful suspended ceilings, and even with photo printing.
Beautiful drawing on the ceiling will undoubtedly attract all the attention, and make the small living room visually voluminous.

The interior of your living room will become playful and fill the negative space.
You can also increase the height of the ceiling with vertical striped wallpaper and curtains to the floor.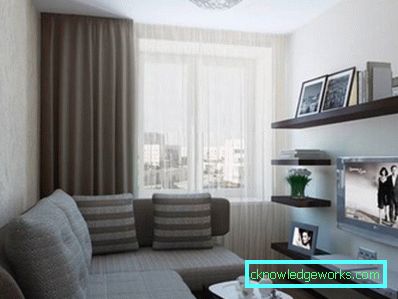 Atmosphere of tenderness
A soft pastel shade creates a pleasant and light atmosphere in a small living room. Prefer pink color, delicate peach and muted copper.
Also these colors can be combined with other shades:
The decor should also be delicate, use for this figure of crystal, beautiful vases with fresh flowers, cushions for the sofa with delicate decor.
Practical and functional
If there is not enough space in the 2019 living room, but you need to place as many things as possible (books, CDs, souvenirs and other trifles), then the space can be used practically.
Even small places around the window can usefully be used. As a rule, these places are not involved, but it will be practical and functional to place shelves for books or other attributes.
Transparent furniture
Significantly saves space in the trendy living room, which has transparent furniture. Transparent glass furniture (coffee or dining table) looks very weightless and original.
Also transparent plastic chairs are no less popular. Modern designers love such fashionable furniture, because when the light is refracted, it visually disappears before our eyes.
Secrets of the interior of the living room
Holders of standard urban housing, not pleasing in size, can not even dream of providing a special guest room. However, large apartments and private houses provide their owners with a similar opportunity.
Especially the question is relevant for sociable people who have friends or relatives in other cities and often invite them to visit.
New design living rooms - a room in which sophistication may well make friends with the simplicity of the interior. Of course, you will need high-quality finishing of the floor, walls and ceiling, the purchase of reliable and high-quality furniture.
The décor elements that are responsible for comfort are also important, otherwise guests will feel like guests of an impersonal living room.
Of course, interior design options for a living room in 2019 are determined, first of all, by its dimensions. Guest room is rarely large and spacious, more often it is a small room.
In addition, there may be serious problems with natural light, as the sun rooms are already occupied by family members or have other functional purposes. Problems with lack of light must be solved.
So, for a small-sized dark living room, experts recommend choosing bright colors that can breathe life into a room, fill it with colors:
Let's say indoor walls can become richly terracotta, blue or yellow.
If you plan to use wallpaper, it is desirable that they have an original, bright pattern.
The floor needs an equally cheerful and colorful carpet.
A sufficient amount of light slightly simplifies the task, even if the size of a modern living room is small. The optimal solution will be the dominance of soft, fresh tones.
You can prefer light green or light blue, lean in favor of beige or white and so on. As a result, indoor space will gain airiness, visually increase.
Bed - a new trend and the central element of the living room interior, its most important part. As a rule, preference is given to single models, which are successfully replaced by folding sofas.
This solution is more practical, since it may be necessary to place a married couple or, say, two children for the night.
A standard hotel suite is also required:
table and chair,
clothing closet,
mirror.
It would be nice to provide guests with leisure, at least by installing a bookcase in the room, filled with magazines and books. An alternative solution is a TV. Interior living room 2019 - 100 photos of new designs in the photo gallery: