Design thought does not stand in one place. Constantly there are new directions and styles. But the strict, refined classics does not lose its relevance. Such interiors amaze with their nobility and aristocracy. And thoroughness, because the interior decorated in such a way is not cheap, it requires natural materials and furniture, luxurious and elegant. It is about the choice of furniture in the living room in a classic style is to talk in more detail.
A photo. Upholstered furniture in pastel colors looks very elegant in the interior of the living room
The main features of the classic style
This style will be relevant for many more years. With its calm, traditional character, it fits perfectly into a city apartment and a country house. And create a corner of well-being and a certain detachment from the noisy world outside the walls. Time seems to freeze in gilded decoration of walls and furniture, in crystal chandelier trimmings, in elegant ceiling moldings and antique accessories.
A photo. Gilded stucco on the ceiling is inherent in interiors in a classic style.
What else is necessarily present in the interior of this style?
Pastel shades. The color scheme of the premises in the classical style is carried out by natural, often warm colors. The walls are monophonic or have a small pattern, ornament.
Natural materials. The classical style refers us to those years when technical progress has not yet introduced artificial substitutes into use. Therefore, traditional materials are used here for finishing and during the arrangement.
Antiques or antique items. Things like vintage clocks, paintings or mirrors in antique frames, crystal chandeliers or fine porcelain sets will create an atmosphere of bygone times.
Dear textiles. Upholstery upholstered furniture can be combined in color with the walls or curtains. Fabrics are selected quality, not as practical as looking luxurious and rich: velvet, velor, tapestry, satin, embroidered or embossed.
Classic style living room furniture
Characteristics of classic furniture
Very often, upholstered furniture for the living room in a classic style is made to order for a specific room. There are ready-made collections. But for any models there is an important rule - the use of natural high-quality materials. Composite materials, artificial, imitating natural surfaces can only spoil the whole impression of the chosen style.
Luxury furniture in classic style in spacious apartments
For classic furniture the following elements are traditional:
Unusual curved legs of sofas and chairs;
Exquisite carvings adorning protruding pieces of furniture;
Gold plated and enamel elements;
The curved backs of the chairs, often shaped like a vase;
Using forged parts;
Leather or high-quality fabric on upholstered furniture.
Furniture in a modern classic style looks very elegant
In classic living rooms one can often see antique furniture and wooden objects that are artificially aged.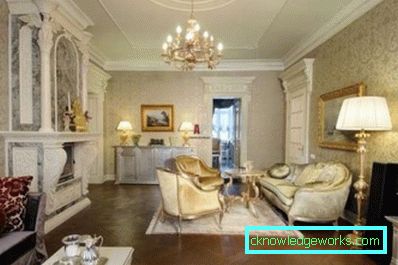 Elegant armchairs and a sofa in the style of the good old palace classics
Note! Classic-style furniture is usually only made of natural wood, but today it is common for veneer furniture fronts, they are difficult to distinguish, but they are much cheaper.
Classic style living room is easily recognizable by the massive expensive wood furniture
Choice of furniture
Classic things are always distinguished by sophistication, solidity, noble appearance. In addition, in modern interiors, furniture should combine luxury and functionality. It may have a finish of precious wood, stone, metal, inlay, carving, but its decor should not be too elaborate and overloaded.
White classic furniture
For a classic living room, several groups of upholstered furniture are usually selected: a sofa and armchairs, banquettes and padded stools, tableware slides, a dining table and chairs.
An elegant set of furniture for the living room in a classic style.
Sofa
A classic-style sofa is not an easy soft bed for relaxing or chatting with guests. This is a small work of art (like everything in the living room), made of expensive woods - beech, oak, walnut. It may have a simple design, but it should look gorgeous. The emphasis is on high-quality upholstery of brocade, satin, velvet and elegant finish. In some models, semi-precious stones are used, such as lapis lazuli, agate, jasper.
Armchairs
Classic chairs usually come in addition to the sofa. They may be different upholstery and be from another collection, but should not fall out of the general style of the room. Classic chairs have soft outlines, smooth lines, elegant forms, rich finish. They can carry the individual features of various styles, such as the quaintness of the Baroque, the splendor of the Rococo, the peculiarity of the Empire style, and can unite them into a single whole. Some designers offer instead of chairs to buy two traditional sofas.
Important! Classic-style upholstered furniture has flowing lines, voluminous backrests and rounded armrests, and carved wood trim.
Bookcase
Bookcases the place in classic living rooms. Modern gadgets are gradually crowding out books from life. But the stylish interior only benefits from the presence in it of elegant furniture with traditional paper volumes. Like the rest of the furniture, a classic-style bookcase is made of expensive wood, complemented by carving and inlay.
Chest of drawers
A chest of drawers can be a good alternative to massive cabinet furniture if the living room is small in size. This item contains a lot of things and becomes a real decoration of the room. A chest of drawers is not an invention of modernity; carved models with inlays and gold trim adorned rich European houses several centuries ago.
Slides
As already mentioned, the classic design style is not cheap. This style draws large rooms, where there is no question of the rational use of each meter. Therefore, in these living rooms almost do not put furniture. But the presence of slides for dishes here is mandatory. Exquisite glass cabinets carry expensive sets, traditional crystal or various exquisite things.
Arrangement of furniture in the classic living room
The living room requires a large room with high ceilings. After all, expensive, often designer furniture is located in functional groups and should be well viewed.
When placing furniture in a classic-style living room, they usually adhere to the following principles:
Symmetry. Such rooms do not tolerate chaos in the arrangement of interior items. Therefore, symmetry is the main component of the classics. Many items are purchased in duplicate: chairs, floor lamps, chandeliers, tableware slides, sconces. And they are arranged in pairs around some imaginary axes. For example, a pair of armchairs by the fireplace, two lamps on the sides of the sofa, two paintings on opposite walls.
Selection zones using furniture. In large classic living rooms, an open plan is usually done, and functional areas are distinguished by the furniture group. In the dining part is a table and chairs. That part of the living room, which is allocated for rest, has a soft group and a coffee table. Bookcases and armchairs can be located in the reading area.
Lighting. The lighting of the classic living room is thought out in advance at the planning stage of the renovation, as each key area of ​​the room must be clearly highlighted. The front crystal chandelier (often and not one) with a lot of hanging elements looks good, the model with frosted shades or lamps in the form of antique candlesticks.
Designer Tips
Create in the living room a real classic design will help some tips of professional masters in interior design:
It is impossible to imagine a central room without modern technology. But in classic style, it may look out of place. Therefore, designers use some tricks to hide or disguise the technique. For example, for a TV set controlled elevator in the cabinet. To view the panel rises, and after the need is removed inside.
Classic living rooms are designed in the same style. Choosing a direction, be it a pompous baroque or exquisite rococo, elegant classicism or a luxurious empire, you should not mix parts from different directions. Each of them has its own characteristics. Pile of everything will look vulgar and tasteless.
The classic interior is always in the same color scheme. Wall decoration, furniture upholstery, and other textiles should be well in tune with each other and not cause dissonance. In such a living room it will be nice to rest after coming home after a hard day's work.
The classic living room is an ideal choice for those who want to have an atmosphere of luxury and status in their homes. This choice will always be relevant. But he demands exact observance of all canons of style: the correct furnish, a competent choice of furniture and accessories. Otherwise, instead of a harmonious interior, you can get a jumble of beautiful things that are not connected by a single concept. What furniture is suitable for a living room in a classic style, you can look at the presented photos.
Video: