Eating chocolate improves mood, so why not make the living room design in chocolate tones.
The interior, made in such colors, will give warmth and comfort. The color of chocolate can be used in any premises, regardless of their shape and size.
The "tasty" color has a large palette of hues, from cocoa to deep dark brown.
One of the main advantages of the chocolate palette is neutral tone, so it is very often used for painting walls.
Chocolate in the living room interior
Living room in chocolate tones is not only practical, but also presentable, because brown belongs to one of the colors of the classics.
Indoors creates comfort, as the color is warm enough and is associated with hot chocolate, which will warm in cold weather.
Amazingly, chocolate is very easily combined with many palettes of other colors. According to psychologists, those who like this color are accustomed to lead a quiet life, and in the interior chocolate once again emphasizes their conservatism.
But, if you make the shade dark enough, the living room will be dark, so you should combine it with other colors.
Color Duets
Chocolate with white
A chocolate-colored lounge in a duet with white is a classic combination that is often used in modern style.
Thanks to the contrast, the chocolate living room seems to come to life and is already playing with new colors. In this combination, it is desirable to give a white color to 2/3 of the decorated area.
If this combination seems to be mundane, then add 3 shades: pink, orange, sky.
Beige and chocolate
One of the most ideal combinations of brown with bed tones, in which the living room will look soft, and it will be very comfortable to stay in it.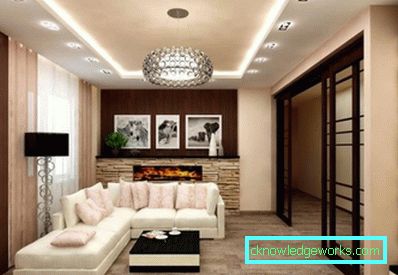 Due to the combination of easy transitions, this color scheme will give a room a cosiness.
To place accents in the room, choose bright shades of pink or lingonberry.
Does chocolate mix with red?
Red is the color of fire, it should be used in combination with the third shade, because an organic union is unlikely to turn into a duet with chocolate.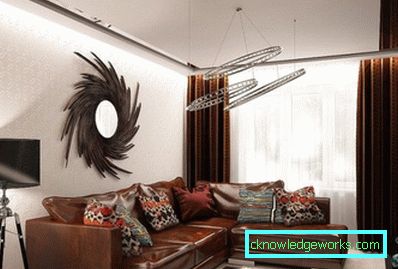 When combined with a red hue in the interior of the chocolate living room, it should account for only 1/4 of the area. For a better combination, dilute it with shades of blue.
Orange and Chocolate
In this design, harmony reigns, because both colors complement each other. This design is suitable for energetic people.
Any shade of orange will be perfectly combined, but designers advise to stick to the rule; the darker the shade of brown, the brighter it is to make orange.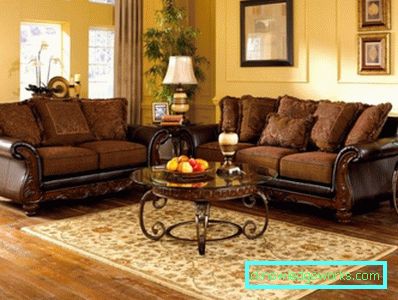 Yellow and chocolate
Both shades are quite close in color, so they easily complement and dissolve in each other.
In combination with dark chocolate, it is recommended to use pale shades of yellow. Pictured chocolate living room with golden interior.
Green and Chocolate
The natural combination of colors can not be harmonious. Green for the interior will be a breath of freshness, and brown will give warmth.
Such shades are very often used in the country style, and the green turns into a softer olive.
Blue and chocolate
For the interior is ideal not dark blue, but blue. The color of the sea always breathes tranquility, but at the same time in a duet with chocolate it becomes colder.
It is recommended to dilute the blue color with birch or emerald green, as well as add accent decorations.
Pink and chocolate
A little chocolate-strawberry will not hurt anyone, and will give a highlight to the interior. This tandem is used not only in living rooms, but also in bedrooms. Basically the main color is pink, which is complemented by items in the brown interior.
Chocolate and violet is a calm and relaxing color, but it is rarely used in combination with brown, since it is generally accepted that violet makes the design "masculine." But quite often used in similar colors lilac in the form of ornaments or drawings.
A lot of colors are combined with brown, and it's up to you to decide which one to design your living room.
Photos of the interior of the living room chocolate color