Wide Bottom Freezer Refrigerators
Construction Classification
General characteristics of wide models
Innovations
German quality
Perfection in black
A refrigerator is an essential attribute of each house, which allows to store products for a long time. A distinctive feature of these products is their size. Today wide fridges with bottom freezers are gaining in popularity. They can store a large amount of food, which is very important for families of several people.
Construction Classification
Refrigeration units are manufactured by many well-known companies that are trying to distinguish their products among other options. This led to the emergence of a variety of products that can be divided into several types:
European refrigerators. Systems of this type have a small width, but their height may be more than 2 m.
American type of devices It has a considerable width, which can exceed 1 m. Often in such devices the freezer is located at the bottom and is divided into several separate compartments.
Asian type fridges - These are medium sized structures. A distinctive feature of these models is the top location of the freezer.
General characteristics of wide models
Refrigerators of this type are great for large kitchens, as they take up a lot of space. Today, designs like "Side-by-Side". Similar designs have several distinctive characteristics:
The height of the refrigerator varies from 1.7 to 1.9 m - depending on the modification. The width is significantly different from the characteristics of standard models. This parameter varies in the range of 0.9-1.2 m.
The freezer in such units is divided into several compartments and can be used both for freezing and for cooling food.
All wide models of refrigerators include several standard features. The most popular of them are the "No Frost" system, the freshness zone, the ice generator and others.
The dimensions of these devices are significant, but at the same time they are quite economical. Many of them belong to energy consumption classes not lower than A.
To find out what the "no frost" system is, we recommend watching the following video.
Innovations
Manufacturers of wide refrigerators focused their efforts on improving these models. Every year, these systems are complemented by modern functionality, which allows not only to store food efficiently, but also to fully control this process.
There are several new products found in these systems:
Turbo-X Cooling (Daewoo FRS-U20HES). With this technology, the cooling rate is increased 1.3 times. It involves the use of powerful air currents that evenly distribute the temperature inside the chambers.
Minibar ("Beko GNE V422X"). It is present in many wide models. Such designs allow you to get drinks without opening the main door.
Backlight freezer. Now searching for food or chilled water becomes more convenient and easy.
Electronic control. This may include the presence of touch screens and a special remote control that allows you to adjust the characteristics at a distance.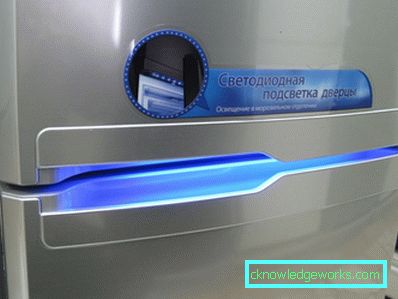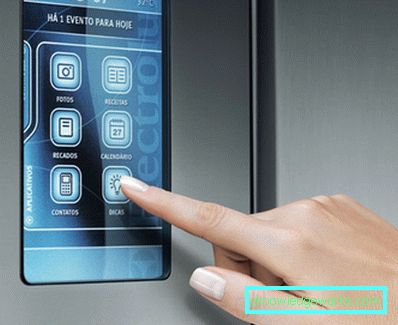 German quality
Refrigerators manufacturers from Germany deservedly occupy one of the leading places on the market. Especially it is necessary to highlight the most popular options:
Bosch "NoFrost KGN49SM22R". The width of the structure is 70 cm, and the depth reaches only 65 cm. The total volume of the chambers is 399 liters, among which the freezer occupies only 92 liters. Defrost both chambers using the "No Frost" system. Convenient features - super-freezing, supercooling and tempering.
Liebherr "CN 5113-21". The width of the unit reaches 75 cm with a height of 202 cm. The freezer occupies 115 liters, while the refrigerating chamber has a volume of 338 liters. As a defrosting mechanism - drip (refrigerator) and "No Frost" (freezer) system. The design provides for overhanging doors, it is characterized by heated contour. Among the positive functions can be distinguished superfrost.
Bosch "NoFrost KGN49SM22R".
Liebherr "CN 5113-21"
Perfection in black
Among the models of wide refrigerators with a bottom freezer one should single out a qualitative model. Hitachi "R-WB 552 PU2 ​​GBK". The device has unique characteristics:
The volume of the chambers is 510 liters, among which 429 liters can be used.
The refrigerator is equipped with a special cooling system "Dual Fan Cooling" and an eco-temperature sensor.
The system includes several modes of cooling, freezing and energy saving. The set comes a special filter "Nano-Titanium". Refrigerator doors are covered with special tempered glass to prevent scratches and damage.
Wide fridges are versatile devices that are perfect for large families. With their help, you can optimize the procurement of products, to devote more time to other matters.