Why blender is needed
Types of devices
Purpose of stationary models
Submersible use
Multiset
Difference from the combine
Difference from mixer
Brands Overview
Kitchen work has always been considered the most tedious and time consuming of other household chores. To facilitate it, home appliance manufacturers offer housewives a huge range of kitchen assistants - mixers, combines and blenders. We want to tell you today not only about why blender is needed, how to select and use it, but also about how it differs from other kitchen units.
Types of devices
All blenders sold today can be divided into two large groups: submersible and stationary. Some include a separate group of so-called multi-sets, which in fact are a kind of immersion blenders.
Each of these types of blenders has its own purpose, but they all have the same essence. With their help, you can reduce the time for grinding and mixing products, beating them and even grinding ice. Therefore, before making a purchase and making a choice in favor of a particular blender, it is necessary to study in detail for which particular cooking operations this particular model is best suited.
Purpose of stationary models
A stationary blender can be either mechanically controlled or stationary. It works autonomously after choosing a specific program or speed. It can be installed on a permanent place on any working surface of the kitchen. It is larger than the immersion model.
Each type of this unit has its own purpose and some minor drawbacks in the work, which you should definitely know about. So, the main functions of the stationary model of this unit are the following:
Blender shot down cocktails of any kind.
Preparation of vegetable and fruit purees, and also puree soups.
Performs ice crushing. Beat egg whites and creams.
Preparation of liquid and semi-liquid dough.
As features of such blenders can distinguish the presence of a bowl with one knife. Sometimes manufacturers include an additional bowl with knives for chopping ice, but the possibility of using the device for this purpose must be indicated in the instructions. This unit is most suitable for grinding liquid or semi-liquid mixtures of all kinds, and the presence of a spout on a jug allows you to quickly and gently pour the mixture into another container. But most importantly, do not forget about the useful volume of the stationary blender bowl and not pour the liquid over its value.
Submersible use
Submersible blenders always have a mechanical control, which consists in a rotary mechanism responsible for switching the device on and off, as well as for switching the speeds of work. During operation, such a unit must always be kept in hand.
With the help of an immersion blender you can cook a variety of dishes. The main purpose is to grind a small amount of solid products, as well as their mixing. The main features of this model are:
The need to constantly hold down the "Start" button during operation.
The inability to use for grinding immediately a large volume of products.
The longer the device works, the finer the products are crushed.
It can be used absolutely in any dish, as there is no special bowl for grinding.
As you can see, this type of blender can only be used on a very limited scale. But there is another kind of submersible model, which is more universal.
Multiset
It is necessary to separately distinguish special multi-sets of immersion blenders in a separate category. They have recently become the most popular. As a rule, such a submersible device includes a measuring cup, a whisk, a bowl or jug, a nozzle-knife in a closed container, a grater, and a shredder. The official name of this unit has not yet been given, but many hostesses call it just a mini-combine. Sometimes the kit also includes a mill and a chopper.
Such a multifunctional unit is marked by identity in the type of control and method of use with a conventional submersible blender can also have several nozzle speeds, depending on which the grater will grind products. In a small container it is very convenient to grind products with a pungent odor, such as horseradish, onions and garlic.
There are such models of multi-sets with the function of the meat grinder. They are able to grind even the toughest and stringy meat. In addition, often this unit is used as a coffee grinder.
Pulse mode, which is in such a device allows you to grind products with a short break, which avoids their uneven grinding and mixing. It is indispensable for grinding solid products and mixing them. Some stationary blenders have the same function.
With the right approach to the choice of a blender, it can replace in the kitchen and such household appliances as combines and mixers. But despite the almost alternative alternative, it is worth remembering that in some cases, blender still has very significant differences from them.
Difference from the combine
Each type of blender has its own differences from the food processor. Thus, the stationary model is more suitable, as already mentioned, for mixing liquid and semi-liquid products, as well as their beating. At the same time, in addition to these functions, the food processor also has additional various nozzles, which allow not only to beat and mix, but also to grind products, to chop them. The stationary blender has one, maximum two or three bowls with different nozzles, and the combine includes a huge number of bowls, knives and graters. In short, the combine is more versatile and versatile to use.
Differences from the usual submersible device are obvious, firstly, the combine performs more functions, and secondly, it is capable of chopping, beating, mixing and chopping products much faster and in large quantities.
Multi-set, unlike a combine, grinds products in smaller volumes, it is not able to mix dough due to the lack of necessary nozzles. And besides, it can not be used for beautiful shredding products, it simply crushes them. And in a combine, not only beautiful cutting into cubes, but also straws and slices are possible.
In short, a combine, unlike a blender, is a more functional device that can perform a much larger number of operations than a blender. In addition, it has a large size and takes up a lot of space in the kitchen, and its cost is much higher.
Difference from mixer
In order to understand what exactly is the difference between a blender and a mixer, it is necessary to understand what the essence of the operation of the second device is. The main purpose of the mixer is mixing and whipping products. It can be used for the preparation of any liquid and semi-liquid dishes, in particular, creams, dough and cocktails. The mixer is not suitable for grinding products or for their cutting. In terms of its functionality, the mixer is not much different from stationary blenders, except that it whips and mixes products a little better.
But from the submersible device and multinabora it differs dramatically, both in appearance and in functionality. With it you can not grind, grind and mix solid foods. In this case, the mixer is less functional.
The mixer, due to its limited use in the kitchen, in contrast to a blender, has a lower cost. As for the size of the devices, it is smaller than the multi-set and larger than the submersible one.
As you can see, to one degree or another, a blender can often become a practically equivalent replacement for almost any kitchen appliances. The main thing to get a reliable device.
Brands Overview
Blenders are produced today by various manufacturers, both very well known and not so much. We want to bring to your attention a review of the four most famous manufacturers of household appliances and not only. Each of them earned his name and credibility with customers due to the high quality of their goods.
Bosh
This is a fairly well-known German company, has received the recognition of customers through high-quality, functional and durable products. Submersible blenders of this manufacturer are the most popular with customers, although he is also engaged in production of stationary models. Due to the abundance of nozzles, a sharp knife and the possibility of wireless operation, these devices are simple and functional to use. They are also suitable for cutting products, grinding, mixing, stirring. Due to the high-quality raw materials used in the production of these blenders, their service life according to reviews of at least 5 years.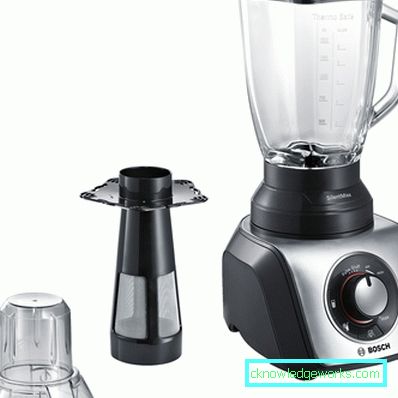 Philips
Philips blenders, especially submersibles, also became popular favorites. For the most part, this brand is today engaged in the production of multi-sets, which makes it possible to replace both combines and mixers in the kitchen with them. The ease of use, ease, ergonomics and modern design make them a desirable purchase for many housewives. Wide functionality allows you to use them to perform almost any kitchen operations. The brand is engaged in the release of a wide range of models with different technical characteristics, which allows everyone to purchase a blender that is suitable for him.
Braun
Braun blenders in their functionality are not inferior to the two previously described blenders. Their functionality is sometimes not inferior to the usual food processor, while they are cheaper and take up less space in the kitchen. A wide range of components and additional nozzles allow you to shred, chop and beat the products in the quantities you need in a short period of time. And all this without any extra effort.
Vitek
Vitek is another fairly popular brand for the production of blenders and other household appliances for home and kitchen. Low cost, wide range, durability and functionality - this is what is appreciated by the supporters of this manufacturer, and therefore its products are in high demand.
All of these brands are now selling stationary and immersion blenders, as well as multi-sets. Moreover, they all differ from each other not only in cost, but also in their components and functionality. There are also lesser-known manufacturers who also offer such goods to customers and many of them can seriously compete with famous manufacturers, for example, Redmond, Scarlett, Kenwood and others.
In conclusion, I would like to say that it is the blender that is today one of the most popular and widely sold household appliances. It performs many functions, is implemented in a wide range, is easy to operate and maintain, and most importantly, it allows you to significantly facilitate kitchen work and turn it from a familiar routine into a creative process.