Which immersion blender is better to choose
Varieties
Features: Tips for choosing
Advantages and disadvantages
Rating of the most popular models by reviews
It is difficult to imagine modern life without the use of convenient, technological devices. Multicookers, microwaves, juicers, blenders - all this has become indispensable helpers in the kitchen. Grinding, mixing, chopping has become much easier with choppers and blenders on automatic adjustment. They greatly reduce the time for cooking, leaving the entire nutritional composition in food. On what kind of immersion blender is better to choose, suggest its technical characteristics, as well as numerous reviews.
Varieties
The history of blenders has a century. They were invented by Steven Poplavsky, an American, to automate the production of the popular soda fountain drink or soda pop in the last century. Who would have thought that his invention had become one of the most important kitchen appliances of our time. If the first models could only mix the ingredients, then modern household appliances "made a step" far ahead.
Before the submersible model of this device appeared, in 1937 the world saw a stationary product consisting of a bowl and special knives. When rotating at different speeds, they could not only mix products, but also chop, chop, create a puree-like consistency. In 1950, the hand, rod and submersible models were patented. They were also called "Bamix".
The triumph of the popularity of blenders came in the 70s. Until today, the most relevant products are submersible. This is an open system consisting of a knife, a whisk and very much like a traditional mixer. Among the wide range of devices you can choose household and professional appliances with different types of nozzles.
Do not confuse blenders with choppers, mixers, kneaders, combines and meat grinders.
Depending on the capacity, you can perform various tasks in the kitchen. For example, the submersible model perfectly cope with the task of whipping egg whites, but for mixing the test is not suitable. In this case, it is better to use a combine, a stationary device with a power of 700 W and above.
With the help of this "helper" it is easy to prepare:
sauces, homemade mayonnaise;

carrot pie, baking stuffing;

oat protein shakes instead of breakfast;

ice cream, chocolate mousses;

mushroom, pumpkin, soups, broccoli, lentils, potatoes;

fruit smoothies, cocktails;

non-alcoholic and alcoholic beverages (beyliz, mojito, refreshing healthy Indian cocktail Mango Lassi, etc.).
In the market of kitchen appliances there is a huge number of such devices. You just need to make a choice. In case you do not need to prepare a large amount of food, you can get by with an effective immersion blender. Mobile and easy to transport, it can be used not only at home.
It can be portable, manual, wireless, planetary and even vacuum. Each species has its own advantages. You can grab such a gadget at a sports training session by following the schedule for taking protein supplements, protein shakes.
And still the portable product is located in a suitcase for travel. The ability to recharge from the network or model on batteries will not "limit" you in time and place of residence. Bring blenders with you on long trips, business trips, to resorts.
An ordinary device works quite simply. Unlike stationary, complete with a submersible very rarely comes a bowl. You must use suitable utensils with high and strong walls. Experts recommend to get bowls and glasses made of metal, high-quality plastic, glass or ceramics. The walls must be dense and high so that the spray does not fall on your clothes and furniture.
The stylish "magic wand" will certainly come in handy at home, especially if there are young children in the family. Throw out the old corollas, float, mixers, replacing them with a quality submersible blender. Many manufacturers for the creation of baby food make them noiseless. This means that you can stand at the stove at any time of the day, without fear of waking your child with a rumble from the kitchen.
An effective hand blender perfectly grinds the hardest products, like nuts, refined sugar, apple slices, peach, and other fruits and vegetables. There are special devices that in a matter of seconds will chop the meat and turn it into mince, and also split the clear ice. In this case, their power should exceed 700 watts.
Features: Tips for choosing
When buying a device for the home, first of all, pay attention to the manufacturer. There are a number of legendary brands that have successfully established themselves in this niche. It is important for consumers to buy not a "cat in a bag", but a product that meets the stated specifications on official websites, at an affordable price, certified.
Marks Polaris, Braun, Bosch, Scarlett, Moulinex, Vitek for several decades working on the development of the most convenient to use blenders. In their collections it will turn out to find submersible models that are different in compactness and mobility. Try to give preference to Russian, German or Swiss quality.
The main selection criteria for you should be:
case material;

instrument power;

durability of nozzles, their ability not to bend in a hot environment.
If you need to make mashed potatoes, tomato and other sauce, use a nozzle with a through cone, from which chopped mass will flow freely. These models are not designed for continuous operation, but they do an excellent job with small amounts of food, in portions.
Since you have to constantly hold the immersion blender in your hand and at the same time do not release the start button, you can tire. That is why you should not test the device with huge amounts of food. This will not shorten your time. If you are going to set the table for a large number of guests, arrange a real meal, it is better to use a stationary or a combined model.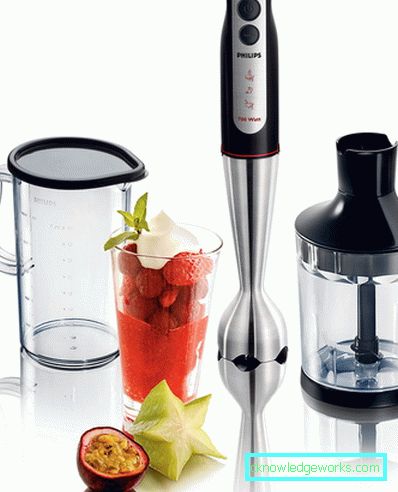 A feature of the submersible device is its wide functionality. A manufacturer completes such products with a variety of attachments for specific purposes. So, you will not be difficult to prepare squash caviar, butter cream, jam and a delicious drink.
There are three main types of nozzles. The main is the "pestle", included in the package. This item is equipped with metal sharp knives that help grind foods to the desired consistency (thick cream soup, porridge, mousse, cream with cream, etc.).
An additional whisk will perfectly whip up the squirrels, fully replace the work of the mixer, will allow to prepare the basis for mouth-watering pancakes, pancakes. But the third nozzle, chopper, is a container in which there are knives. With this design in a matter of seconds, you can prepare minced meat, chop the onion and vegetables for frying.
It is very rare to find a vacuum nozzle or vacuum pump complete with an immersion blender. With this invention, you will be able to pump out air from a plastic container, to provide products with a longer shelf life. As soon as you find out that the immersion blender suits you according to the type, design and number of modes, start exploring its technical capabilities.
Power can vary from 200-700 watts and above. But it will already be professional, special models with special programs. The less power, the less functions you will have available. Such "modest" products are suitable for preparing simple dishes, mixing simple ingredients, creating delicious diet food, children's cereals, protein shakes, etc.
An important factor in the purchase of a quality blender is the speed at which the knives roll. In modern models, the number of revolutions exceeds the value of 30 000 rpm. Modes in the submersible model can be up to 24. Higher speed - the device itself is more powerful.
Do not neglect the choice of containers for mixing, grinding products. The stronger the walls of bowls, drinking bowls and bowls, the less likely you are to damage the dishes, spray berry, fruit juice, etc. When choosing a material, you must take into account the fact that any stainless steel device exhibits a much longer shelf life than plastic models. .
We also choose the right devices according to our individual needs. If you are a fan of multi-component soups, sauces, cocktails, try to get powerful models with the maximum number of nozzles. Due to the increased power characteristics and compactness, the immersion blender is much more expensive than the stationary one, but cheaper than the combined one.
Advantages and disadvantages
The range of possibilities of the blender, which is already narrower than that of a combine, however, the popularity of this kitchen appliance is only increasing every year. In fact, the usual combine is crammed with a huge number of functions, many of which you simply do not need. But the "narrow specialization" of the immersion blender is distinguished by clear functionality and ease of use.
You can buy a device with or without attachments, portable, vacuum, portable, etc. Everything will depend on your personal preferences, financial capabilities. Of course, with the cutting of meat, the creation of stuffing for stuffed cabbage, meatballs or stuffed meatballs, the traditional meat grinder will do much better than a modern blender.
However, why should you use complex designs, assembly and washing mixers, combines, if you can still get a compact "assistant" with a single button to work.
Blender perfectly whips, mixes, crushes and even chops as needed. Flavor soups in your pleasure, prepare sauces, create original cocktails for future parties or flat home dwellers. The important advantages of such inventions include a solid "leg" made of high-quality plastic or stainless steel. In the first case, the product will cost more, but to have a more attractive appearance.
Steel structures can be tested for years, but be careful with them to be in contact with water. No matter how expensive the model is and with no matter how protective the coating is, corrosion cannot be avoided. In the reviews, you can often read practical recommendations about this. For example, in order not to encounter rust and complete wear of the apparatus, after work it is necessary to thoroughly rinse it with non-hot water and wipe dry.
It is necessary to carefully consider the care of the immersion blender and its attachments. As a rule, knives are made of the same stainless steel. Carefully pick up the dishes to them in order not to disable the device (do not bend the nozzle, do not damage yourself, avoid splashing around, chipping, minor scratches and other mechanical damage). The advantage of such models is a wide range of capacities. If you do not want to get tired while cooking, try to choose models with a value of 500 W and above.
The combine has many partly "unnecessary" functions. That is why the blender "wins" in this matter. But when choosing the right device, still pay attention to whether you overpay for useless programs, modes. Perhaps it is in your case that they will not be needed. A budget processor often does not have such a function as a smooth adjustment, but a blender can "boast" of such a skill. The more speeds in the submersible model, the more diverse dishes you get.
The advantage of handicrafts is the enormous functionality, due to which the chef can independently select the modes of food processing. We'll have to get rid of traditional tolkushek in favor of such a kitchen "helper." Referring to the specialized appliance stores, check with the managers what nozzles come with the device. You can choose no more, no less than what you expect.
Like any other device, blender has several disadvantages. For example, holding the "leg" of the product in the on mode, your hand can tire not only on the duration of mixing or grinding products, but also on vibration. She and noise make cheap models. That is why it is important to give preference to middle and premium blenders.
Turning to the collection of professional submersible models, you can be sure that it is acquiring quality for ages. In addition to the extensive functionality, high technical characteristics, you buy a really worthwhile thing. European brands Braun, Bosch, Scarlett and many others specialize in the release of such products.
Relatively inexpensive models are Chinese and domestic market. Often they come with a bowl, interesting and useful attachments, and the quality of the material is no different from premium collections. The low price is dictated by the lack of imports, distribution networks, etc. The rest of the quality "Vitek","Saturn"And another brand you can fully trust. With a power of 400-500 W, they will help create an elegant menu for any feast!
Rating of the most popular models by reviews
Based on feedback from satisfied and not-so-good consumers, a rating of the most useful and high-quality models of immersion blenders has been compiled. Such statistics are generated annually to make it easier for interested buyers to make a choice. The current top 10 includes the most iconic and powerful kitchen appliances with their obvious advantages.
Pay special attention to the Bosch MSM 66110. The German brand took care of the versatility of the device, equipped it with a large number of nozzles. If you find it difficult to get every time, assemble a combine, then the MSM 66110 will be the best alternative for it.
The simple chopping and blending steps of the ingredients last only a few minutes. There is a turbo mode, 4 sharp knife blades. The device itself operates at a power of 600 watts. You will be inspired by the unique design of the drive handle and the high-quality assembly of the product.
In terms of reliability, you will definitely like immersion blenders with a grinder from Bosch MSM 6B700. A feature of this device was the presence of a shredder equipped with velcro. This property allows the tank to remain stationary during operation. In addition, the blender does not make noise and does not heat up during operation. The budget "gadget" is mechanically controlled at a power of 350 W, additionally completed with a measuring cup, a whisk for gentle beating.
The quality of the work is excellent, the Braun Multiquick 5 hand blender has the model. The MQ 5045 WH Aperitive model was awarded with a concise design, a comfortable "leg", a stainless immersion part. The device operates at a power of 750 watts. Most of all, users like clear and comfortable product management. You can independently change the speed of rotation of the knives, select the mode (pulse, turbo), but do not interrupt the cooking.
The best options in the category of submersible blenders with the functions of a food processor show 2 reliable models: Bosch MSM 88190 and Bamix M200 Swissline Superbox. In the first case, you get a compact device, complete with different nozzles, and in the second - a good silent blender with a large selection of colors. Such household models will perfectly fit into the interiors of modern kitchens (minimal, fusion, loft, constructivism, etc.).
If a Bamix successfully works only at 2 speeds with a power of 200 W, then Bosch - This is 12 speeds and immediately 800 watts. Both devices are equipped with non-slip surface and made of stainless steel. It is a pleasure to have such helpers in the kitchen arsenal!
In the top popular models are also blenders, combines with cutting cubes. Quite an interesting mode found its use in the device. Bosch MSM 881X1. Here there are 4 inserts for shredding various products, as well as an additional element that helps cut the ingredients into cubes. In this way, you will be able to create amazing dishes, not only delicious, but also aesthetically beautiful.
With the help of cutting cubes you can make an appetizing buffet. Put cheese, olives, mushrooms on miniature skewers, and also make mini-tartlets. In the same blender it will turn out to make a delicious filling for them: cheese, meat, mushroom. With the Bosch MSM 881X1 system you get sweet desserts, homemade ice cream, homemade mayonnaise, spicy Italian sauces and much more.
It is not rational to acquire a model only for baby food, although with its help excellent porridges and mashed potatoes are obtained. In addition, you will be happy to cook sports supplements, protein shakes on it, cut everything from greens to boiled vegetables, ripe fruits. This is a great alternative to a complete combine. A 800 W motor is built into the product, it has 12 speeds and convenient turbo mode. The case itself is made of stainless steel, and the bowl in the kit will help you more effectively chop meat, cheeses, nuts, etc. The universal remedy does not take up much space in the kitchen, you can take it on any trip or journey.
During operation, the Scarlett SC-HB42S08 has a high performance. Based on the feedback, it can be concluded that for 2017 it is the most practical model in the economy class segment. Blender does not take up much space. It can even be hung on a special hook. This property is an important difference from stationary and combined models, as well as a bulky combine, meat grinder with a complex structure.
You do not need to spend more time installing large household appliances, as well as for a long time to wash out the rims of the mixer. In place of the old devices come blenders of a new generation, proven themselves from the best side. Housing Scarlett SC-HB42S08 made of high quality plastic. Housewives will certainly enjoy the elegant handle, adapted to the shape of the human palm.
The device is easy to hold, even more pleasant to cook with it. Knives are made of stainless steel, but have only 1 rotation speed. Take advantage of all the advantages of a pulse mode with a powerful 500W motor.
Interesting at first glance reliable model Bosch MSM 6B300. Silent, non-slip, effective - it is suitable for grinding, mixing, making delicious cocktails, drinks, smoothies and ice cream. The manufacturer made the case of high-quality plastic, and the knives presented of stainless steel. The product operates at a power of 300 W at a single speed. Accordingly, the blender is included in the category of budget devices.
Rounding out the ranking of popular models of Philips HR 1672 and Moulinex DD855. The French brand has equipped the device with a convenient turbo mode along with a pulsed one. You get a quality result with four knives (straight and curved). They perfectly grind the hardest products, including meat products, nuts, ice.
The last property is one of those final arguments for choosing Moulinex DD855. With a power of 700 W at one speed this chopper works.
And Philips HR 1672 already belongs to the class of premium technology. Hand blender has excellent functionality, maximum power up to 800 watts. You can cope absolutely with any products, because practical and effective nozzles are included for any task: grinding, mixing, cutting, etc.
The manufacturer first applied proMix proprietary technology. This is a triangular nozzle that perfectly crushes, evenly mixes the ingredients to a uniform consistency. To prevent splashing, the knives are wavy. They are also coated with a titanium base, which increases the strength several times.
GoThere is technology SpeedTouch, Turbo Boost. At your disposal only one button. The intensity and force of rotation you adjust yourself.
With a new model with a 1-liter chopper, you will be able to cut complex foods, cheeses, meats, raw vegetables, etc. incredibly quickly. Delicious desserts, chocolate mousses, banana cocktails and delicious restaurant food - all this is subject to the stylish blender Philips HR 1672 enclosures.