Which blender is better: submersible or stationary
The entire modern range of blenders is divided into two main groups: stationary (shakers) and submersible (manual). Their main functions are similar, but there are differences. Therefore, every hostess who is going to get an assistant needs to know about which blender is better - submersible or stationary, and what are the advantages and disadvantages of each of them.
Features
Submersible
Hand blender is a metal or plastic handle-holder with a nozzle at the end, which is manually lowered into the container. Inside the case there is an electric motor responsible for uninterrupted operation. The case itself is made in such a form that it is convenient to hold it with one hand. Often the handles are supplied with a rubber anti-slip lining.
Nozzles are found in both plastic and metal versions. The set can include their various options intended for different purposes:
Pestle - the basic version with knives, choppers;
Corolla - To make mashed potatoes;
Knife - helps to make stuffing, chop the onion;
Chopper - for chopping ice;
Hooks - for mixing thick dough.
The main function of this type is the grinding of a small amount of not too hard products (especially if we are talking about a device with a plastic "foot"). Perfect for making baby food in the form of mashed fruits and vegetables. Easily crushes nuts and breadcrumbs.
The advantages of this type include:
Compactness. Due to its small size it is easy to put it in the closet, in the drawer of the kitchen table or just hang it on the wall. For hanging near the table, the device is equipped with a special device. As a variant of this "chips" - stand, allowing to place equipment on the table or in the closet "standing."
Mobility. If necessary, easy to carry and use in any convenient place. Some modern devices are equipped with a battery, which makes it possible even to take them on the road.
The possibility of cooking small portions.
The ability to adjust the consistency of the preparing dish - its homogeneity directly depends on the duration of the process.
Versatility. Allows you to use any sufficiently deep capacity. So, with it you can make mashed potatoes right in the saucepan in which the potatoes were cooked, without smearing the extra dishes.
Ease of maintenance (care). You can clean and wash the removable parts directly under running water. And without the risk of damaging the knives hands.
The downside and disadvantages of this type are:
Inability to work autonomously. To perform certain manipulations, it is necessary to constantly hold it in your hands, which does not allow you to do several things at the same time. In addition, in some samples it is necessary to constantly hold the button of a given mode, which can be tedious and inconvenient.
Difficulty in grinding particularly hard productsat. If desired, of course, it is possible to grind them, but it will take quite a long time.
Relatively low power and as a result, low productivity.
Shaker
With its appearance, a stationary blender resembles a food processor. Helps in grinding and mixing various ingredients, kneading dough, preparing fresh juice. Some models even allow you to chop ice and grind meat.
Such a device consists of a body to which a removable bowl is mounted. The latter is plastic or glass. These parts differ in their volume (from 1.5 to 2 liters), and additional "chips" (nozzles, lids with holes for adding fruits and vegetables, and others).
Inside the case there is an electric motor driving the cutting blades placed on the bottom of the bowl.
The undoubted advantages of units of this type include:
Allow at the same time Download a significant amount of ingredients.
Autonomous. It is enough to run the appropriate program and you can go do other things - your assistant will cope with the task perfectly.
Equipped with a special cap, which does not allow to spray the contents of the bowl during mixing or cutting.
Have wide functional responsibilities".
However, before you make your choice, it is worth getting acquainted with the shortcomings.
Significant dimensions, which require a separate place (this is very inconvenient, especially if the kitchen has small sizes).
"Not taken" for small ingredients. Crush until a homogeneous mixture of nuts or greens in it will be unrealistic.
Most Popular Manufacturers
The modern range of such household equipment is quite wide. The market presents products from several manufacturers. The most well-known brands are Bosh, Braun, Philips, and Vitek, which have proven themselves in the production of all kinds of home appliances, including kitchen mixers and grinders.
Bosch - German company in the assortment of which there are various types of kitchen assistants. Its devices are of high quality of all materials used. At the same time, the product range from Bosch is expanding and modernizing annually.
Braun - another German manufacturer whose products are distinguished by stylish design and quality.
Philips - Products come from the Netherlands. The company's experience is over 125 years. During this time, household appliances from this manufacturer has undergone a lot of changes. Including kitchen assistants of each hostess. The main difference between modern units from Philips - their extraordinary ease. Even metal devices have low weight.
Another distinctive feature is the high power of all equipment from Philips.
Vitek - shakers and hand mixers of this Russian brand combine the latest technology, ergonomics, original modern design with a favorable and affordable price.
A good value for money is not the first year demonstrate "Redmond","Moulinex","Scarlett","Saturn"And"Kenwood".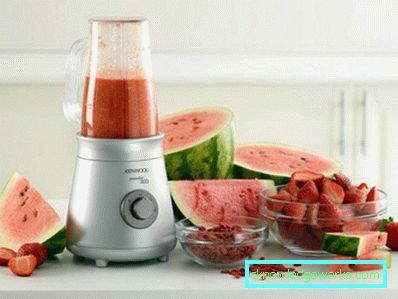 Top models
The most sought-after handheld models include:
Bosch MSM 66110. Its power is 600 watts. Its main difference is almost complete noiseless operation. Thanks to sharp metal nozzles, it quickly grinds products, has a built-in function for chopping ice. The package, in addition to removable parts for mixing and grinding ingredients, includes a plastic 600 ml bowl with a lid and a graduated glass.
Bosch MSM 6B700. With a small 350-watt power, it is excellent at preparing mashed potatoes, chopping nuts, cutting vegetables and meat. It is completed with knifes-grinders, a beater for beating, a glass and a cup.
Bosch MSM 66150. 600 W - has 12 speeds with pulse and turbo modes. In addition, it is equipped with a special mount that allows you to hang the device on the wall in the kitchen. The bowl included in the kit has anti-slip feet, which greatly facilitates the work.
Philips HR 1669. 750 W and 20 speeds, electronically controlled. The basic package includes nozzles for kneading dough, for slicing vegetables and fruits into slices and cubes.
Braun Multiquick MQ300 Curry. One of the most modern devices. 550 watts. All working parts are made of stainless steel. It has 2 speeds.
Braun Multiquick 5 Vario MQ 5045 WH Aperitive. It differs from its "colleague" with higher power - 750 W and the number of speeds (21 vs. 2).
Among stationary the most popular are:
Philips HR 2095. 700 W with mechanical control. The base is made of high-quality plastic, and the capacity is glass. Easy to use and maintain.
Kitfort KT-1301. 1000 Watt electronically controlled unit with metal housing. Equipped with a glass mixing tank, a Russified control panel, an electronic screen with a timer.
Redmond RHB-M2900. Mechanical blender with two speeds of 350 watts. Used mainly for cocktails and mixing other various liquid ingredients. A marching bottle (1 l), a glass for hikes (0.45 l) with a tight lid, and a coffee grinder are included in the kit with the main device.
The main feature distinguishing the total number of such units is compactness.
Right choice
Blender is a long-term assistant for every day. Therefore, the choice of each hostess is very responsible. And, of course, the main choice that is to be made is to determine the type of instrument. Their main difference is that one can work independently, and the other only when it is held by hand.
In order to choose correctly, it is necessary to once again compare the characteristics of both types.
Compactness. Here leads the usual manual unit, which does not take up much space and can be stored in any convenient place for the hostess. However, the same view, but with different nozzles, will already require more space. As for the shaker, it is the most cumbersome and occupies a sufficiently large space on the kitchen table.
Volume Due to the peculiarities of its design, a blender immersed in a container is best suited to work with virtually any volume of food - from a few spoons to large pots (here everything will depend on the characteristics and quality of the device). But the shaker has limitations - the volume of the bowl or jug, included in the kit. Most often it is 2 liters. To prepare a large amount of something, it will have to be done in stages, pouring ready-made mixtures into bulk containers.
Mobility. Manual models can be easily carried and used in any convenient place. Their opponents, the weight of which is often very significant, are quite inconvenient to carry from place to place.
Autonomy. According to this indicator, it is much more convenient to those who do not need to constantly hold their hands. After asking the machine the necessary program, you can do other things.
Power. On average, this indicator for manual models varies from 140 to 1200 W, while for shakers it is from 180 to 2270. The higher the indicator, the greater the functionality and speed of work. So stationary devices are leading here. Although in fairness it should be noted that 600-1000 watts are enough for ordinary kitchen work.
Service. Submersible devices have removable nozzles that are easy to clean. Stationary, in turn, often have a self-cleaning function.
Functionality. Here a lot depends on the manufacturer and the specific model. However, most often manual are used for grinding, mixing and even whipping.
But their opponents do well with mixing liquid and semi-liquid products.
From the experience of housewives and not only
Despite the difference between different types, and maybe precisely because of it, both submersible and stationary models are in demand.
So, bartenders prefer the second, because of the convenience to mix cocktails and smoothies. And the automation of the device visibly facilitates and accelerates the work.
Young mummies, on the contrary, prefer the first ones, which allow preparing small portions of mashed soups for babies. Good reviews addressed to these particular options are heard from those housewives who have small kitchens and there is simply no place to put large-sized household appliances.
In this case, all experienced housewives when choosing advise, first of all, to determine for what purpose the unit is purchased. And already, depending on this, make a choice between different types.