How to choose a wallpaper for kitchen design?
The time has passed when a small selection of finishing materials on the market dictated fashion, making faceless and monotonous kitchen walls. To date, a variety of wallpaper for the kitchen allows you to create any interior design. You can find not only variegated and monochromatic wallpapers, but also textured, abstract, smooth canvases with a variety of ornaments and abstract patterns. Not uncommon and pin-up wallpaper, as well as wallpaper in oriental style. Pasting beautiful wallpaper in the interior of the kitchen, you transform the room beyond recognition, breathing new life into it.
What type of wallpaper to choose
Choosing a color palette
Color perception
How to decide on the choice of wallpaper
Repair in the kitchen - a very troublesome task, requiring considerable effort. The most pleasant moment in the creation of the interior is considered to be the choice of materials for wall decoration. Choosing wallpaper for the kitchen, it is not necessary to spend a lot of time on trips to the shops. It is better to consult with designers and purchase the most suitable quality material. Kitchen design should not differ from the general style of the room. On the contrary, it should create comfort, be functional and practical.
For small kitchenettes suitable wallpaper, increasing the space due to zoning. Specially designed designers wallpaper for the kitchen with a pattern of coffee will add "heat", especially during the cold weather.
What type of wallpaper to choose
The variety of wallpapers on the market makes it difficult to choose wall coverings that are ideal for finishing kitchens in terms of their functionality.
Vinyl canvases are a unique decorative covering for walls with drawings, specific ornaments and patterns, very resistant to mechanical damage.
Vinyl wallpaper quality, inexpensive, durable. Have a wide color palette. Vinyl polka-dot wallpaper looks original in the kitchen. They allow you to hide cracks, irregularities and minor defects of the walls. The advantages of these wallpapers are: moisture resistance, protection against burnout, non-dust absorbent coating.
Vinyl wallpapers are easy to clean. They are difficult to burn, and therefore fireproof, therefore, ideal for the kitchen. Suitable for any style of interior, look elegant, do not lose their popularity, ideally combined with the design of the entire home.
Tip: Create an original design in a standard rectangular kitchen. To do this, use vinyl wallpaper with patterns of various subjects from the latest collections of manufacturers for dining rooms and kitchens.
Photo: the right combination of color wallpaper and furniture
One of the best types of wallpapers. Differ in long service life. Since the material from which they are made is very durable, reliable, waterproof and resistant to fading, such wallpaper can be considered eternal. The uniqueness of shades is achieved by using from different angles during the manufacture of silk thread. These wallpapers are perfect for creating exclusive extraordinary kitchen designs.
Wallpapers from natural materials
Fascinate their beauty. They are based on natural bamboo, sisal, reed fibers. Although they are not so practical for kitchens and are not cheap, however, they have an incomparable look. Once you have stopped your choice on them, you will not recognize your kitchen. It will remind you of a "live island".
Decorating the walls of the kitchen with natural wallpaper is quite wear-resistant and resistant to increased moisture, so you can not worry about the appearance of fungus and mold. In addition, natural wallpaper has dirt-repellent properties and low thermal conductivity.
The only drawback is the absorption of odors, so it is worth pasting them with kitchens with a built-in powerful extractor.
Gluing such wallpaper is very simple. It is enough to spread the cloth with universal glue (you can use silicone) and hold for a few minutes so that the wallpaper is well soaked. Then the canvas should be glued to the wall, as usual, ideally smoothed to air out, and dry with the windows closed for a day.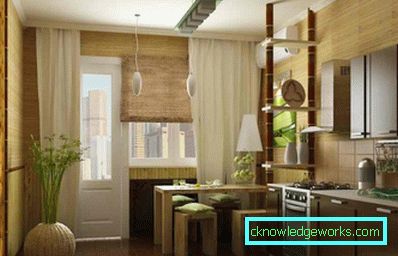 Photo: Bamboo Wallpaper
This is the most economical option. These wallpapers are easy to use, ideal because they can be repainted several times at will. Plus: after the next painting on the walls there are no traces of dust, dirt and traces of the previous repair. Wallpaper for painting - a very practical and appropriate solution for economical kitchen design.
Photo: wallpaper for painting
Wallpaper for mini-kitchen
Here are suitable wallpapers that can be easily painted. From paper canvases should be abandoned, because they are not resistant to moisture and burnout, do not correct defects of walls, quickly become dirty and easily deformed in case of mechanical damage.
Of course, you can also make a beautiful and original finish with paper wallpaper, but only if you are a fan of frequent interior changes and adore making repairs every season.
Photo: paper combined wallpaper in the interior of a small kitchen
Able to change the design of the room beyond recognition. Before buying designer wallpapers, decide on their purpose. For example, if you have an idea to create a background for an original kitchen set, it is better to choose a calm plain wallpaper. If you want the wallpaper to become the main decoration of the kitchen, give preference to natural, three-dimensional, three-dimensional canvases or wallpaper with a photo.
An important point - do not overdo it with the choice of wall covering. Bright colors and decorating elements in the kitchen design should be at a minimum. Remember that everything is good in moderation.
Photo: designer wallpaper
Want to do zoning of space, dividing the kitchen into several work areas? Experiment with combinations of different color and texture of wallpaper. The principle of zoning in the kitchen allows for stunning decoration. You can balance zoning by wall finishing.
Photo: 3D-wallpaper
Tip: choosing the wallpaper for the kitchen, consider the combination of bright original wall coverings with laconic kitchen furniture.
Wallpaper pastel shades rationally used in the design of large luxury kitchens.
Choosing a color palette
Selecting wallpaper for the kitchen, consider the area of ​​the room, the overall interior and lighting. In a small kitchen it is better to use wallpaper of soft, inconspicuous and warm colors. Please note that apricot, coral, peach shades, as well as ecru color and champagne make the kitchen spacious and lighter.
Color perception
Bright colors are not suitable for small kitchens, so bright colors wallpaper is better to use in large rooms.
In spacious kitchens, designers advise the use of cool wallpaper. Do not worry, these wallpapers will not make the kitchen uncomfortable, shapeless and deserted.
Selecting lighting, try to take into account all the important points. If the kitchen has poor natural lighting, it is rational to choose "warm" wallpaper for pasting walls, for example, yellow, golden, orange, cream, beige. Such a color palette will allow you to create a comfortable and joyful atmosphere in a poorly lit room.
If the kitchen is on the sunny side, discard the wallpaper rich warm palette. In case the room is flooded with sun, feel free to use wallpaper of deep dark blue. They will refresh the room and add "coolness."
Tip: When finishing the kitchen in cold colors, add some red accents to the interior. So you will make the room more comfortable, stylish and cozy.
We should also highlight the wallpaper gray and white tones. Gray-white palette refers to the universal, because combined with the entire spectral palette. Looks great in the interior of the kitchen of various styles, whether it is minimalism or classicism.
If the kitchen has low ceilings, wallpaper with a vertical stripe will help to visually enlarge them. At the same time, the height of the ceilings can be lowered and the kitchen space can be expanded by using wallpaper with horizontal stripes or diamond-shaped patterns in the interior walls.
Wallpapers in color and texture resembling expensive natural materials look elegant in spacious kitchens, rather than in close ones. The latter require decoration with plain simple patterns. To create a kitchen in the style of Provence need wallpaper with miniature flowers. Modern style "hi-tech" requires finishing wallpaper with a large geometric pattern. In the kitchen, decorated in a classic style, the wallpaper with a convex painting of gilded shades will look gorgeous.
Photo: Classic Style
Photo: hi-tech style
Photo: Provence style
When purchasing wallpaper for the kitchen, remember that the most important thing is the absence of intrusive, coarse, "screaming" tones in the design. Remember that in the kitchen you and all members of your family spend a lot of time, so this room should be one of the best, give positive emotions, cheer up, invigorate. And in no case should the interior be tedious. We hope that this article, along with photos and video materials presented on the sites for repair and construction, will help to determine the creation of an interesting and impressive kitchen design.