We make a kitchen interior in the color of vanilla
Some colors seem to be specifically designed for kitchen design. For example, vanilla shade, which simply radiates warmth and light, creating a surprisingly calm and cozy atmosphere. Delicate vanilla tones in the interior of the kitchen
associated with the sweet taste and smell of the spice itself. On the Internet it is easy to find a lot of photos of kitchen interiors, made in vanilla tones.
Interior decoration
Vanilla hue is suitable for both the basic tone of the finish, and for the kitchen set. Since he himself is calm enough, one should definitely provide bright, spectacular accents in the interior.
Light vanilla visually increases the dimensions of the room, so first of all it is worth paying attention to the owners of small apartments for this color. Vanilla is also great for kitchens with windows facing the north.
Vanilla is a neutral shade, so it blends in well with almost any color. Vanilla in combination with dark brown tones, for example, wenge, zebrano, coffee or chocolate, looks especially stylish and spectacular. Being warm vanilla color looks good with furniture fittings and other metal elements in the color of brass, copper, bronze and gold.
Tip: vanilla can lose all its appetizing under cold artificial light, become grayish and dull. This should be considered when choosing lamps for lighting.
You can place accents in the interior using deep blue or eggplant, emerald, malachite shades or, on the contrary, such bright colors as lime, pistachio, orange and others.
Vanilla is well combined with various natural materials - wood of different shades and textures from light alder to saturated wenge, as well as decorative stone. Vanilla-colored kitchen is an excellent background for the green of indoor plants. The main thing is to choose the design of the pots in accordance with the rest of the interior. Ideas for decorating vanilla cuisine can be gleaned from the relevant photo interiors.
Photo: fresh flowers in the interior of the kitchen of vanilla color
Photo: Vanilla in combination with dark brown tones looks particularly stylish and spectacular.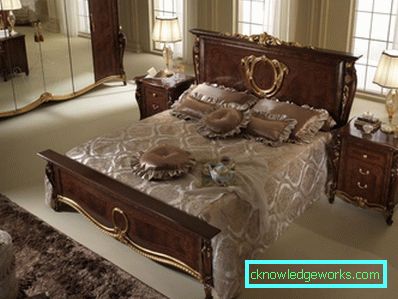 Styles
Vanilla tones are suitable for kitchen design in various styles. The decisive role in this case will be played by materials and furniture design. So, the kitchen set and dining group of light wood of vanilla tones, decorated with carvings, would be appropriate in the interior of the classical style. Vanilla finish of walls and floor in combination with dark furniture and facades, for example, the color of wenge, will be no less impressive combination. If you build the whole image in a beige-brown palette, no additional emphasis is needed.
You can choose a less contrasting palette than dark wenge, coffee or chocolate, building an image on pastel shades. Vanilla is a good neighbor for muted colors, for example, mint, "dusty" blue and lilac and others.
Photo: minimal style
Photo: hi-tech style
Photo: Classic Style
Photo: Provence style
The vanilla interior can be created in a more modern style - minimalism or hi-tech. In this case, the main materials in the kitchen should be glossy or matte plastic, metal surfaces. And let the geometry of dining and kitchen furniture be concise and plastic.
Vanilla is also suitable for kitchen design in ethnic style. Calm and neutral, it is an excellent backdrop for various exotic woods with a pronounced texture, such as wenge or zebrano.
We advise you to read: trendy living room interior in 2016 (photo)