Two-door built-in refrigerators
Our kitchen is difficult to imagine without a refrigerator. Two-door built-in refrigerators, which will be discussed in this article, are not suitable for every apartment, because of their large size. But in the event that you have a large family and enough space - this refrigerator is for you.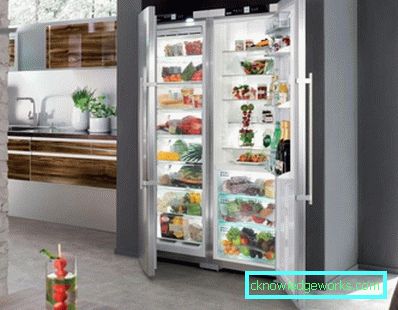 Side by side
From English, this translates as "side by side." That is, a double refrigerator opens the doors to opposite sides of each other. In modern models this applies to both the refrigerator and the freezer.
The convenience of this principle can be seen almost immediately. After all, if you need a lot of food for cooking at once, or you returned from a store with huge bags, then it is easier to open the doors. Whereas if you need only one product, you can open one door.
Additional properties
In addition to the obvious advantages of size and spaciousness, such embedded models have a number of not so striking advantages:
They are equipped with a display and, in the event of an error or breakage inside, always report it;
Many refrigerators have complete the issuance of ice cubes from a special opening and the crane for cold water;
Almost all modern models all management is fully automated and performed electronically;
In modern refrigerators there is such a thing as infrared lighting, which helps to prevent spoiling of any products for much longer;
Almost all two-door giants have many freezing modes, for example, wet and fast;
More expensive models have something like built-in bars, where the mixing of drinks occurs, but it does not require opening the refrigerator;
Many refrigerators put door stoppers not to accidentally touch pieces of furniture or something else;
These models have the ability get rid of unpleasant odors in the fridge, without inconvenience to you and not forcing you to buy special tools for this;
Inside almost all refrigerators have special shelf for storing drinks;
Highly many models can connect to the Internet, and you, in turn, can adjust its settings through any device, whether it is shutting down or lowering the temperature.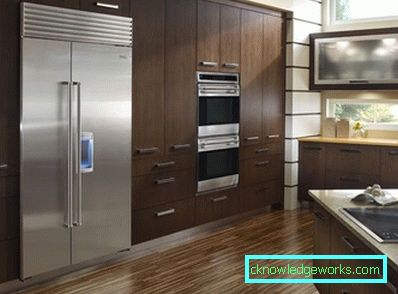 Of course, every year there are more and more various functions and settings that may be useful to you.
Specifications
The dimensions of the two-door built-in refrigerator are quite large. The freezer contains about 200-300 liters, and the main part - up to 370. Here everything depends on the type of model you are purchasing.
In addition to the size, most of the models boast other additional features. For example, a beep sounds only when one of the doors is open for too long. So you do not forget that it should be closed.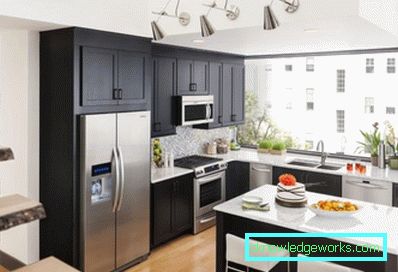 You also have the opportunity to make a time-limited freeze - for example, if you need to cool several products at once.
Refrigerator models are completely different. There are also those who have a small depth - especially for apartments, where the standard model can no longer be installed even in the largest kitchen or for a narrow headset.
Please note that before buying a refrigerator, especially with a large depth of the chamber, you need to measure the doorways to make sure that it fits there.
Cooling
Freezer models clearly outperform others. Most often the method of freezing in them is called "no frost" and is equipped with only one compressor. Two compressors in this case are not needed at all, although they make the freeze stronger, but one is also suitable for this. However, there is a difference in price - one compressor costs much less than two.
Also, when using one compressor, power consumption becomes much more economical. In addition, this cooling system eliminates the need to defrost the refrigerator. Condensable water is sent to special compartments, from which it evaporates.
This is the so-called "dry freeze, Which allows products to freeze well, but does not glue them.
Advantages and disadvantages
The built-in fridge is ideal for not too large rooms and in order to find a balance with the rest of the kitchen. Thus, its body will be hidden, and only the doors will remain outside. It is comfortable and beautiful, and the two-door model immediately ceases to look so cumbersome.
If you have a uniform design in the kitchen, then it is not necessary to look for a suitable refrigerator for it - if it is built in, then it will be much better combined with all other interior items.
Advantages of embedded models:
Many things in our apartments create heat that the refrigerator has to recycle. Embedded models have better heat insulation and, due to this, they spend less energy;
The heat exchange device has a dust-proof surface., therefore, it is not necessary to clean it;
Usually, these refrigerators are noiseless, as the doors block the sound. This is especially useful when the kitchen is next to the nursery or bedroom.
The main disadvantage is the price. Two-door models are already expensive, but embedded ones are even more expensive. In addition, the capacity inside the chamber may not be very large. Therefore, you have to choose between the perfect interior or more spaciousness.
Difficulties of choice
Every year more and more models appear, and choosing one of them is not an easy task. There are some rules that you can follow to ease the task.
For example, it is not recommended to buy a refrigerator, in which the heat exchanger is at the bottom, if you have heated floors in the kitchen. Otherwise, the term of his work will be reduced almost by half.
Before going to the store, be sure to take measurements of all doorways and, especially, of the place where the new equipment will stand. It will be a shame if you come home with your purchase and realize that you cannot install it because you did not do it.
Also note the different freezing systems. In addition to "no frost", there is also a combination that combines the so-called "dry" freeze in the freezer and "drip" in the main compartment. Some models can independently prepare ice and in this case you need to make sure that the unit will have free access to the water supply.
It is better to select a refrigerator with an inverter compressor. It provides quiet operation, does not allow sudden changes in temperature and consumes much less energy. In addition, these compressors are usually very long. Their only disadvantage is that they suffer from abrupt voltage drops, but more or less respected manufacturers are already working to protect it.
Pay attention to the content. In the main compartment often make zones with a certain temperature for specific products that should be stored there. Also make sure the shelves can be rearranged as needed.
And finally, make sure that you can adjust the temperature in your chosen model. This will save electricity, because if there is no food in some compartment, the temperature there can be made minimal.
Models
We did a review of several models to make it easier for you to navigate. All of these refrigerators are two-door and can be easily integrated into the headsets.
LG GC-M247CABV
It has two chambers - the freezer and the main one, both of which are rather rather small. One inverter compressor, as well as dry freeze for both chambers. Electronic control with LED lighting, in addition, the refrigerator saves great electricity.
There is an ice generator and a convenient display on the door. The main compartment has four glass shelves that can be moved and seven more shelves on the door. There is an antibacterial filter.
The feedback on this fridge is positive. They say it is great for large families and guests, as well as saves energy well. And inside everything is very conveniently arranged, so that you can easily get to everything.
Samsung RS552NRUA1
This model is finished under a glass that looks beautiful and stylish. It is smaller than the previous unit, but also quite roomy with one inverter compressor and dry freezing technology. There is an electronic control and LED backlight, as well as a digital display. Inside the refrigerator there are five shelves of glass, and on the door there are three.
Reviews are completely positive. Many people like the finish under the glass and how stylish it looks. It is admirable and the work of the refrigerator, its capacity and economy of electricity.
Liebherr CBNes 6256-23
Medium-sized refrigerator with three cameras. There are already two inverter compressors, as well as a combined freezing system - dry in the freezer and drip in the main compartment, there is a touch control and LED lighting inside the chamber.
There is an ice generator and connection to the water supply, as well as a touchscreen display. The shelves are made of glass and aluminum; there are ten of them in the refrigerator compartment, four inside, and six on the door.
Feedback on this model is also positive. Very conveniently organized place inside, a lot of things fit, which is ideal for a large family. The freshness system works with a bang. The only drawback noted by several people is that the refrigerator is heavy and it is very difficult to deliver it yourself.