Toshiba Refrigerators
A refrigerator is an important attribute in any kitchen. With all the variety of models, it is important to choose one that is suitable not only for design, size and quality, but also for its functions and price. Toshiba offers high-quality multi-functional equipment.
Toshiba Corporation Is a large multinational corporation based in 1875 year in Tokyo. Over all the years of its existence, it has undergone many mergers and is now a major manufacturer of household electrical goods, equipment, electronic and computer equipment. Appeared in Russia 2001 year, opening its representative office.
Functions
Refrigeration Toshiba differ in their quality, reliability, durability and originality. High technology and original design attract buyers of the middle and better-off class. The manufacturer offers an effective reciprocating inverter compressor, which continuously works, maintaining the optimum temperature. Only power surges in the electrical network adversely affect its operation.
All refrigerators Toshiba equipped with automatic defrosting function ("No Frost"), which does not allow moisture to settle on the walls of the refrigerator in the form of frost, leading it outside for evaporation. With this function, there is no need to turn off the refrigeration unit for manual defrosting.
"Touch Sensor Door"- this function allows you to open the door by pressing the touch key.
For lovers of cold drinks automatic ice generator will help to prepare the ice. An ice generator is included with all multi-chamber units. Toshiba. Expensive refrigeration units are connected to the water supply system, the purified water through the tube enters the icemaker for freezing. After 1-1.5 hours, ice cubes enter the storage bin. During the day, the refrigerator can freeze up to 4 kilograms of ice. If the mixer shredder is included in the package, then cubes are ground into a crumb. If you have a dispenser, you can pour cold water or ice using a glass by pressing the dispensing button in the refrigerator door.
Toshiba refrigeration units are manufactured with electronic and electromechanical control.
System "Picoion or Hybrid Plasma"destroys bacteria and ionizes the air in the refrigerator compartment. The presence of air cleaners allows you to remove odors from the refrigeration unit.
"Freshness zone"ensures the freshness of products without deep freezing, because there is a constant temperature there (about 0 degrees). A special compartment is allocated for it, you should not confuse it with a separate tray for vegetables. There are two types"fresh areas"- dry and wet. Dry keeps fresh meat and fish fresh for more than two days without freezing. Wet is intended for storing vegetables and fruits. When stored in this compartment, vegetables remain fresh much longer. In different brands, this compartment is called differently, therefore need to carefully read the instructions. The Japanese manufacturer replaced the ordinary light bulbs that emit additional heat on LED lighting, which reduces the consumption of electricity. If this lighting is used in the freshness zone along with the antibacterial function "UV Fresh Guard"then meat and fish retain their nutritional value and freshness much longer.
The main feature of this brand of refrigerators is noiseless operation.
Two-compartment
The two-compartment refrigerators of this corporation are mainly produced with a freezer located at the top, of various colors - from white to black. All refrigerators are equipped with automatic defrosting function, mechanical control, power consumption. class b. Glass shelves included.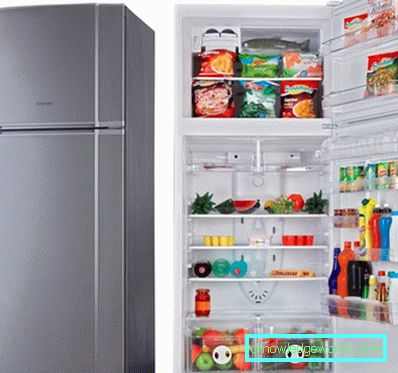 Multi chambers
Toshiba GR-L40R has 5 cameras, 5 doors. In the refrigerator is "freshness zone"in the form of a drawer and an automatic ice generator, into which water is poured manually. There is an ice compartment under the cooling chamber. There is no dispenser, so the ice is taken from the compartment manually. Next to this chamber there is a small freezer for drinks. Below them is a volume compartment for vegetables and fruits, in which a certain humidity is maintained. At the very bottom there is a freezer in the form of a spacious drawer with plastic partitions. The original appearance of the control panel allows To see the parameters set on the LCD display. The reminder that the doors are not tightly closed gives a signal, although the unit runs silently. All the doors are equipped with sensor locks.
Difference Toshiba GR-L42R from Toshiba GR-L40R that it has 6 doors (the doors of the refrigerator compartment open towards each other) and dimensions (slightly wider and larger). The remaining parameters are the same.
In kit Toshiba GR-D50FR 5 chambers, 6 doors, plastic shelves, ice compartment, inverter compressor, freshness zone. Electronic control with liquid crystal display allows you to easily set the required parameters, the function "No frost"in the freezing and refrigerating chambers facilitates maintenance, and the antibacterial function and air ionization"Pico " does not allow bacteria to multiply. An automatic ice generator, a super-freezing system of products, an ecological mode, an open door sig- nal, an effortless door-opening function - all this brings pleasure when operating this unit.
Five-chamber refrigerator Toshiba GR-D62FR went on sale recently, but managed to recommend itself. Titanium-colored six-unit can be the first necessary item in any kitchen. This is a highly intelligent model that combines the functions "Wide range twin cooling"(control of climatic parameters in different compartments of the unit). In addition to the antibacterial coating, the function of air ionization"Picoion"will extend the shelf life of products. Only this model uses the function of freezing hot food.
If the refrigerator is not completely filled, then you can turn on the mode that will save electricity. When filling the refrigerator with food you can easily return to the standard mode. In this model, the Japanese offer an inverter compressor, durable hygienic shelves of tempered glass. Availability "cleverThe display provides for setting and controlling optimal parameters. "Freshness zone", automatic ice maker, ice section, open door reminder, mode indication ECO, the system is easy to open the doors - all this will help facilitate the operation of this technology.
Reviews
Japanese unusual original refrigerators have rave reviews. 95% of consumers rate it 5 on a five-point system. Not paying attention to the high price, they like a long warranty period, supercompatibility, noiselessness, lighting, buttons on the doors, ice maker, many compartments, functionality. After the usual Toshiba fridge it seems like a "spaceship". Everybody really likes "freshness zone", in which the freshness of meat and fish is really preserved for a long time, and the greens and vegetables during storage seem to have just been picked.
Multi-compartment refrigerators save energy by opening a certain door., and not the door of the entire cold store. This unconventional technique is ideal for a large family.
Almost no negative reviews. Consumers write that you can not put a few pots, but if you put them in containers, then everything fits perfectly. Buyers with a fridge with antibacterial function "Hybrid Plasma"complain that the products acquire a specific smell, which disappears only during heat treatment. The disadvantage is a gentle external coating, on which scratches are visible. In Russia, the equipment Toshiba not very common, so the service is not up to par. Buyers write that it is not only that spare parts are expensive, so it is impossible to find them.