Top citrus juicer rating
How to choose
Top models rating
Budget options
The fashion for a healthy lifestyle and proper nutrition significantly influenced the growing popularity of juicers. Perhaps, for the first time in 70 years of its existence, this kitchen unit moved from the category "for aesthetes" to the category "for daily use in every family." A lot of modifications and improvements that this simple household appliance has undergone over the past decade have turned it into an ultra-modern universal device for obtaining an excellent natural drink, whose thickness and saturation with useful juicy flesh can be varied to your taste by simply pressing a button.
How to choose
Among all the juicers, a special place is occupied by those intended for citrus fruits - they are ideally suited for producing juice from oranges, limes, lemons, tangerines, grapefruits, nectarines and other varieties of these fragrant and very healthy fruits. But to choose among them one of the best, even from one price segment - that is also a problem.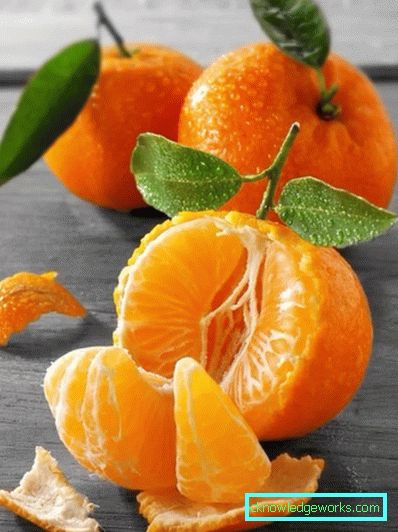 First you need to decide how often and to what extent fresh citrus juice is needed - a glass every morning just for you, a couple of jugs daily for the whole family or tens of liters per hour to quench the thirst of visitors to your bar or restaurant. Then you need to decide whether the nozzles are useful for regulating the thickness of the juice and the presence of pulp in it, as well as those that help to squeeze the fruit, and those that are selected according to the size of the fruit used for pressing (the better match, the more juice is obtained).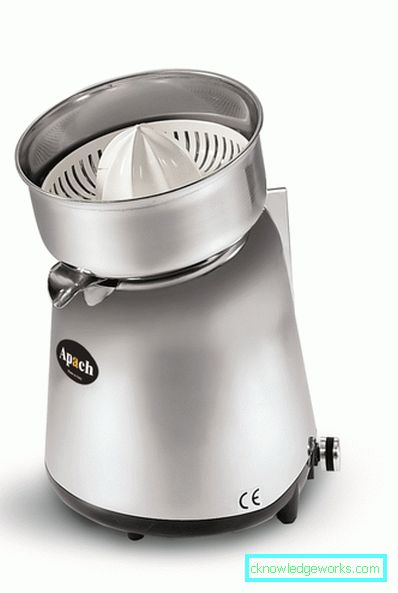 Then it is worth checking the quality of the materials from which the case and parts of the juicer you like are made, as well as its power, weight and stability during operation. And only then choose the one that meets all the important characteristics for you, and the interior of the kitchen, and your personal design preferences. After all, the best juicer is determined not so much by its aesthetics and price tag, as the quality and quantity of juice, which is obtained with its help.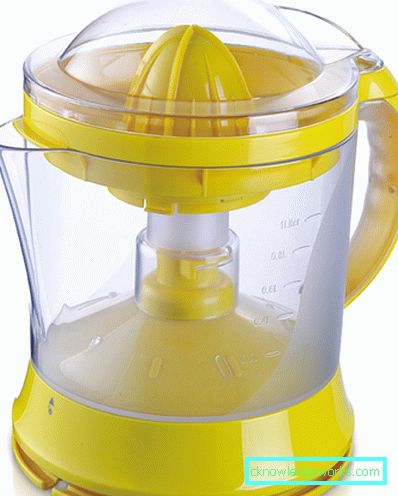 A great help when choosing a juicer unit that is right for you - reviews of those who have already bought it and were not mistaken with the choice. They helped to make this rating of the best citrus juicers.
Top models rating
The top line of the rating is rightfully occupied by the stylish and practical BORK Z800 juice extractor, which always causes only rave reviews from all who use it. Made of stainless steel, completely silent and very stable in operation due to rubber feet and a quiet motor with a power of 120 watts. Equipped with overload protection, pulp regulator and drop-stop system. Squeezes out citrus fruits without additional efforts literally to dryness, does not splash juice and does not stain hands, is easy to clean (including in the dishwasher) and is stored in the case included in the kit with a convenient lid from dust. Among the minuses there is only the high price (about 29,500 rubles) and the need to cut very large fruits.
In second place in popularity and first in high-performance - a combined juicer Philips HR 1870, worth 14,000 rubles. Easily and quickly squeezes juice from a large number of not only citrus fruits, but also any other fruits. High-speed motor with a power of 700 W, a roomy 1.5 liter container for ready-made juice, an automatic pulp discharge system and the ability to regulate it in a freshly squeezed beverage, protection against accidental activation, a drop-stop system, a wide compartment for fruit filling, a special nozzle for spinning citrus and excellent quality components - this is not the whole list of advantages of this universal unit, the cons of which have not yet been noted.
The next in terms of functionality and efficiency is recognized the professional press Excellent made in Germany. This mechanical nickel-plated juicer costs around 8,000 rubles and helps to get the maximum amount of juice without much effort, not only from citrus fruits, but also from pomegranates, squeezing them literally to dryness. Made in the form of a rather high weighty lever resting on a bowl for fruits, mounted on stable legs, equipped with rubber pads, which provide both reliable adhesion to the working surface and its protection from damage.
To squeeze the juice, simply lower the lever on the fruit half, placed in the bowl - the juice will flow out into the container carefully placed underneath. Among the reviews in the minuses credited lack of automatic discharge of pressed pulp, but among the impressive advantages appear reliability, high performance, stability and ease of operation, durability, practicality, as well as excellent quality and large volume of juice, squeezed out easily and simply, but the possibility of using this juicer in cafes, bars and restaurants.
Steba ZP 2 is considered the best among the citrus juicers with a presser mechanism in the middle price segment. Made in German Bavaria stainless steel, this stylish unit is equipped with a convenient lever for easy pressing of fruit, juice supply systems directly into the glass (with a special coronstein for its optimal output) and non-stop drip, as well as high-end filters. The juicer is compact, works almost silently and does not require special care (cleaning in the dishwasher is acceptable). The minuses - low power (160 W) and low productivity - are safely leveled by its durability and convenience, as well as a pleasant ratio of quality and price (up to 2,000 rubles).
Budget options
Wooden manual citrus juice squeezer Trikon is 100% eco-friendly and the cheapest (from 150 to 500 rubles) device. It is a short wooden spear with grooves on the pointed end, made of beech wood, famous for its antiseptic properties. When squeezing citrus fruits as much as possible saves in their juice useful vitamins and trace elements, because the fruit is not exposed to heat. This elementary in design and use of the juicer is light and compact, does not require special care and will last for many years. It has only three drawbacks - it is capable of processing only soft fruits, it is inefficient and suitable only for home use.
The original juicer-spray of the Spanish company LEKUE is quite easy for a wallet (760 rubles), and for weight (from food-grade plastic), and for use. It is enough to cut off the citrus hat, deeply screw the screw dispenser into its soft middle and press the cap - everything, the juice is sprayed freely and abundantly where you need it: at least for fish, at least for a cocktail, at least for dessert, at least for a salad, and at least on the skin of the face or hands, turning into a refreshing and natural tonic.
The juicer spray is usually sold as a set of a bowl for fruit and a spray bottle with two nozzles (long — for grapefruits, oranges and lemons, short — for limes and tangerines). It is very convenient when serving lemon and lime to the table (for sprinkling dishes) and for short-term storage in the refrigerator. Surprisingly, it fully squeezes out ripe soft citrus fruit (firmly better pre-mash) and besides, it does not stain hands and excess dishes, and there is only one drawback - it is not suitable for industrial use.
FANYI's Squeezer is a portable mini-press manual juicer that looks like a large garlic press. Allows you to squeeze the juice from the halves of a lemon, grapefruit or orange by placing them between two metal plates (one of which with grooves for the flow of juice) and mechanical squeezing. Using such a juicer is easy and simple, as well as taking care of it - just rinse it under running water.
Made of colored durable food aluminum, it is very durable, durable and quite affordable (about 650 rubles), and also has a silicone liner in the form of a fine-mesh screen for controlling the penetration of pulp and bones. The main disadvantage - the final amount of the drink depends not only on the size and juiciness of the fruit used, but also on the force of compression. But it is convenient for obtaining a small amount of juice when preparing cocktails or salad dressing.
Citrus Zinger is the best among citrus juicers on the bottle. Since the freshly squeezed juice retains its beneficial properties for only 10-15 minutes, it is recommended to drink it immediately after pressing. Therefore, Citrus Zinger is optimal for use on walks, workouts or traveling. This compact, lightweight, practical and inexpensive (within 1,000 rubles) juicer is made of food-grade silicone or plastic in the form of a screw-down cone-shaped lid with grooves suitable for pressing and draining the juice directly into the bottle, which is also included in the kit. Usually has a stylish design and a variety of colors. The main disadvantages are the low warranty period, low productivity and short life.
The most popular version of the budget electric citrus juicer is the Braun MPZ9 compact cone press with a convenient removable liter jug ​​for collecting the finished juice, a quiet motor power of 20 W and a maximum screw rotation speed of 59 revolutions per minute. Made of light food-grade plastic, equipped with a system for adjusting the consistency of pressed juice and a lid to prevent dust from entering.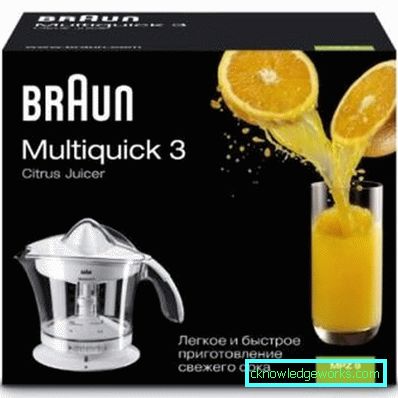 Disadvantages - plastic gears and small diameter of the cone for pressing fruit (not suitable for large fruits). At the same time, judging by the reviews, this particular model of juicers is one of the most durable and practical, besides, it is quite aesthetic and pleasant to use and, not least, affordable (1,300 rubles).
If you choose the best juicer, focusing on its manufacturer, then you should pay attention to the models with the undeniable quality of the well-known German company Bosch (Bosch MCP3000 / 3500, Bosch MES20A0 / 20C0 / 20G0 and Bosch MES3000), high-class and unceasingly improved units of the Dutch Philips (Philips HR1870, Philips HR1869 / 01-31-61-70-80 and Philips HR1863), excellent kitchen appliances at a very affordable price from the French company Moulinex (Moulinex JU 655 and Moulinex PC 3001 Vitapress 600), as well as the high-quality English premium brand English Kenwood Class (Kenwood JE880, Kenwood JE850 and Kenwood JE730) and Long Records The Japanese brand Panasonic, famous for the environmental friendliness of its products (Panasonic MJ-DJ31, Panasonic MJ-L500STQ and Panasonic MJ-W171), was among the leaders.