Disposition of the kitchen as a dining-living room
In a city apartment or private house, the owners often want to organize a room that combines a place for meals and a comfortable rest for the whole family. Then there is the planning of the kitchen as a dining-living room, allowing you to create an original and comfortable interior.
Advantages and disadvantages of redevelopment
The combination of two rooms in an apartment in our country is not a new way. Many familiar ready-made studio apartments "turnkey", where the entire living space is essentially one room that combines a kitchen, living room or bedroom. Many people find in this layout dignity not only in the low price for such housing, but in a certain functionality, cozy and comfortable interior.
The project of a combined dining-living room has several advantages:
the useful area is considerably saved: instead of two full-fledged rooms, one is used, and the remaining free space can be used as a second bedroom, a nursery, a storeroom;
increased comfort, since everything is at hand and within sight;
lighting is saved, as it is common to both functional areas, and natural light from common windows is added to it;
such a room can unite the whole family in one cozy corner;
the interior as a whole becomes more functional, comfortable.
But if the owners decided to use the union of two different functional areas into one, then should be aware of the disadvantages of this method:
Often, the implementation of such a project is expensive, especially if it is necessary to dismantle the load-bearing walls for the unification. In one room, high-quality separation of functional areas can be costly.
The smell of cooked food in the kitchen will spread to the living area. Plus, the increased temperature and humidity penetrates into the room, not adapted for such conditions.
The surfaces of the walls and furniture in the living room half, from kitchen fumes can deteriorate.
Interference from the kitchen area can also be a hindrance.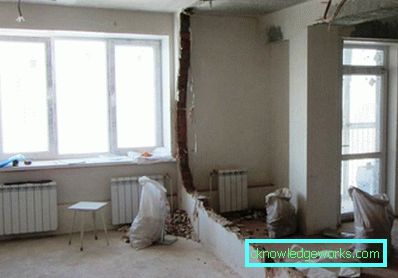 7 photos
But the last three problems can be solved by installing powerful exhaust and ventilation systems, partial partitions between zones, reliable materials protected from external influences.
It is worth noting that such planning of the combined kitchen and living room premises is traditionally a western phenomenon. It came from countries where people are not used to cooking serious dishes at home: soups, pastries and more. Their kitchen area is used maximum for preparing light snacks, tea and coffee, heating semi-finished products in the microwave. So the kitchen in such a combined interior plays the role of a cafe or bar.
Options for redevelopment in large rooms
If living conditions allow, and a room of 20 square meters is chosen for sharing the dining-living room. m and above, it is possible to organize a quite comfortable territory with the separation of functional zones, in which even a large family can comfortably settle. This is especially true for a country house, where you can at your discretion hold communications: gas, heating, ventilation, water supply and build beautiful partitions. In the large room it remains only to make a competent zoning - a visual and functional separation of territories: a kitchen, a dining room, a living room. You can consider several types of such design.
8 photos
Color and level zoning
A simple (but not always cheap) option is different ways of interior decoration of walls, floor and ceiling in different functional areas. You can, for example, tile the kitchen area with tiles - this is one of the best materials for this room, and you can put modern wallpaper on the living-room area and cover the floor with laminate. The ceiling can be of the same material, for example, mounted with a drywall frame and painting. And make a ceiling transition from one zone to another in the form of a level difference. The contrast of finishing materials will bring a beautiful visual separation of the two territories. With this method it is necessary, of course, to take into account the harmonious combination of colors of finishing materials in two zones. It is best to choose shades close in range. Do not forget about the furniture, which also must be in harmony visually in both functional areas.
Bulkheads
To emphasize the separation of functional areas, often between them use the walls and partitions. Their installation can be relatively simple, carried out even by non-professionals, does not require complex engineering solutions and coordination with utilities, BTI and other bodies. The simplicity lies in the fact that interior design will not be carrying, they can be made of light materials: a thin metal frame, drywall, plywood, chipboard or plastic.
There are a huge number of copyright projects of partitions, one of the most common is the arch.
You can create a beautiful arch separating the kitchen and living area using a minimum of tools and materials, and it's possible to work in a small apartment in 1-2 days. It will be not only an excellent visual separator, but also a functional element, since it somehow retains noise, odors and steam from the kitchen, it can be used to make niches for storing things.
Bar counters
A common and very popular option is to create a single room in the style of a cafe with a bar partition. The idea is quite simple - on the border of the living room and kitchen area a rectangular design with a table top is established. It turns out that in the kitchen you can prepare snacks and drinks and serve them through the counter to the living room. Over such a partition you can install elegant lamps, place comfortable bar stools in front of it. Such a plan has recently become very popular, especially in young families.
Lighting
We can distinguish the functional areas of the kitchen-dining room and living room with the help of lighting. Install built-in spotlights in the kitchen area, and in the other half a ceiling chandelier or a beautiful floor lamp. And if you choose the same lighting for the ceiling, then create a difference in color: the kitchen has bright yellow lighting, and in the living room is cold bluish.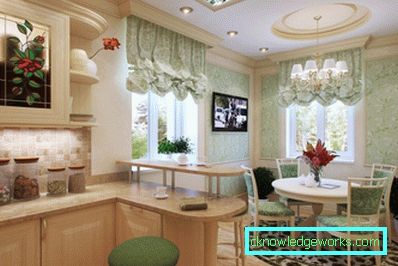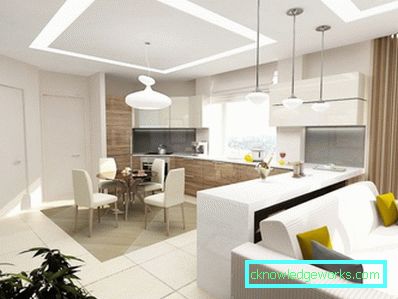 12 photos
Separation of furniture
Separating two or three zones with furniture does not require any installation work at all. You can simply put a massive sofa back to the kitchen side. And instead of mounting the bar counter described above, use a ready-made cabinet or a book table from a furniture store. In an area of ​​30 square meters. meters there is an opportunity to create as many as 3 functional areas: for cooking, a dining room with a dining table and a living room for the rest of the whole family. Then it is better not to use any massive partitions and piers, but simply to highlight the borders with pieces of furniture or various decor options.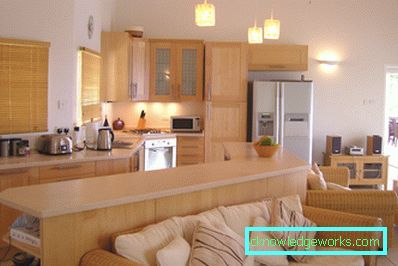 Options with a small area
Problem situations
Combining the two rooms in a small apartment is widespread and really allows you to create stylish and cozy areas of the kitchen, dining room and living room "under one wing". The technology here is simple - it consists in dismantling the interior wall, followed by zoning. But in fact, simplicity at first glance, serious construction work causes problem situations:
It is important not just to break the concrete wall with a jackhammer and cut out the reinforcement. Such a barbaric dismantling without knowledge of engineering and construction standards can lead to very serious consequences. Therefore, even before conceiving a project of a future reorganization, it is necessary to consult a specialist.
Such dismantling in an apartment building in any case is coordinated and approved in public utilities. Without their consent, you can not start work.
Demolishing the wall in a typical high-rise building is a very noisy process. Therefore, it is necessary to hold it only at a certain time, it is advisable to warn the neighbors so as not to cause them anxiety.
Work on the elimination of interior ceiling will bring whole mountains of construction debris and dust. Therefore, it is necessary to take care in advance of protecting the furniture, the floor and the walls from pollution, the removal of production waste to the designated places. You cannot throw them in the garbage chute or in containers for household garbage in front of the house.
Important nuances
Another important point is to consider possible communications when dismantling: electrical wiring and heating. Although the latter is usually laid in the external walls under the windows. But anyway, before demolition, it is best to examine the laying of engineering systems; for this, you may need a technical passport for an apartment or a consultation from the local utilities. And in general it is worth remembering that the dismantling may well be more expensive than the subsequent finishing, if not in finance, then in terms of time and nerves.
Especially important to do the union of two rooms in the "Khrushchev". These typical residential buildings have always been a shortage of usable space. Often the kitchen in them does not exceed 10 square meters. It is impossible to make a dining room and a living room in it at the same time, it's not efficient and to break such a tiny room into functional zones. And if you tear down the wall and combine the kitchen with one of the living rooms, then there is the opportunity to make quite a spacious area with an area of ​​more than 17 square meters and zoning.
After the interroom wall is dismantled, the uniform room turns out.
It is possible to organize the layout of the functional areas of the kitchen-dining-living room in one of the ways described in the previous section.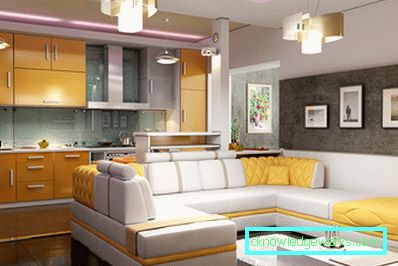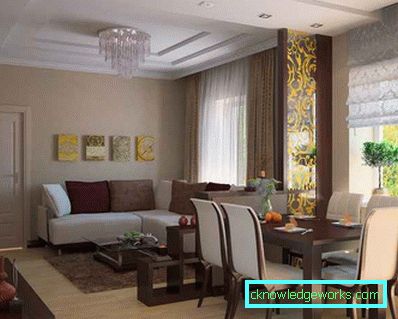 17 photos