Tables and chairs for the kitchen
Such furniture sets as a kitchen corner with a table and chairs gained popularity due to the convenience of their use, the coziness created in the kitchen, as well as the simplicity and variety of choices and ease of maintenance. To extend the functionality they can be equipped with a sofa and poufs. Before buying this category of goods you need to think about where you will put it and how to use it. When your choice will be realized and weighed - you will not be disappointed in the purchase and will be satisfied with each day of owning it.
9 photos
Features and benefits
Speaking about the features of dining groups, you can conditionally divide them into compact and massive.
When arranging a small room, every millimeter of space must be taken into account; therefore, the furniture must be appropriate, i.e. small dimensions. This applies to both the size of the table, and its component set of chairs. In such a situation, transforming furniture that either "hides" in other furniture or increases in size if necessary will also be an excellent solution.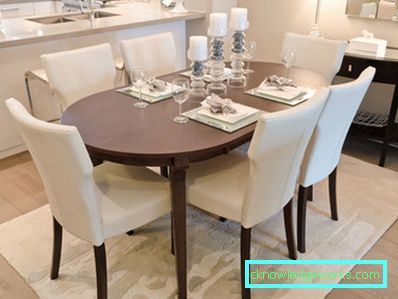 Otherwise, everything is in the spacious kitchen. There is where to turn fantasy, in such rooms you can pay more attention to style, comfort, not paying attention to how much space this or that object takes. In this case, tables and chairs in large kitchens can have both the most concise and the most chic design.
Kinds
The furniture set for the dining area is traditionally a table and 4-6 chairs (there may be less chairs if the kitchen is designed, for example, for only 1-2 people).
Tables can have a different shape: rectangular, oval, round, square, semicircular, triangular.
Round tables look aesthetically more easily. They are well suited to any interior, but sometimes there is a problem where to put such a table. You can put it in the center of the kitchen only if space permits; in the corner behind him only 2-3 people can fit. If the dimensions of the kitchen do not allow placing a round table on it, and the desire to have it is very large, you can replace it with a semicircular one that will look good both by the wall and by the window.
Rectangular table - the most common interior solution. It is roomy enough (it can accommodate 6 people or more), it's easier for him to choose a place. The most preferred area for its placement is near the window. The disadvantage of a rectangular tabletop are sharp corners. But this problem can be solved by choosing a table with rounded corners.
Square tables are most often produced in small sizes and are designed for 4 people and a small kitchen.
Many manufacturers of kitchen furniture offer their customers sliding tables. Both round, and rectangular, and square tables can move apart. Accordingly, the price for sliding structures will be higher.
Chairs must be in harmony with the dining table. They are best purchased in the set.
Types of chairs for the dining area:
with a back (high or low);
chairs-chairs (with armrests and without);
stools;
folding;
bar stools.
The interior of a large modern kitchen can combine the use of different types of chairs at the same time. In one area there can be a dining set with a traditional table and chairs, in the other there can be a bar with chairs on high legs.
In some cases, it is possible to replace the chairs on a soft kitchen corner or sofa, which is usually placed in a free corner of the room. This is a very convenient and multifunctional version of the arrangement of the dining area. First, on such a sofa can accommodate a lot of people; secondly, it can be used for its intended purpose - i.e. as a sofa (to sit comfortably after dinner and watch your favorite TV shows); thirdly, the kitchen corner is a great workplace where you can sit with a laptop, or do needlework.
If there is a small child in the family who still cannot sit at the common dining table, then for some time in the kitchen you will need a high chair for the mother to be comfortable and feed the child and eat food herself.
Materials
The range of materials used in the manufacture of modern dining groups is very wide.
Glass. The advantage of furniture with the use of glass is its airiness, it seems to dissolve in the interior. Glass is usually combined with metal, plastic, wood. Glass can be glossy or matte, with a pattern or with photo printing. Glass is most often used for the manufacture of countertops. The disadvantage of glass surfaces in the kitchen is their rapid contamination. The hostess will have to make an effort to keep such furniture clean;
Metal. Furniture with metal elements is characterized by high wear resistance; it is more often used in the design of high-tech interiors;
Forging. Furniture with wrought iron elements is more suitable for country houses, interiors in the style of a chalet. She looks very elegant, but at the same time it is quite difficult to move because of the large weight;
MDF. Furniture from this material belongs to the economy class, has a wide range of textures, colors and shapes, but is quite unstable to mechanical damage.
Tree. Kitchen furniture made of solid wood is considered elite. Not many can afford it. This material is best suited to the style of Provence, country, oriental styles, but will also look harmonious with the kitchens in any other styles. The most valuable wooden furniture is made of elm, birch, alder, maple, beech, oak;
Rattan. This natural material is more suitable for cottages or country houses. It is durable and resilient, but difficult to clean from dust and other contaminants. Dining rattan groups are perfectly combined with wood, textiles, metal;
Plastic. This is the material, the use of which gives the interior freshness, brightness, some mischief. Tables and chairs made of plastic in bright colors can color even the most boring kitchen.
Color solutions
Dining groups can be made in a variety of colors. It all depends on the material from which the furniture is made. The most diverse color palette of the furniture with plastic elements, upholstered in leather or leatherette.
In wooden tables and chairs, the color is most often closer to natural - from sandy to chocolate. You can also find wooden dining room furniture in black, white or mahogany color, similar in color to orange.
How to pick up
In order to choose the right kitchen table with chairs, you need to proceed from the size of the room, the number of family members, their lifestyle, the style, color and texture preferred by the owners, the material and budget allocated for this furniture set. The dining group must fit harmoniously into the kitchen set, match the color and texture of the walls and floor.
For a small kitchen, a small rectangular or square table would be best. If the family likes to host guests, it is better if the table is foldable or sliding, so that if necessary, you can accommodate everyone. When buying such a table, it is necessary to check the folding mechanism well - if it is convenient and reliable).
If the family is small and leads a secluded lifestyle, then we can restrict ourselves to a small round table or table resembling a bar counter.
Chairs in a small kitchen should also be small. They must be chosen in such a way that they can move freely under the table, that is, it is necessary to clearly relate the dimensions of the tabletop and the dimensions of the seating positions. The best option in this case would be a stool or chair with a seat width of not more than 30-35cm.
For large kitchens, there are a lot of options for dining groups. If the kitchen is spacious, then the table for it must be appropriate so as not to disturb the harmony of size. A large round table with exquisite chairs in the same style looks very impressive in large-sized dining rooms.
Choosing a table and chairs you need to pay attention to their color and shape. You can purchase a ready-made dining group made in one or several colors and textures, or you can complicate your task and act as a designer yourself by selecting the table and chairs separately. In this case, it is necessary to observe the rule of a combination of forms - angular, rectangular and square - to identical, round - to round. It is also better if the tabletop is a little darker than the seats of the chairs. The table and chairs should be made in the same style, although the materials of the texture and colors may be present in them.
The small kitchen will look good chairs made of transparent plastic with a metal frame or without it. They will not overload the space, but, on the contrary, will dissolve in it. When composing a dining room group, it is not at all necessary to choose chairs to match the table; they can be in the tone of some decor element (kitchen furniture facades, apron over the working surface, or curtains).
It is very important when purchasing a table and chairs to take into account the properties of the materials from which they are made.
Basic requirements for materials:
Durability and durability;
Environmental friendliness and safety;
Ease of care.
Comfort and convenience - these are two more important characteristics of the furniture, without regard for which is indispensable.
Table height must be selected based on the average height of family members. Tables often make a height of 70-75 cm. The width of the table top should be at least 80 cm.
Before you buy chairs, be sure to sit on them and listen to the sensations of the body - they are not too hard, not too soft, they can be very low or too high. In a person sitting on a chair, the knee bending angle should be clearly straight, and the feet should be completely on the floor.
The optimum depth of the seat chair - 40-45 cm, height - 40-42 cm. It is worth paying attention to the backrest: the angle should be 3-5 degrees. If the chair seat is hard, then it must have rounded edges.
A good chair can withstand a load of up to 120 kg, does not creak, does not emit other sounds, does not swing when sitting on it.
How to do it yourself
Making a set of dining room furniture is not an easy task and is available only to a person who is familiar with the basics of carpentry skills.
For the manufacture of furniture using hardwood - oak, walnut, larch. In this case, the lumber must be dry (no more than 10% moisture), otherwise the products will be of poor quality.
Before you get to work, you must complete a drawing of future products with all sizes applied to it. It is very important to take into account the ergonomic requirements for dining tables and chairs, as discussed above.
Further, according to the drawing, the necessary structural elements are sawn out of wood, and then they are given the desired shape with a jigsaw and carefully ground. To connect parts of products using clamps, screws, bolts with nuts, wood glue.
Seats for chairs can be made from solid wood or from plywood. The last option is preferable when it is supposed to make the seat soft. For this purpose, foam rubber and batting are laid on the plywood, which are tightened from above with furniture fabric.
The final stage in the manufacture of wooden kitchen panel will be its varnishing or painting.
Top Brands Review
Currently, the kitchen furniture market is represented by products from various manufacturers, both domestic and foreign (Italian, Spanish, Belarusian, Chinese, etc.).
Distinctive features of furniture from Italy is the use of design developments, technological innovations and high quality. Italian furniture factories offer dining groups of various price categories and styles. Kitchen tables and chairs from Italy are notable for their increased durability and wear resistance due to the use of high-quality materials, age-old traditions of furniture craftsmanship and manual decoration. The most famous Italian factories producing table groups are: INTERIORS, LLASS, SAVIO FIRMINO, BAKOKKO, etc.
The furniture of individual Russian manufacturers is sometimes not inferior in quality to European brands, but it is much cheaper. Furniture factories are engaged in the production of table groups in Russia: Stoplit, Tria, Shatura-Mebel, Soyuz-Mebel, etc. Their products are distinguished by their stylish design, durability, functionality and durability. Most large manufacturers use in their production modern European equipment, environmentally friendly materials and reliable European accessories.
Tables and chairs of Belarusian production also appealed to the Russian consumer, thanks to the optimal combination of price and quality. The most famous manufacturers from Belarus are: "Pinskdrev", Vileika furniture factory, "Gomeldrev".
Buying furniture for the dining area now is not particularly difficult, the benefit of companies engaged in the sale of furniture, there is a lot. Some of them are engaged in the supply and sale of only tables and chairs, for example, the company AERO, which has a wide network of dealers throughout the country. In its assortment are presented both classic versions of table groups, and designer novelties.
Interesting solutions in interior design
The combination of dark wood and light textile
Chairs with textile upholstery and a round table in a white and pink tones create a unique atmosphere of tenderness and comfort
Transparent chairs and a table make the kitchen space weightless and airy
A table with four fashionable plastic chairs streamlined shape with bright red cushions sets a cheerful mood
The unusually beautiful curved shape of bar stools fits perfectly into the cosmic interior of the kitchen