Table-sill in the kitchen
Table-sill in the kitchen - a great option for a small apartment. It will help not only to save the treasured meters in the kitchen space, but also to make the interior of the room original and unusual.
Kinds
Usually in the kitchen window sill is little used. The maximum that is set on it is a pot of flowers. It is easy to add functionality to it - it is easy to install a tabletop on the window sill, and you can assign a different value to it.
Cutting table
To do this, equip the window sill in the continuation of the kitchen. Below, a place with a heating radiator can be decorated with a facade to match the kitchen and, if space allows, to organize there additional storage places, for example, for kitchen utensils. Natural lighting is very convenient here, preparing food at such a table, your vision will not irritate the artificial light.
Build a sink in the worktop
In many American and European homes, the area near the window is often used in this way. It is much more comfortable when washing dishes to watch the changing picture in the window, than to admire the boring apron day after day. This option is suitable only if there is a technical possibility for supplying communications. If you make a sewer is wrong, then it will clog, and the use of such a sink will cause inconvenience.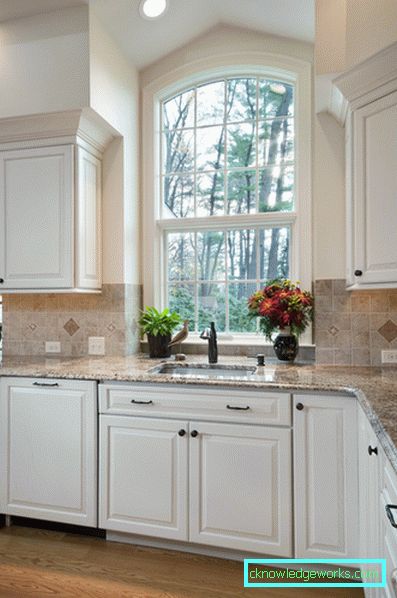 Dinner table
A table on the windowsill can replace the bulky dining area, while saving most of the space. There may be several options.
Sill - folding table.
Stationary table
Dining island.
Bar counter.
If you organize a window sill, smoothly turning into the tabletop, you can place up to four people behind it, that is, it is enough for a full-fledged family.
The design of a modern kitchen often has to be installed in a bar. And in some apartments the only option is to organize it, equipping instead of a windowsill. It is very convenient for a cup of tea to admire the view from the window, to rest from the pressing problems.
If your balcony is adjacent to the kitchen, then an excellent option would be to warm it and organize a single space. In such a room, it is easy to place a dinner island in the place of the window sill, beyond which the whole family can fit.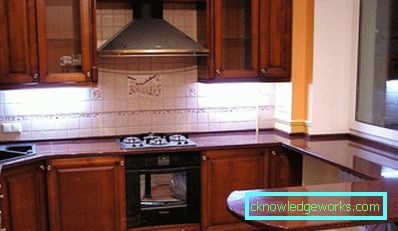 Materials
Any surface that is used in the kitchen space should have good moisture-resistant properties, differ in scratch resistance, various detergents, elevated temperatures. They should not absorb dirt and grease, emit harmful substances.
The tabletop can be made of chipboard, whose thickness is not less than 12 cm. Then, as a finishing material, you can use ceramic tiles in the color of the wall. It should have a smooth surface and minimal inter-tile joints.
It is very popular to use artificial stone as a table surface. It can be synthetic Corian from acrylic or artificial marble. In the event of scratches, this material can be repainted, it has different color solutions and will be easy to fit into any kitchen interior.
A natural stone tabletop is an eco-friendly material. He even over time will not emit harmful substances. Very often for the manufacture of countertops used natural marble or quartz. A table made of this material is very expensive and has a considerable weight; therefore, folding structures cannot be made from it.
Natural wood - an excellent material, has long been used for kitchen tables. But in order for the tabletop of this material to serve for a long time, it must be treated with special impregnations and varnished. The color of this table can be given any, or leave it natural shade.
You can also make a table of glass, metal, moisture-resistant drywall or concrete. If the table is a continuation of the built-in kitchen set, then it is made of the same material as its table top.
In the choice of material it all depends on your preference. As well as the budget that you have determined for the arrangement of the dining area.
Home Improvement Tips
When arranging the table in place of the window sill you need to listen to the advice of professionals.
If there are batteries under the window, it is necessary to ensure free air circulation, therefore, it is necessary either to provide holes on the surface of the tabletop, which is not always convenient and debris will fall on top of the cabinet, or install facades with grills.
When installing the table top under the frame, it is necessary to make a high-quality waterproofing so that the moisture does not spoil the table, especially if it is made of chipboard or wood.
For window decoration, it is better to use blinds or curtains that cover only the upper half of the window. Here are perfect Roman or Austrian curtains.
Interesting ideas in design
Dining table - windowsill in a small kitchen in the "Khrushchev". A complete place for eating, and saving space.
A sink placed to the window will make it possible to install the cabinets in the height of the wall, even in a small-sized kitchen.
Window sill - bar counter. A great way to organize an area for eating if there are no children in the house.
A kitchen island in the place of a window sill when combining a kitchen and a balcony is a multifunctional piece of furniture.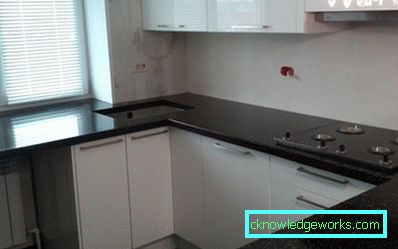 10 photos