Suspended hood in the kitchen
Modern society is difficult to imagine those times when the kitchen was not such an important device as the hood. A picture of sooty walls, a fairly darkened ceiling, a sticky floor from grease, and wetted under the influence of fumes of curtains, immediately appear in my head. And the housewife? The poor woman, from time to time running around the kitchen with a wet towel in her hands, trying to at least somehow refresh the air in the room.
The childhood memories still have the unpleasant smell of a burnt dish and the look of a smoke-filled kitchen. But all this negative has sunk into oblivion with the beginning of an era of air-draining.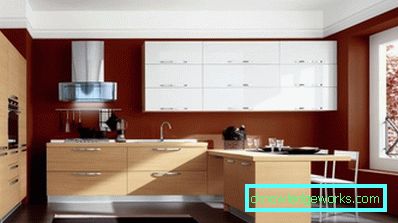 Now it is enough to install this unit above the stove and all the problems arising in the process of cooking evaporate with the dirty air.
Characteristic
At the moment there are many different models of hoods, but the most common and more common in kitchens - suspended. Such devices are compact in size, mounted directly above the hob. Their work is based on the use of filters, because such hoods can be used for fixing various lockers without fear that their appearance will somehow suffer from evaporation coming from the bottom and additional moisture.
Usually, in such devices, manufacturers install simple filters made of synthetic material (as a rule, they use acrylic). The big minus of such cleaning cartridges is the need to constantly replace them. In most cases - once every three months. And this is an additional financial cost.
To permanently forget about the constant purchase and replacement of the filter, you can immediately purchase a model with a reusable metal filter. Catching grease and particles of soot, it will also be contaminated, but such a detail of a cleaning device needs to be washed from time to time with dishwashing liquid, soapy water or water with vinegar. He does not need a replacement.
The peculiarity of the suspended hoods is that they work without exhausting the air, that is, they do not remove polluted air from the room, but filter it, and the same air continues to circulate in the kitchen, only purified. That is why suspended hoods are considered the easiest to use and maintain, and also cost much less than other models of kitchen cleaning equipment. In addition, it is very easy to mount.
The most common are suspended hoods with a width of 60 cm. This is a kind of standard, although there are smaller options with a width of 50 cm and 45 cm. The performance of this type of device is quite good, although they are not 100%, they cope with cleaning air in the kitchen. Suitable for small spaces.
Modern models of suspended hoods are divided into single-engine and twin-engine. In the latter, power and performance are much greater.
This type of kitchen hoods today is one of the least effective, since it has a small capacity.
Benefits
Irreplaceable kitchen workers have many advantages that are unlikely to be appreciated by the prim cuisines of glossy interior magazines, but are tangible in ordinary kitchens where ordinary people live and work.
Modest pricing allows you to buy hoods to people with different incomes.
This type of cleaning units is characterized by the availability and ease of installation. To install them, you do not need to buy additional tools and equipment, to construct a complex structure of pipes and ducts. All you need is a domestic drill and mounting anchors. With their help, you can hang the hood above the hob or above the table in a few minutes.
Suspended hoods work quietly, they are almost inaudible. Single-engine units produce sound background in the region of 40-45 dB and this figure is recorded at the maximum load on the device. This indicator is comparable to the quiet sound of music, or a quiet conversation, conducted by the interlocutors at a distance of no more than five meters. Two-engine hoods make a little noise, however, and their sound level indicators fit into the normal range. A wide range of products allows you to choose the most suitable option for a particular case hood.
Well-known manufacturers of suspended hoods, such as Bosch, Krona, equip their products with reusable filters that are easy to clean. They do not need constant replacement, while perfectly clean the air from soot, burning, fat droplets, moisture. Moreover, in many models, additional installation of carbon filters, created specifically to remove unpleasant kitchen odors, is allowed.
How to install
You can install the suspended hood in a special hanging cabinet, decorative box or hang it on the wall. The device is fastened with screws or anchors.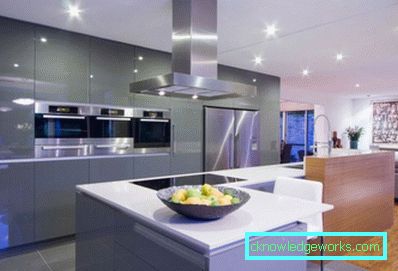 A corrugated hose with one side is fixed to the device, the other end of it is led to the ventilation duct.
The second method of attachment - to the bottom of the cabinet. By mounting the suspended structure in a box or cabinet, you can preserve the integrity of the interior and increase the functionality of the kitchen. In this case, it is possible to remove polluted air into the ventilation system using a special flat PVC channel.
The space between the appliance and the stove depends on the type of cooking surface: above the gas - the hood must not be lower than 75 cm. Above the electric one - the hood can be lowered 65 cm to the surface of the cooker. By neglecting these rules, property owners risk their square meters. The accumulated fat can catch fire and a fire will occur.
If the installation of hanging hoods is done correctly, then you can fry, boil, bake without fear that the unpleasant smell and drops of fat will remain in the kitchen.
Interesting solutions in the interior
Suspended hoods, however, like any other type of cleaning equipment, must be combined with the design of the entire kitchen filling. For a classic interior or country style room, large hoods of light tones are suitable: white, beige.
Hoods modern style, high-tech - made in a more restrained version. Their design is closely related to black color, metallic shades, and in addition to steel and aluminum, plastic, glass and other synthetic materials are used in their production.
Reviews
As one would expect, reviews of suspended hoods in the kitchen do not differ much. Users note that such constructions cope well with their main task - air purification. They do not make noise, they are compact, so there are no significant complaints.
Consumers like design of hoods, especially such well-known and time-tested companies like Krona, Bosch, Hansa. Their products fit perfectly in any interior, weigh a little. And the price is quite democratic.
Suspended hoods are suitable for small, cramped kitchens. They quickly absorb unpleasant odors, work, as a rule, in several modes.
The inhabitants note that there are practically no additional functions, but many are pleased with the bright built-in backlight.
The only disadvantage that many describe is the long air-and-water pipe, inherent in all hoods of this type. She is very striking, so you need to think carefully over her disguise.
Meanwhile, owners of suspended hoods say that these devices are the best option for the kitchen of any kind. Their great advantage is the possibility of installation by various methods, therefore, they do not have to wrestle with how best to assemble, how to save maximum space. That is why suspended cleaning hoods for the kitchen are so popular and in demand in modern society.