Double boiler and other household appliances Redmond
The fashion for a healthy lifestyle and proper nutrition makes us think about buying new gadgets for the kitchen. In particular, we are talking about devices that allow you to cook without adding fat. Steamer and other household appliances Redmond is very popular in Russian kitchens. Let's try to understand its pros and cons.
About the manufacturer
For many, perhaps, surprisingly, but Redmond is a Russian brand. Under this brand, the contract is the production of kitchen appliances, appliances for home comfort, and devices for health and beauty.
The brand focuses on new technologies, promising the buyer the introduction of the latest scientific developments into their products. One of the new products is the Smart Home line, which allows you to manage home assistants using your smartphone, being anywhere. For example, you can grind coffee and turn on the coffee maker, without getting out of bed. Or turn off and lock the iron, if at work you suddenly thought that you forgot to turn it off. Smart scales can transfer all your weighing results to a smartphone and analyze how weight loss is going.
The brand is known, above all, by the line of multicookers that are widely advertised in the media. The manufacturer has about 20 models of multicookers with different functionality. In addition, recently Redmond switched to "multi-kitchen", where the traditional multicooker is supplemented with a frying pan, or a place where you can put a kettle.
However, the Redmond range is not only rich in these multi-helpers. This brand produces a huge number of devices for modern kitchens: coffee makers, juicers, microwave ovens, blenders, toasters, vegetable cutters, bread makers, meat grinders, aerogrills.
Appliances of this brand are sold in many appliance stores. Price category - medium. There is also its own online store and a network of mono-brand stores Redmond Smart Home, where you can purchase both appliances and accessories and pick up parts.
Manufacturer's promises and customer reviews
First you need to figure out whether to buy a double boiler as a separate device. In theory, steaming can be done using the old grandmother's method (pan with water + colander). In addition, in any multicooker there is a function of steaming - a special plastic bowl is attached. However, both of these methods are suitable only for a small volume of dishes. They are good if the diet is prepared for a couple (for a short period of time), food for the patient or for a small child.
If you plan to feed with steam dishes the whole family, then it is worth thinking about buying a double boiler. As a rule, such a gadget has several roomy "floors" where you can cook both a dish and a side dish at the same time. It is useful if the steam dishes in the family eat constantly, day by day.
Redmond produces 5 models of steam boilers with different functions and capabilities.
The budget model is RST M-1103. Includes 3 baskets - i.e. at the same time it is possible to prepare 3 types of products. The water tank holds 1.25 liters of water - enough to cook even the most "persistent" products.
This steamer is controlled by a mechanical wheel, which sets the cooking time. Maximum - 1 hour. To heat the water to steam, the device takes less than 1 minute.
Of nice bonuses - the possibility of topping up the water in the tank. The set includes a bowl for cooking rice to garnish.
Buyers consider this model a worthy combination of price and quality. The bowls are big enough to cook at once a meal for the whole day. Among the drawbacks are the holes in the bowls that are difficult to wash off the leftover food. Also, the bowl can not be interchanged. If the product that is below, prepared faster, it can not be rearranged to the top.
The RST-M1104 is "enhanced" by digital control and a backlit LCD display. Possible cooking time increased to 1.5 hours. You can put a steamer on a timer so that fresh food is prepared, for example, for breakfast or for returning from a walk. The heating function keeps the dish hot for as long as needed.
According to reviews, the device copes with its main tasks. Buyers' claims are around the display with buttons, which in some cases fall from the first days or fail.
The RST-M1105 has larger bowls. Steam time reduced to 15 seconds. Manual control. This device has a bonus - aromadiffuser. This is a special compartment where spices are poured, and steam, passing through them, enriches the taste of dishes.
Aromatdiffuser buyers appreciated: according to reviews, the dishes really do not seem to be bland on the way out. Among the shortcomings note the lack of digital control, timer and handles at the condensate tray. It is inconvenient to take his hands to drain the water.
However, the manufacturer from such criticism was not upset, and then released a model RST-M1106, which has the same functionality, but with a timer and a touch screen.
The most "advanced" model RST-M1101. Three capacious baskets have a metal base and large comfortable handles on the edges. Thanks to them, the compartment from the double boiler can be removed very easily and without burning. The gadget has 5 automatic programs for cooking rice, meat, poultry, vegetables, fish and Chinese dim sum bread. All the other nice features - topping up the water, a timer, delayed start - on the spot.
According to reviews, this model is very difficult to find on sale, because its very quickly snapping up. Steamer impresses with its design and capabilities at an affordable price. On the other hand, a number of buyers note that "5 automatic programs" are in fact a clever marketing move. Programs are nothing more than different timers, because in a double boiler for different dishes only their cooking time is different.
For some reason, this steamer cannot be used to set the cooking time for less than 15 minutes.
Many people note that the coating of the heating element is very quickly peeled off and scale is formed. Fat and condensate from products enter the water compartment.
Other brand equipment
Redmond produces other kitchen assistants. Many women are interested in such a device as a pressure cooker. This gadget is fundamentally different from the multicooker:
The pressure cooker is designed for stewing or boiling. The slow cooker can bake, fry, sour yogurt and withstand dough.
In a pressure cooker, dishes are cooked under pressure and at high temperature. Due to this - very quickly. In a slow cooker, dishes are cooked longer: due to languor at low temperature and in the absence of pressure.
The pressure cooker can not be opened during cooking, and the slow cooker - easily.
Redmond produces several models of multivarks-skorvarok, in which there is a function of a pressure cooker with a separate insert inside the bowl. This allows you to enjoy the benefits of both devices at the same time. RMC-M110, RMC-RM330, RMC-RM503, etc., have such capabilities. Of course, the price of such a gadget is higher than the usual multicooker.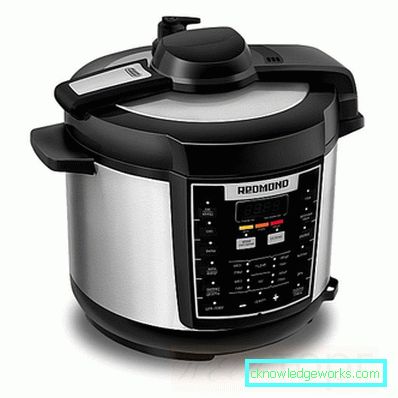 For lovers of fried, there is a deep fryer, but not as a separate device (today it is considered that it's not worth keeping a separate apparatus for preparing junk food), but as a basket complementing the slow cooker. For example, the RAM-FB1 frying basket will suit any Redmond multicooker with a bowl capacity of more than 3 liters.
Buying such a basket will cost much less than a stationary device. In addition, when removing the basket and the multicooker, excess oil flows down, so that it does not get into the food.
The brand actively advertises the technical novelty - the multi-baker. It is a kind of waffle iron with different shapes that will allow you to bake different types of waffles, cookies, pastry nuts, donuts, pretzels, etc. There is a separate panel for roasting on the grill. Usually, 3 or 6 interchangeable forms are supplied with a multi-boiler, and the rest will have to be purchased. This gadget will be appreciated by housewives, who very often prepare homemade cakes or, for example, make cookies or donuts to order.
Interestingly, in addition to technical support, on the "hot phone" Redmond, you can get advice from the chef, who will tell you in what proportions to cook this or that dish or what cooking mode is better to choose.
8 photos