Stationary blender with a bowl of various materials
Summer always pleases people with a variety of fresh fruits and vegetables, which are great for making mashed potatoes. It is rather difficult to make such a dish by hand, therefore many housewives use a stationary blender with a glass bowl for this. These mechanisms finely grind many products, which allows them to be used to produce many types of mixtures, which can then be used as a component of many dishes and recipes.
We understand the device
Mechanisms of this type are very popular, as they allow to simplify the preparation of many types of dishes. At the same time they will have a pleasant and delicate flavor. Blender performs only 2 main functions:
The construction consists of several main parts:
Enclosures, which can be made of metal or plastic.
Bowls. This attribute is a removable container in which the components are mixed. All these designs are complemented by a special cap that allows you to protect the splashing of the mixture around the room.
Knives. The form and type of such elements depends on their purpose. Many models of blenders can be equipped with several modifications of knives that are easy to replace if necessary.
Electric motor. This part sets in motion the working bodies. The power of this element may be different, depending on the manufacturer and size of the blender.
The operation of this mechanism is very simple, since it requires filling the bowl with the necessary products and starting the system.
Functional purpose of the mixer
Blender is a very useful thing, with which you can cook delicious dishes. It should be understood that if you spend time in the kitchen, just to drink tea or cook a semi-finished product quickly, then it will not be useful. With the help of a blender, you can do several such operations:
Beat liquids (eg cream).
Grinding vegetables, fruits and meat.
Cooking mashed potatoes.
Knead the batter.
Crushing nuts or pieces of ice and much more.
We determine the engine power
This factor is one of the most important when choosing a blender. It should be understood that it depends on how well all products are crushed. Stationary systems can be divided into several categories:
Low power (180-300 watts). This type of blender can only be used with soft foods such as berries. In most cases, bought for the preparation of cocktails. This category also includes mechanisms that develop power up to 650 watts. It should be noted that this subcategory of devices can already work with ingredients that are characterized by medium hardness.
Medium power devices (650-1000 watts). Blenders of this type perfectly process soft foods and viscous substances. Some models can even crush pieces of ice.
Professional blenders. The power of these mechanisms exceeds 1000 watts. Perfectly suited for both hard and soft ingredients (ice, fruit, kernels of nuts).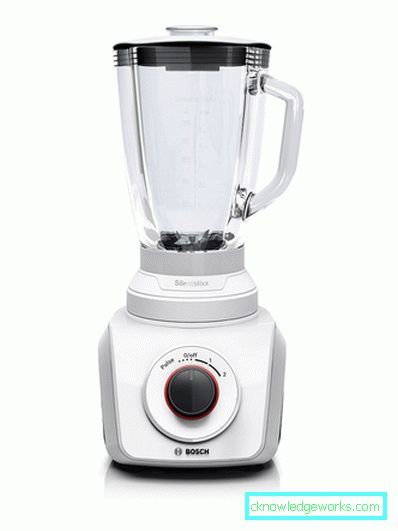 High-quality bowl - the key to long work
Bowls in blenders can have different shapes and volumes, but all of them are intended for mixing certain products. Make them from composite materials, among which the most popular are:
It should be understood that each of these models has its drawbacks. Glass bowls are very fragile and can break when handled carelessly. But this material does not absorb any odors and washes well, which is very convenient and practical in the kitchen, where a lot of different substances are used.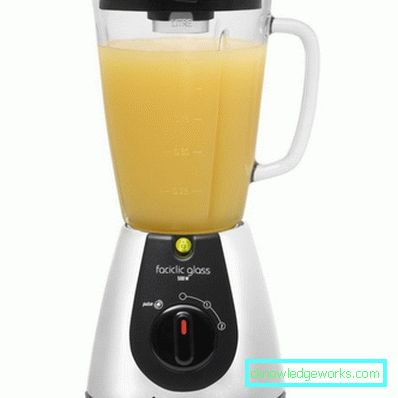 Although plastic containers are strong and light, over time they begin to absorb the paint from the ingredients and become cloudy. Metal bowls are characterized by high durability and safety, which makes them very popular.
The disadvantage of this element is the opacity of the walls. This does not allow a person to observe the process of cooking.
When choosing a bowl, it is desirable to take into account its volume, which can vary from 0.4 to 2 liters. Please note that these containers are not completely filled during operation, which leads to an additional loss of a certain amount of space. Modern bowls can be complemented by a spout or a special tap for draining. Using these attributes simplifies the process of removing liquid from the tank.
We evaluate technical features
Buying any device in the house requires a careful study of all its characteristics. Choosing a blender is no exception. Before you purchase this product, several more technical features should be evaluated:
Speed ​​control. This mechanism allows you to change the number of revolutions of knives, which affects the quality of grinding. Experts recommend for domestic use to use blenders equipped with 3-5 speeds. When the quality of grinding is important for you, then you should buy instruments that allow you to change this position in the range from 4 to modes.
Support system. The level of its vibration depends on how firmly and smoothly the blender relies on the base. In low-quality models, this can lead to the unauthorized sliding off the table. Therefore, one should give preference to mechanisms with a wide base, as well as structures with special rubber feet.
Controls. All modern blenders are equipped with touch panels that make it easy to control all processes. Such systems are also equipped with controls that regulate everything from the number of revolutions to engine overheating.
When choosing a blender, it is also important to consider user feedback. This will allow you to choose a reliable product that will serve for a long time and efficiently.
Some popular models
There are many types of blenders on the market, each of which has its own positive features. Among all this diversity we can distinguish several of the most popular models:
TM-767 (manufacturer RAWMID Classic Dream). The power of the system reaches 2250 W, which makes it possible to qualitatively grind even the hardest products. The body of the blender is made of plastic, and the bowl itself is made of impact-resistant tritan.
KT-1301 (Kitfort). The device is characterized by the presence of a glass jug and a metal case. The blender develops power up to 1000 W (6 speeds) and is equipped with an ice crushing function.
vt 1474 (Vitek). The model is perfect for home use. The device works only at 2 speeds, the bowl is made of glass, and there is also a pulsation mode.
The stationary blender is an indispensable tool in the kitchen, which you need to select only according to your desires and needs.