In modern high-rise buildings, the size of kitchens is usually impressive enough to easily accommodate any appliances and furniture. And if the space is combined with the living room, then the possibilities for decoration and interior design becomes even greater. However, in the so-called Khrushchev and other houses of this kind, apartments are not distinguished by large sizes. Sometimes there is not enough space so that it becomes necessary to place a sofa with a sleeping place in the kitchen, sometimes it is the only way out for small apartments.
A modern stylish sofa can be not only a comfortable place to relax, but also a great sleeping place.
What is important to consider when choosing
In order not to be mistaken with the dimensions of the kitchen sofa for a small kitchen, it is necessary to correctly measure the area where it will be located:
Consider the shape of the back, as well as the dimensions of the side parts;
Instead of curved forms of the back is better to choose straight, they take up less space;
Sofas without armrests are more compact;
If the kitchen is small, and there is a need for a folding sofa, you need to make sure that there is enough space;
In a small area, calculations should be as accurate as possible to the flesh to centimeters.
Roll out couch can be placed in a small space
It is much more practical to select models with additional functions, for example, with drawers under the seat or built-in shelves. Different types of small sofas for the kitchen are presented in the photo below.
This sofa has a narrow sleeping bed, but there is so much space for storing useful gizmos.
What upholstery to choose
The colors of the furniture must certainly be in harmony with the chosen style of the kitchen interior, without getting out of it. It is also necessary that the selected material is extremely practical - easy to clean, does not absorb odors, does not deteriorate from moisture and temperature changes. How the design of a small kitchen is transformed depending on the texture and shades of the sofa upholstery can be seen in the photo.
Correctly selected upholstery is one that fits perfectly into kitchen design.
Tapestry or jacquard
Such upholstery looks very elegant and beautiful, and a variety of ornaments allows you to enter the sofa in almost any interior. However, in the kitchen, jacquard fabrics or tapestries are not the best option. Despite the fact that they are very durable, it is not recommended to wash them - only dry cleaning. In addition, with frequent use, the fabric is gradually wiped.
A variety of patterns and colors of fabrics will help you choose the perfect sofa for the kitchen.
Important! If there are animals in the apartment, their claws will quickly lead a jacquard or tapestry to an unsightly look.
Flock fabric
This material adapts well to kitchen conditions. The fabric does not pass water, and due to the Teflon impregnation it is easily washed from stains. Dirt and dust do not accumulate on the flock, and the upholstery is able to withstand high temperatures. Flock surfaces are resistant even to the claws of dogs and cats. Another distinctive feature of such upholstery is its hypoallergenic, environmentally friendly material.
Flock fabric is very soft to the touch and looks great as an upholstery in the kitchen sofa.
Velor upholstery
Beautiful soft fabric that does not warp over time. However, the fleecy surface is harder to clean from stains, and the seats and armrests rub quickly. In addition, choose a small kitchen sofa with velor upholstery, it is worth pre-examine the quality of the seams. If the stitch is bad, the fabric will quickly disperse at the seams.
Soft velor gives a comfortable sleep on a cozy kitchen sofa
Leather
Synthetic suede, also known as microfiber, is well suited to the kitchen room at the expense of its qualities. This material is durable, resistant to moisture, does not deform over time, and is also easy to clean from stains and dust.
The angular design will perfectly fit into the interior of a small kitchen room.
Genuine leather is a practical option. This material will last a very long time, and leather upholstery is easy to clean, not afraid of water and high temperatures. Despite the fact that the skin is not distinguished by the richness of the ornaments, the palette of shades is quite diverse. The disadvantage of leather sofas in the kitchen is their high price. However, leather is the material, the cost of which is not worth saving - it is a guarantee of high quality.
Leather upholstery is ideal for classic expensive kitchen interiors
Important! Leather furniture can not be placed next to the stove, in addition, on the upholstery traces of cigarettes.
Popular types of sofas
When purchasing a soft sofa corner for the kitchen, it is important to consider its size, as well as its design and shape. In a small kitchen, a compact corner sofa with a table will be more appropriate. Such a corner will not take a lot of valuable space, and also allow the most practical use of all available space. If the area allows, you can choose small sofas with a berth, suitable for decoration and style of a small kitchen.
Corner models
Compact corner models are great for furnishing a compact kitchen. This will save space without sacrificing roominess, corner-shaped sofas are comfortable enough and are designed for more people, in contrast to more cumbersome straight structures. Under the seats are often installed boxes in which you can store things or bedding.
A compact model of an angular sofa can not only fit into any interior, but also becomes an excellent place to store things.
If the kitchen is combined with the living room, an angular sofa will suit you, equipped with a sleeping place, on which you can easily accommodate guests who stay overnight. This is especially convenient for those who often arrange friendly or family gatherings. How to correctly enter the corner versions of sofas in the interior of the kitchen, you can clearly look at the selection of photos.
Corner model of a large sofa with a berth - a godsend for a spacious kitchen-living room
Folding couches
These sofas are compact enough, and in the folding form take up space no more than a small bed. The bed is often designed for one person or two. If there is a need for more spacious models, you should choose a full-fledged folding sofas, but in the kitchen of a modest size it is better to put a single version. Double models are good for combined rooms.
The couches are very elegant and do not take up much space in the kitchen.
The design of the couches can be the simplest or supplemented with a backrest with armrests. If we consider the type of mechanism, it is traditionally folding or roll-out. If desired, you can purchase a couch with storage systems for useful details. Different design solutions with the placement of the couch-couch with a pull-out bed in the kitchen can be seen in the photo.
Folding couch can provide additional sleeping space
Semicircular construction
Models of this type are usually used in spacious rooms, but for a small kitchen you can purchase a compact corner sofa with a rounded seat. Often this design does not imply the presence of a bed, the sofa does not unfold. These sofas can be equipped with drawers or side shelves.
If with a berth there are difficulties with this model, then there is enough space for additional shelves and drawers.
Semicircular sofas are angular in design, for placement they will require a free corner. If the kitchen is combined with the living room, you can choose a folding model, turning it into a bed at night. Such furniture will perfectly fit into a modern kitchen design.
The semicircular design is almost the same as the corner.
Sofa with a box
Models of this type are not laid out, but they are best suited for storing various things and even products that do not need to be kept in the refrigerator. Under the seats are spacious drawers, which can fit and household appliances.
A wide single sofa in the kitchen can be equipped with stylish wicker drawers
Such kitchen sofas with a spacious drawer for things will become a real boon for a small kitchen. They are especially convenient if there is not enough space for bollards and lockers. Such models are made of light wood in a neutral color. This allows you to fit them into any interior design from classic to modern styles. For the decor, you can use multi-colored bedspreads and soft pillows.
This design will allow only one person to rest, but will be able to hold a lot of things for storage.
Modular furniture
Modules allow you to diversify the interior and maximize the use of available space. Choosing modular sofas, suitable in size and style for a small kitchen, you can independently decide what configuration they will be. The modules can be positioned in the corner or can be designed with a straight sofa by the window or in the center. The form can be changed depending on current needs.
A modular sofa can have each section in a different color.
In addition to the soft modules in the kit, there can be a mini-bar, a compact bookcase, small cabinets, or a spacious storage system. If you are planning to reschedule the kitchen frequently, you should make sure that the furniture frame is solid enough. Using the photo below, you can see how best to place modular corner or straight kitchen sofas in a small kitchen.
How to equip a soft corner
Here are some of the most convenient options for the location of the kitchen sofa:
In rectangular rooms, it is best to place a couch opposite the headset;
In a small square kitchen a corner kitchen sofa will look good, combining dining and relaxation areas;
The arrangement of furniture in parallel is appropriate only in wide spaces, if the kitchen is too narrow, it will further reduce it;
The soft corner can be compact enough to leave room for a refrigerator, this will allow you to place other pieces of furniture in the kitchen with convenience;
You can save space by choosing models with built-in drawers and shelves;
By the window of a small kitchen it is convenient to place a straight kitchen sofa;
Sofas with a sleeping place should be placed in a corner of a small kitchen or in the center, if space permits.
Due to the correct location of the furniture, you can free up part of the usable space by making the interior itself more spacious. In small rooms it is worth using a minimum of objects, it is better to choose multifunctional models.
How to decide on the color scheme
Shades, ornaments and the form of furniture should visually expand the space, which is very important for small spaces. It is better to think over all the options and colors to repair. In a small kitchen you should avoid finishing with large ornaments, against the background of light walls or a small pattern the furniture does not look so cumbersome. Vigorously the kitchen with a sofa in green shades as on a following photo will look.
If the walls are decorated in dark or contrasting shades, kitchen sofas should be in a neutral range: white, gray, beige, coffee or pastel colors. If the whole kitchen is made in a dark range, it is worthwhile to think well about the lighting. The darker the decoration with furniture, the more light should be in the room. Otherwise, the small kitchen risks becoming even less visually.
Important! Glossy surfaces and LED lighting will visually increase the space.
Placing furniture in a small area, you should consider the presence of household appliances. It is better to acquire built-in equipment, it will allow more efficient use of the workspace. To decide on the choice of colors when thinking through the design of the kitchen with a sofa, you can look at the selection of photos.
Matching upholstered furniture and style
The sofa must be selected in accordance with the decoration and furnishing of the kitchen. How appropriate to make a sofa in the interior of the kitchen, depending on the style, you can see on the selection of photos.
Classic
Classic style means only natural and high quality materials. Such furniture will cost much, but you can be sure of its durability. The colors of the upholstery are natural, the materials are leather or natural fabric. It will be appropriate to look upholstery with a strip or cage.
Baroque style
Baroque is one of the varieties of classics. In addition to natural materials, furniture is particularly luxurious in its decoration. This is velvet, brocade, gold embroidery, etc. Sofas with such rich upholstery are better placed in the kitchen-living room.
Art Deco
Art Deco kitchens are characterized by unusual decorations, this also applies to furniture. The outlines are usually smooth, often asymmetrical. The materials used for furniture and decoration should be natural - wood, leather, silk, satin, velvet. Selecting the texture of the upholstery, it should be borne in mind that it will have to be cleaned much more often, unlike sofas in other rooms.
Country music
For the interior of the kitchen, decorated in a rustic style, it is appropriate to use wood and natural fabrics of natural colors. The design of the sofa can be straight or angled, often it is a couch or sofa-bench. The furniture in the form of an old chest with a soft seat and back, if you need it, will look original.
Minimalism
Minimalism is good for very small kitchens. Such sofas are notable for simplicity of forms, practical materials and unpretentious color range. For the upholstery well suited calm beige and brown shades, as well as gray or milky. In the kitchenette in the style of minimalism, modular sofas for the kitchen will look good.
High tech
This modern style involves the use of synthetic materials. The furniture is characterized by simplicity of form, practicality and comfort. For the manufacture of sofas used metal, glossy materials for upholstery (for example, patent leather), a minimum of decor. Corner or modular sofa with chrome legs with upholstery in red, snow white or silver is well suited for high-tech kitchen.
How to care for a soft sofa
Regardless of the chosen material, you will have to take care of the upholstery in any variant. The term of its service depends on competent care of upholstered furniture. Here are some rules:
The sofa in the interior of a small kitchen should not be close to the sources of heat - radiators and stove, in addition, if the upholstered furniture is located close to the working area, the upholstery will constantly get grease and dirt;
The remote location from heat sources is also a fire safety technique;
Even if the upholstery of a kitchen sofa is moisture resistant, you should not intentionally test it by spilling various liquids;
For each upholstery material, only its own cleaning products are suitable, it is important to consider this when cleaning, in addition, it is important to ensure that there are no bleaches in the composition;
Upholstered furniture should be periodically cleaned with a vacuum cleaner or steam generator;
To remove the stain from fabric or leather, it is not necessary to pour the cleaning agent on the upholstery; at first it is applied to a sponge or cloth;
If there are removable covers, it is better not to try to wash them in a typewriter, but to dry clean;
Even the brightest upholstery will quickly fade if you put the sofa in direct sunlight;
In order for genuine leather to retain an attractive appearance longer, it must be periodically treated with special oily agents, as well as to monitor the level of humidity;
To clean leather surfaces or to treat them with special compounds, you should use only a soft cloth.
Observing all the rules for the care of sofa upholstery, you can permanently maintain the look of the furniture. In a kitchen setting, this is especially important.
Selection of a kitchen sofa with a bed for a small kitchen is sometimes a difficult task. It is necessary to take into account many factors, ranging from colors, finishing configuration and upholstery material. Kitchen furniture should be easy to clean, be strong enough and functional.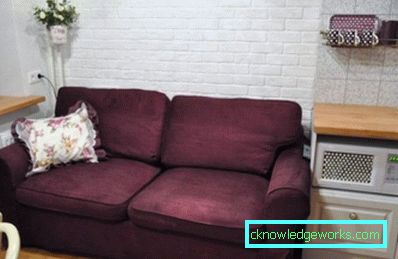 Video: