Small steamer
A small steamer is the right choice, it will allow you to cook small portions of meat, fish, vegetable dishes that disappear from the plates in a matter of minutes.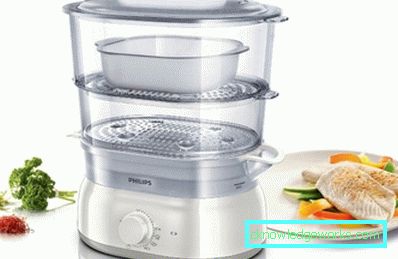 Kitchen Assistant
Exceptionally healthy food - these are the latest recommendations received from the doctor after complaints of stomach pain, poor appetite and weight gain. We'll have to forget about fast food, delicious fried chicken legs, ketchup and smoked fat and start eating right. Healthy food, as it turns out, "hides" in a double boiler. These modest small household appliances are ready to work wonders. Everything is subject to them - meat, fish, chicken, vegetables.
In a short time and with a special recipe, they will cook such that you will just hold your fingers.
And the steam cooker is capable of feeding a baby in need of exceptionally natural dishes, without preservatives, artificial additives and other "charms" that the manufacturers add wholeheartedly.
Using a special recipe and fresh products, this home appliance will offer diet food to any table, for any reason and for any age. The dishes cooked in it have huge benefits for the body.
Features
Often we strive to fill the body exhausted with stress and overload with vitamins. We run to the pharmacy, spend large sums for the cherished boxes of multi-colored pills. But if a small steamer appears in the house, the need for pharmacy spending will disappear. And all because the kitchen appliance prepares products, retaining all their useful valuable and nutritional properties.
She has a lot of advantages. Food in it should be prepared without adding salt. It may not be entirely clear to the taste, but doctors say that after such dishes the joints will no longer "crunch".
At the same time you can cook several products in it at once - vegetables, meat, fish. To do this, the device has bowls of the same volume, they are installed in special "cells" already with the product, the preparation of which is carried out independently. If the products are too fatty or juicy, the remaining liquid flows into special pallets. But at the same time the finished dish will still be both soft and juicy enough, because it is steamed and in its own juice. And another big plus - even in the smallest double boiler, you can not only cook, but also heat food.
In the process of cooking in a double boiler, nothing needs to be mixed or turned over. It is enough to turn on the timer at the right time and you can do other things - the smart device will prepare everything yourself. After the food is cooked and eaten with appetite, the steamer is taken apart and washed in warm water with detergents or they trust the dishwasher. The simplicity and convenience of this device make it indispensable in any kitchen.
How to choose?
Not always the family needs a large household appliance to cook for a couple. Enough small. It is comfortable, compact, it can be used to prepare a child's food, it can even be taken along on the road. Mini-device in any kitchen does not take up much space, but will bring a lot of benefit.
Information on how to choose a steamer can be obtained by watching the following video
In home appliances stores you can find a large number of small steamers at the most diverse prices. The model Polaris PFS0213 is in great demand. She has two tiers, that is, you can simultaneously prepare two different types of products. It is equipped with transparent plastic bowls, it has a drip tray, an egg cooker. The price is quite acceptable: about 3 thousand rubles.
No less popular is the more expensive Tefal VC300830 model. She has three tiers with transparent bowls, there is a container for cooking rice and eggs. The water tank is designed for one and a half liters, and during cooking water can be topped up. The device has modes for baking, defrosting and maintaining temperature. Price - about 8.4 thousand rubles.
Another best-selling model is the Braun FS5100 BK. Two spacious transparent bowls allow you to observe the process of cooking. There is a sterilization mode - it will help when harvesting preservation for the winter, the kit includes a container in which it is convenient to cook rice. It is easy to care for a double boiler, and even the most inexperienced hostess can handle it. The price of such a device is from 7.9 thousand rubles.