Small sofa in the kitchen with a bed
Today, apartment owners can choose for themselves exactly what they like, modify the walls, doors, shape and size of the room. After all this is done, new settlers think about the choice of furniture, which should be beautiful and harmoniously blend into the interior.
10 photos
How to choose furniture for the kitchen?
The kitchen deserves special attention, because here the hosts spend a lot of time. That is why the furniture here is chosen with special care. Of course, the choice should take into account the first size. If the kitchen is small, then the furniture should be compact. First of all, you should look at the furniture, which is suitable in size. A small sofa with a sleeping place is ideal for you in case of the arrival of guests. The stores have a large assortment of kitchen sofas, so everyone will find what they need!
Why do I need a bed in the kitchen?
Most often this question is asked by those who have a small apartment and a bed is a must. Any guests will find a place in case there is a small-sized sofa, which can always be expanded and get extra space. It does not take up much space, is comfortable, lightweight and quickly unfolds when needed. If you do not take into account the guests, then you will need a place, for example, to rest when someone is watching TV or the children are too active in other rooms.
Color selection
The color of the kitchen sofa should be combined with the design of the entire room, for example, to fit the wallpaper and other furniture. Also, the hostess of the apartment usually take into account the color of the curtains or blinds that are on the window in the room. It's easy enough to make your choice, as shops and other outlets provide a huge selection of kitchen sofas of different colors and designs. In addition, the consumer today has a choice of quality of fabric and furniture color.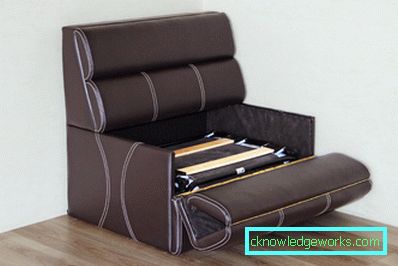 8 photos
Old Furniture - New Life
If you do not have the opportunity to purchase a new sofa, you can repair the old one, change its size, color, shape, and anything at its discretion. There are many masters capable of giving a second life to your furniture, so if you have a large sofa that has lost its functionality, give it to a professional, let it be made of a mini-sofa with a sleeping place!
The main thing is the mechanism!
Each furniture has its own sliding mechanism; it is he who helps to lay out the sofa and increase its size. Modern manufacturers most often use mechanisms such as dolphin, accordion, French clamshell. But about each in a little and in order.
Accordion
An accordion is a mechanism in which one part remains motionless and in no way modified, and the second part unfolds forward. Folding place is a sofa back, which moves forward. Drawers for clothes can be provided in the design, which is very convenient for hostesses. They can put bedding, as well as pillows or blankets, and, do it quickly.
French cot
Usually, the French cot is chosen by people who do not plan to sleep in the kitchen every day, and the sofa-corner will not be laid out every day. The principle of operation is quite simple, the extra space consists of pillows that are nested inside one another, but if you pull the special belt, they unfold. And all the main time are in the frame.
"Dolphin"
Another mechanism that furniture manufacturers use is called a dolphin. The whole sofa consists of two parts, the smaller part does not move, and the larger one unfolds. So from the corner it turns out an extra bed in the kitchen, and of excellent shape and without uncomfortable drops. This does not require laying a mattress or blanket, comfort is felt immediately. As experts say, such a device is easy to fix in case of a breakdown, but this is unlikely to be useful. Dolphins are practical, durable and serve their owners for many years. And, again, they save space, always help out in case of unexpected guests and are very mobile.
Dimensions
The sofas also have their own standards. No matter how small a piece of furniture you want, furniture manufacturers produce sofas not less than 60 centimeters wide, only the narrowest ones can be 50 centimeters. There is such a parameter as the depth of the seat, it can vary from 50 to 60 centimeters. If you order a kitchen sofa with a berth, you can choose any criteria and the customer will do the work for them. The product can be a length with a side of 1-2 meters, and a width of 0.7 - 1.7 meters. In short, it all depends on you and your kitchen.
About corner models
Separately I want to say about the corner sofas for the kitchen. They are perfect for any room with absolutely any size. This is a very practical invention of mankind, which is placed in a corner and saves the space around. Even when folded, it can accommodate a sufficiently large number of people, and if you expand it, then the seat becomes sleeping, which is just a find in the case of unexpected guests on the threshold, who were late and stay overnight.
Quality
Of course, it all depends on the practicality of the base, that is, the frame. It can be wood, metal or mixed. Metal is considered to be the most durable, since it is the most durable, although it is more heavy. Now we have learned how to make combined frames, in which both wood and metal are used. The type of wood is of great importance here.
Also the quality is affected by the fabric, which this mini sofa is covered with. Both men and women really like leather, natural or artificial, because anything can happen in the kitchen and upholstery - good protection of the product from any debris.
Springs - this is the most practical and vintage filling sofa, whether it is a kitchen or located in the hall. Springs are used for expensive furniture. For cheaper as a filler take a synthetic winterizer or foam rubber. To extend the life of the sofa, instead of foam rubber it is filled with polyurethane foam, which is more reliable.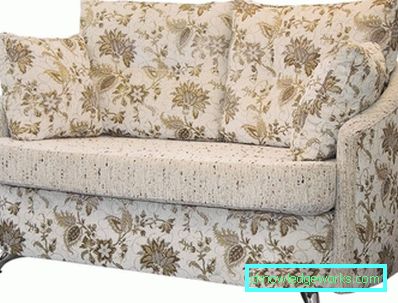 Tips for choosing
First of all, you need to carefully measure your kitchen, determine where exactly a small sofa will stand. If you want a complex structure - call a professional. He will be able to correctly determine the length and width, as well as the shape of the necessary furniture.
Additional elements such as pillows, armrests, etc. are better left for the hall or a large room, because they take up useful space and visually make the room heavier.
Do not save on the collector. Sometimes it seems only to see that to assemble a small sofa for the kitchen is simple, in fact, a number of problems can arise and then the help of a specialist will be just the way.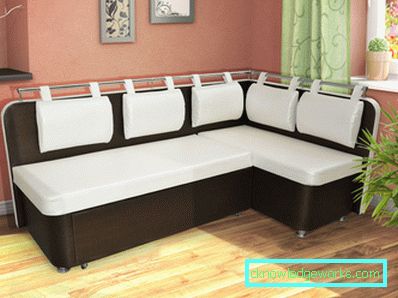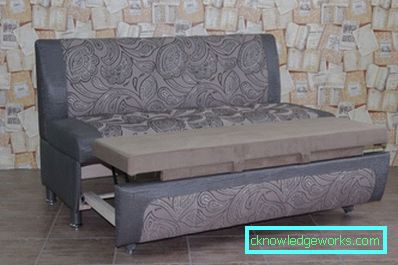 9 photos