Small sofa in the kitchen
Features and benefits
Kinds
Materials
How to choose
How to choose a dining table
Care
How to do it yourself
Many people dream of putting a beautiful small sofa in the kitchen, and those who want to enjoy food in a comfortable and cozy atmosphere are solved. However, most often a small sofa in the kitchen is a necessary measure associated with the small dimensions of the room or its complicated layout.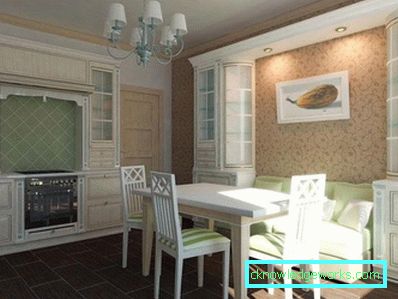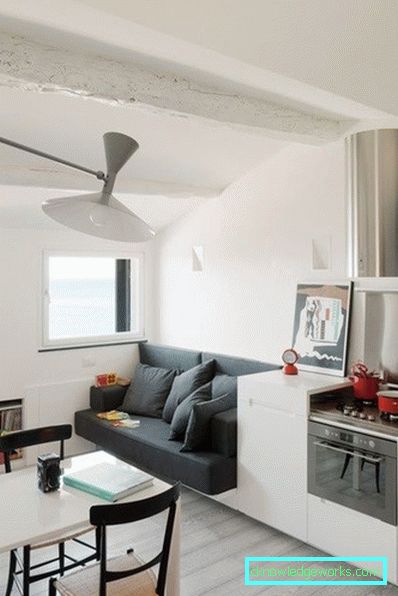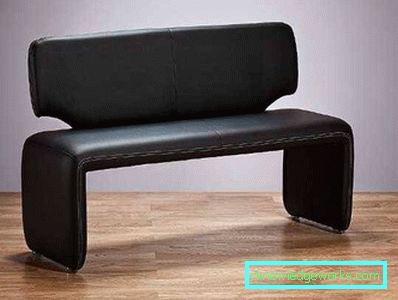 7 photos
Features and benefits
Only one piece of furniture - a small sofa - is able to turn a banal kitchen room into a luxurious dining room, a charming mini-living room and even a comfortable bedroom, where it will be nice to be to all the inhabitants of the house and guests. A wide choice of configurations and design of small kitchen sofas allows you to create the most ergonomic and practical interior.
Additional benefits of placing a small sofa in the kitchen:
convenience and compactness of the dining area;
functionality and practicality;
aesthetics and comfort;
large capacity (on the seats and in the boxes);
a variety of models, forms and materials used;
the possibility of selection to the style of the room;
reliability and durability even with daily use;
ease of care and self-repair.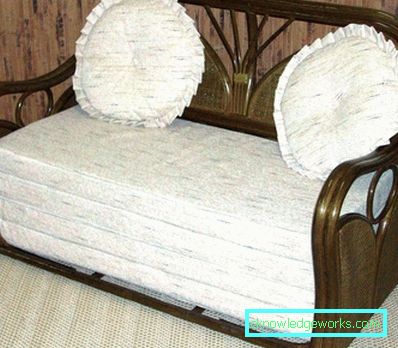 Kinds
Modern kitchen mini-sofas come in various types and configurations: monolithic, folding or modular, straight, angular, semicircular, massive square or small narrow. Made as a small-sized transformer with a French folding bed, roll-out or folding bedding, or as a sofa bed, or as a sofa-accordion. Made without armrests and with them, in the form of a bench or with backs, and also equipped with semicircular niches, corner shelves or built-in boxes for storing supplies, kitchen tools and textiles.
The most comfortable and practical - sliding sofas with a folding bed and a soft springy upholstery made of teflon-impregnated artificial fabrics. With ease they play the role of a comfortable seat, a full-fledged berth, and a spacious storage system for cooking equipment and home-made food preparations. In addition, they do not absorb smells, fumes and pollution, are not afraid of the high humidity of the kitchen area, do not require special care and are easily repaired.
The most common mechanisms of modern transforming mini-sofas for the kitchen:
dolphin;
accordion;
eurobook;
sedafleks;
click click,
7 photos
Judging by the numerous reviews, the most acceptable and practical sofa folding mechanism is the "dolphin", when the sleeping place, for the time being, hidden under the seat, if necessary, rolls out from under it without much effort, and in the unfolded version is as compact as possible. Pretty durable, reliable and easy to use mechanism "evroknizhka", moreover, a sofa equipped with them is almost always additionally equipped with a spacious drawer for linen.
The beautiful sofa back of the "sedaflex" model is transformed like a regular folding bed, but the sofa-accordion, although it has a reliable folding mechanism, requires a couple extra square meters to accommodate its bed.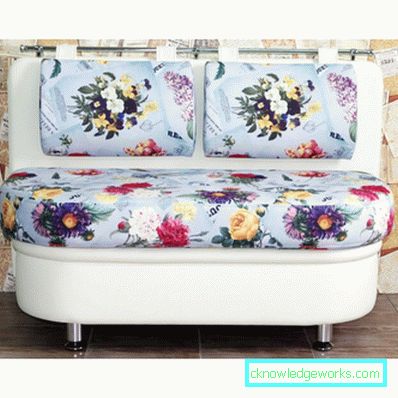 7 photos
Materials
They make small sofas for the kitchen of various materials - solid wood, MDF boards, metal and durable plastic. Seats and backs make hard, soft or combined.
The most durable, reliable and durable, but at the same time the most expensive and requiring special careful care - a kitchen sofa made of solid wood with a leather seat and backrest. Its leatherette upholstery or eco-leather stretched over backs and seats will cost much less, but are unlikely to last for several decades without losing their appearance and without restoration.
If a fabric upholstery is chosen for a small kitchen sofa, it will depend on its quality whether it will become a favorite piece of furniture or a grand disillusionment of the whole family.
Traditional classic sofa upholstery made from natural tapestry, jacquard, velor, woolen, linen and cotton fabrics are beautiful, but not very practical - they instantly absorb kitchen odors, grease and soot, are not able to withstand spilled liquids and high humidity of the room, quickly wipe away and easily tear. .
But all these shortcomings are devoid of modern upholstery artificial fabrics - a pleasant soft and hypoallergenic chenille, or a flock with a resistant teflon coating, called "anti-claw", or microfiber impregnated with special solutions that give it resistance to dirt and moisture penetration and undesirable aromas, or motley colorful and extra strong polyester blend fabric. However, the surest solution for fabric upholstery in the kitchen is the use of removable covers that can be easily erased and replaced without disturbing the integrity of the sofa's construction.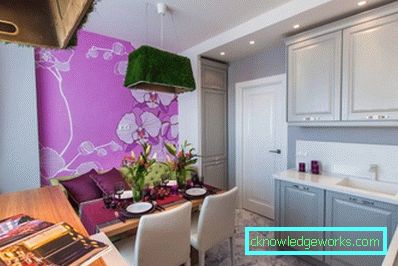 It should be noted that artificial suede and leather are no less good as upholstery materials, which, in addition to all the above properties, have the ability to transmit on their surface a variety of fashionable textures, textures and color design solutions.
However, when choosing soft sofas in the kitchen should pay special attention to the filler under their upholstery. For greater practicality, hypoallergenicity and better retention of a given shape, it is most often made from artificial materials - holofiber or polyurethane foam.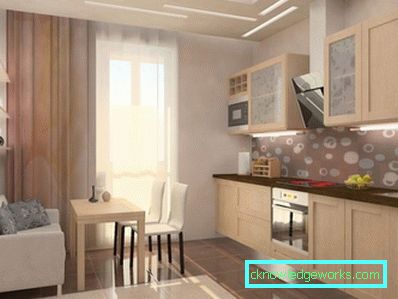 The color solutions of kitchen sofa groups are as diverse as the versions of their designs and upholstery materials. Surprisingly, even a white little sofa can take root in the kitchen. And not only if it is made of wood or metal and simply painted white, but also when it is upholstered in modern smooth, textured or even fluffy trendy materials that are perfectly able to repel pollution and moisture and are not at all afraid of soot, greasy spray, chemical and abrasive cleaners and temperature changes peculiar to all kitchen areas.
However, the selection of the sofa for the kitchen requires caution when choosing its color embodiment. Since it is installed even in the most spacious and luminous dining area, it will certainly attract attention to itself, and placed in a small-sized kitchen, will surely become its main accent, and therefore must be in harmony with the general style and other furnishings. And here there is a little designer secret - it is better to make upholstery of an ideal sofa for a tiny kitchen in pastel colors and natural natural shades of opaque colors (neutral gray, cold beige, warm brown, creamy "coffee with milk").
For a small kitchen area in black and white, you can pick up both a black and a white sofa, and for a spacious and well-lit room, with bright upholstery in a rich, contrasting color (red, green, purple, blue, yellow, etc.), but in this case, its saturation will need to be supported by additional accents of the same color (in kitchen accessories, inventory or table textiles).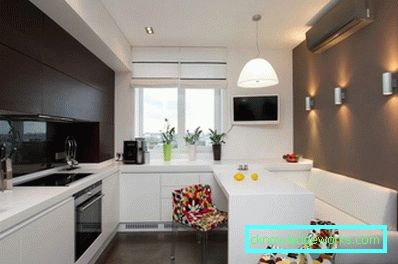 The classic kitchen is suitable for a rounded sofa with a single beige upholstery or vice versa, with a printed pastel color and a floral print, cheerful polka dots or a square.
In a Provence or Country style kitchen, a compact sofa with wrought-iron wrought-iron details or carved details will look good.
The modern-style kitchen will gladly accept a strict, small sofa with upholstery made of genuine or artificial leather of active color and a carriage fastener in the form of a decor.
A rectangular laconic sofa of classic pastel or fashionable variegated colors will safely take root on the minimalistic kitchen area.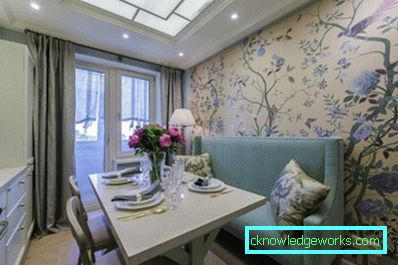 A Scandinavian or Mediterranean-style kitchen requires white, gray or the color of an unbleached linen woven upholstery on a small sofa.
The kitchen area in the fancy baroque style will make friends with a compact sofa with a four-sided carriage strap on velor or leather upholstery with natural hues or bright extravagant prints.
The kitchen, decorated in a difficult art deco style, will decorate a small sofa without handrails with a high back and a curved seat, covered with bright luxurious velor.
How to choose
The selection of even a very small sofa group for an apartment should begin with a clear measurement of the kitchen and the dining area itself. Then it is important to think over exactly which dimensions and shape of the new furniture will best suit this room, as well as carefully consider the ergonomics of the model that you like and the possibility of unhindered use of all its additional functions.
Usually the smallest kitchen sofas are made with dimensions that can fit into the space of even the smallest kitchen. But all the same, when choosing such a sofa, be sure to consider:
reliability and durability of the structure;
practicality of upholstery material;
device and shape of the seat, back and side parts;
equipment of a berth, shelves, drawers and their capacity;
the possibility and ease of transformation of the seats, backs, armrests and built-in parts;
dimensions assembled and disassembled;
good and ergonomic use of zoning;
compliance of the shape, material and color of the sofa with the kitchen design.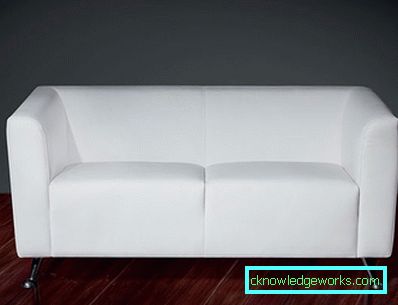 10 photos
When buying a small transformer sofa in the kitchen, pay attention to whether its folding mechanism is equipped with spring closers, the presence of which often indicates a high class and excellent quality of the chosen model. Choosing a couch with a roll-out berth, check the reliability of the guide profile rollers and the strength of all fasteners.
For the selection of the dining group in a small-sized kitchenette, you should look at the modular sofas - their individual elements, which you can combine, move, separate, extend, hide or swap at your discretion, allow you to independently change the shape, size and configuration of such models, significantly modernizing and significantly optimizing the usually insignificant space of the kitchen area.
How to choose a dining table
A cozy dining area does not make sense without a comfortable table and the shape and dimensions of the sofa that fit it. By the way, he is fully capable of replacing all the added stools and chairs, or being supplemented by them with an increase in the number of companies and the availability of free space.
The square or rectangular table is combined with small sofas of almost any shape, but is especially good with straight or angular ones.
Round or oval table is more consistent with a semicircular sofa or decorated with a corner.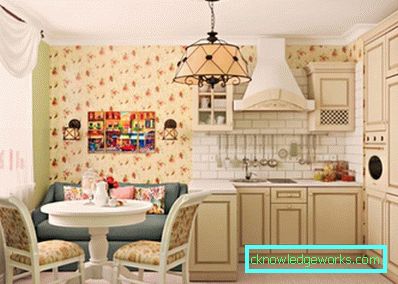 And designer tables of irregular shape require the same irregular sofas, which are usually made to order, often expensive and are a highlight of the kitchen interior.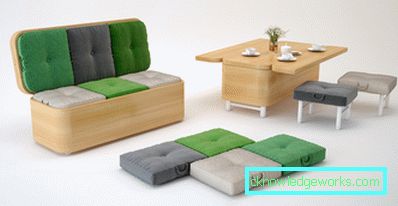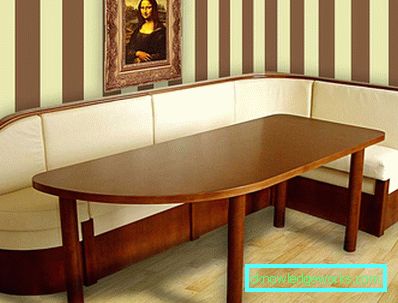 Care
Regardless of the chosen form and materials of the frame and upholstery of a small sofa for the kitchen, in any case at least minimal care is required for it:
Do not install a sofa, especially soft, near the stove, heating batteries and in the open access to the sun - this is necessary according to the rules of fire safety, and for better preservation of non-metallic parts of the structure;
even with moisture-resistant upholstery, it is not worth constantly dousing it with water and pouring it with soup or juice - some stains may not come out;
internal parts accessible for cleaning should be regularly cleaned with a vacuum cleaner or steam generator;
external parts and upholstery can be cleaned only with specially designed means for this, in no case containing bleach, for the application and removal of which it is worth using a cloth, foam sponge or a very soft brush;
if it is necessary to apply a stain remover, then it is better to apply it first on a cloth, and only then on the sofa upholstery;
removable covers are easier and better cleaned in dry cleaning;
sofa upholstery made of genuine leather as long as possible to keep in its original form in a room with moderate humidity and with the help of a systematic zhirovaniya leather cover;
thorough inspection, regular cleaning, systematic lubrication of the details of the folding mechanism of the sofa bed and the corresponding load instructions will help keep it in working condition all the time.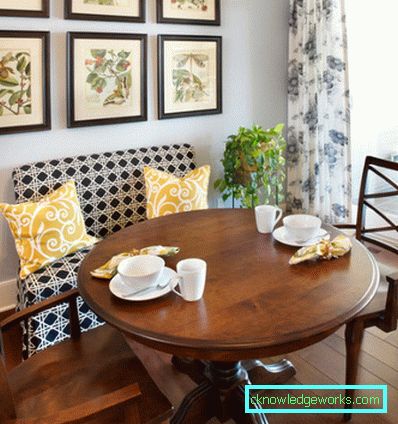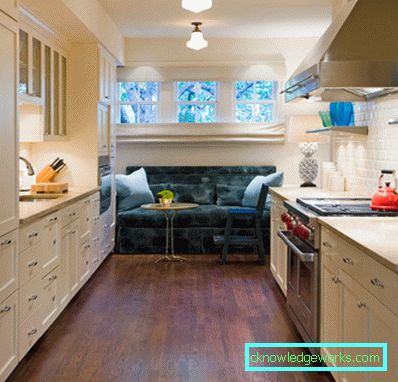 How to do it yourself
For self-manufacturing kitchen sofa of small size will need:
plywood sheets measuring 130 cm x 120 cm;
wooden slats up to 1 meter;
a roll of faux leather for covering the seat, back and sides;
foam rubber as a filler for upholstery;
metal corners for fixing parts;
Buttons and harsh threads for the carriage stitch;
sharp jigsaw;
construction pistol and corresponding brackets;
a drill with a drill, bolts in its size and suitable nuts;
round soft file on a tree.
First you need to cut out from plywood two identical side parts of the sofa, drill holes in them for the bolts, cover with a foam piece and on top of the leatherette, attaching them on the inner side with staples from a building gun.
Then it is necessary to assemble a skeleton (structurally combining the lower niches and the back) from the slats, reinforce all its joints with metal corners and fasten the high back plywood backrest of the future sofa to the two rear longitudinal slats.
The next step is a consistent tightening of the front plywood part with foam rubber and leather, bolting it to the front duct rails and attaching the front panel and side panels to the frame using the same bolts and nuts.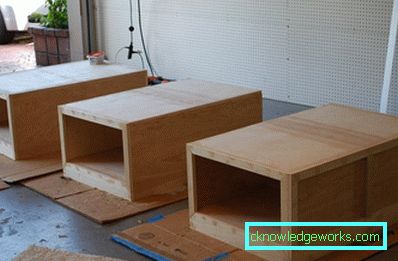 Then, in order to carry out the carriage fastener, this part is marked on the front part of the sofa backrest, holes for buttons in plywood are drilled through it and burned in foam rubber. Buttons used in the screed are skinned, fastened to the upholstery with austere threads and fastened on the back side with clips. Also should be issued and a seat coupler.
Then, all the details are thoroughly and firmly assembled on the frame, and the stable legs (ready-made or from lath scrap) are screwed on the bottom. Such an elegant sofa will comfortably fit in any dining area and decorate the kitchen interior.
Interesting solutions in kitchen interior design with the participation of a small sofa suggest not only its special design with functional drawers and shelves, but also an ergonomic addition to the bar counter with a wine storage compartment, and stylish design decorations for the armrests and back bend, as well as thoughtful arrangement of its folding and retractable elements.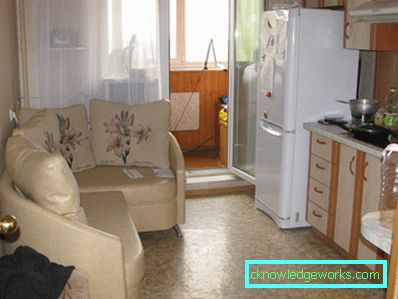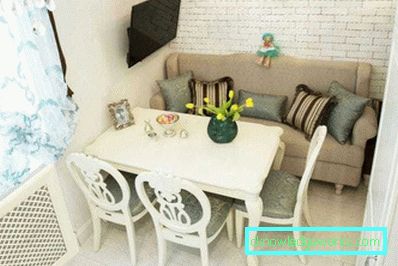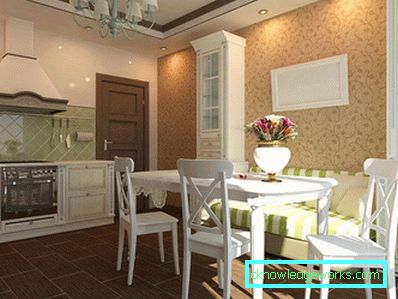 9 photos