Small kitchen table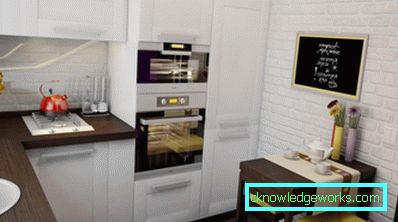 What should be the kitchen table in a small kitchen so that it does not "eat" a single square centimeter of precious space and at the same time accommodate everyone who wants to eat tasty food? How to combine practicality and comfort, beauty and rationality? And what if there is no table in the kitchen at all?
Kinds
First of all, it is worthwhile to deal with a variety of models and sizes of small tables that are capable of arranging both the kitchen space with their ergonomics, and the owners' wallet with their economy.
An interesting micro-version - one-legged hinged table, which is usually fixed with a long or short side to the wall or integrated into a kitchen set - as more suited to the layout. With comfort, only two or three family members can be accommodated behind it, therefore breakfast or light dinners are usually served there, and full meals and festive meals are transferred to the living room.
Using the same technology, they also arrange a folding table similar to the one in passenger cars and, when unfolded, rests on one or two pull-out struts, and when folded it looks more like a narrow panel. In a miniature kitchen, its base is often made in the form of a shelf for jars with spices.
When there is very little space in the kitchen, the countertop window sill can take on the role of a small and cozy breakfast area by the window. If its length is continued beyond the window further along the wall and built up with hanging shelves, an original and roomy buffet will appear. And if the window sill of the kitchen window is quite high, then well-chosen bar stools or high stools will allow you to use it as a nice bar table for a snack or a cup of coffee for breakfast.
A bar counter instead of a dinner table is also a good option. She and zoned the kitchen space, and with proper layout allows the whole family to sit comfortably.
An extendable table with a swivel table top is usually constructed either instead of some shelves of a kitchen cabinet, or under a bar counter, or even under a cooktop, which allows you to significantly transform the kitchen space and invite more guests to dinner. In addition, this table can be used as a working surface.
A table book (or a butterfly table) is probably the best option for a functional solution of a small kitchen. A small narrow pedestal, modestly standing in a corner or near a window, quickly turns into a dining table with a flick of the wrist — it is enough to lift one of the walls and rest it on the extended base. And if you bring it to the middle of the room and open both countertops, you will be able to comfortably accommodate a large company. By the way, usually such transforming tables are made with drawers for kitchen textiles or shelves for storing dishes and kitchen utensils, and since they are very heavy, they are also equipped with wheels.
Very popular and small square tables, 50 cm wide, which fit well between kitchen bollards and, if necessary, can easily be combined into a common work surface.
A small bistro table, similar to the cafeteria tables, can compactly sit in the company of a pair of elegant chairs in the corner or by the window. Or, a folding table in the summer cottage style can take its place, which, if necessary, can be removed altogether behind the cupboard or into the pantry with chairs similar to it.
All types of transformable tables (even with roll-out, even with a folding table-top) are easier to integrate into a small kitchen space, if they are made to order with all the room features taken into account. Thus, a larger, longer-serving part of the long tabletop of floor cabinets, which does not require additional support, may also be a small kitchen table. Or they will be one of the segments of the working island, in one part of which a cupboard will be built in, and the other will have a sink in it.
Advice: so that the owners always have free access to the stove and the guests comfortably sit behind a small but beautiful and comfortable table, the distance between it and the rest of the kitchen furniture should be not less than a meter, and instead of chairs with backs it is better to choose stools that also create extra noise in the kitchen.
No sharp corners
It is known that models of tables with sharp corners, suggest the presence of significant free space so that the presence in the kitchen does not become traumatic.
Therefore, it is better to choose small round or oval tables in small kitchen areas, the latter usually gaining on account of their elongation. In addition, the oval table can be additionally equipped with a removable or retractable table top that hides under the main one.
But round small tables are considered the coziest and comfortable. Folding round tables-books with two folding worktops or with additional removable surfaces, as well as those whose middle part is taken out and hiding inside under the shifting semicircular halves, are very popular.
Tip: if you colorfully decorate the reverse side of an oval or round folding table, then in the assembled position they may look like a decorative wall panel or even an unusual picture, becoming the central accent of the entire kitchen interior.
From glass
Real aesthetes even in small kitchens get glass tables. But how functional are they?
Sliding glass tables can be doubled and even doubled - as far as the length of their guide profile allows. Transformation is not difficult - the table top slides freely along the guides, just pulling on it a little, so only one person is needed for assembly and disassembly. However, such glass tables are often heavy, and if they are not equipped with wheels, then it is difficult to carry them yourself. In addition, they are less durable than wood, and their countertops do not tolerate shocks and severe mechanical loads. In addition, high-quality tempered glass sliding tables are usually very expensive, which is also hardly a plus.
But if you still decide to purchase, carefully examine the surface of the glass tabletop. If there are at least small scratches or chips on it, refuse to buy - because such defects indicate poor quality and will quickly lead to breakage.
Right choice
If you have already decided where exactly your small kitchen table may appear in your small size, try to consider not only rationality but also aesthetics when choosing it. Otherwise, very quickly, this piece of furniture will start to annoy you and interfere even with its very oversized dimensions.
Excellent non-standard and time-tested and classic ideas for a rational and at the same time pleasant design of the kitchen space are offered by the well-known European brand IKEA.
But when going to the stores of this brand or to any other furniture show room, do not forget to first carefully measure the free space of your kitchen, reserved for the future dining table. And grab a centimeter with you - in the furniture salon it will also be useful to you. After all, not only the large ergonomics of the kitchen area will depend on the correctly chosen small table, but also the daily mood of the person who will cook there, and, as a result, the taste of all the prepared dishes.
In addition to the required size and configuration of the kitchen table you need, pay attention to everything:
quality of material and accessories,
tabletop and base strength
reliability of fastenings of all parts,
edge processing on the edge of the tabletop,
cleanliness and smoothness of the back side
ease of installation (including stand alone),
ease of assembly and disassembly,
combination with chairs in height and size,
getting into the overall kitchen design.
And also be sure to consider the number of family members and guests who usually gather at your house.
Some more useful tips for successfully fitting a small kitchen table into a miniature kitchen area:
a lot of space is saved by those chairs that completely hide under the table,
light or glass tabletop contributes to the visual increase in space,
instead of a rectangular or round table, choose the one that moves closer to the wall or becomes more compact at the corner (square, oval or semicircular),
the more legs in folding tables, the more often the fingers of those who fold them are pinched,
the whole point of the interior is in the details (stylish decorations, unusual panels, non-standard materials),
remember the importance of balancing durability and comfort,
and most importantly, marginal saving is not always justified, especially when choosing a kitchen table.
An interior designer and kitchen furniture manufacturers strive to take into account all the wishes of consumers and think through every detail of their models. Therefore, the range of large and standard, and miniature tables today is simply huge. If desired, you can successfully equip even the smallest kitchen, and pick up a table in it from expensive materials (glass, stone, solid wood), and from quite affordable (MDF and LDSP, wooden beams or aluminum pipes).
In a word, in order not to find a kitchen table that suits you in all respects - you still have to try!