Sizes of the refrigerator
Choosing a refrigerator in the kitchen can be a very difficult task. After all, here you need to decide on the color, model and size. The latter should pay especially a lot of attention, because the size of the refrigerator will depend on how it looks in the kitchen and how comfortable you interact with it.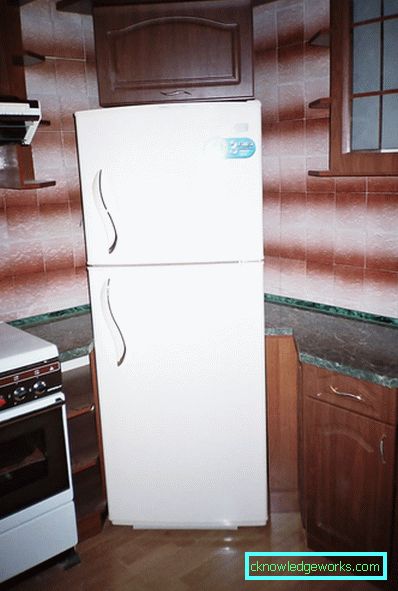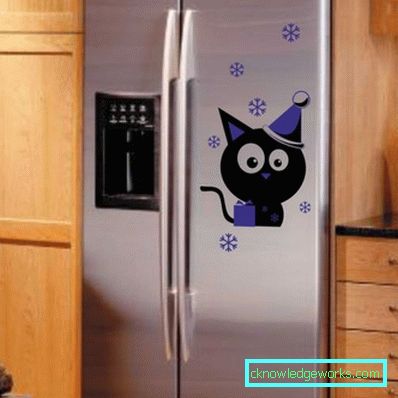 14 photos
Types
In total there are five types of refrigerators:
Single chamber;
Two-chamber;
Three-chamber;
"Side by side";
"French door".
In the single-chamber refrigerator is a simple device - it has one door, behind which there is both a refrigerator and a freezer. There are also models where there is no freezer at all. A separate type of single-chamber refrigerator is just a freezer.
The two-chamber refrigerator has two doors - for the freezer and the main compartment. In different models, the freezer can be located either at the bottom or at the top. Inside the main compartment there are several compartments for storing different products.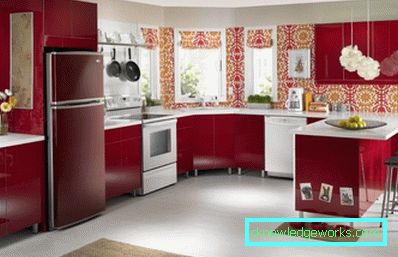 Three-chamber models have three doors: main compartment, freezer and "zero chamber". The latter was created specifically for long-term storage of products, since the temperature in it is zero degrees. Thus, the food can stay fresh for a very long time. Some "zero chambers" are divided into dry freshness with low humidity and wet freshness with high. Products in one of the compartments should be stored depending on the recommendations.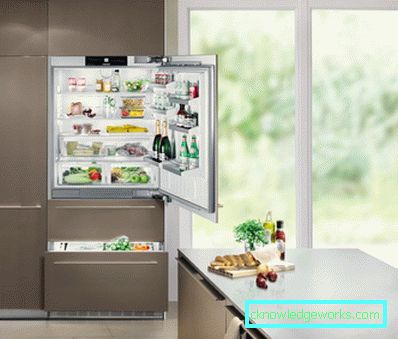 "Side by side" - Models having the same size swing open doors in the freezer and main compartment. Such refrigerators have many shelves and a huge amount of space, they are tall and large.
Models such as "French door" have a refrigerator compartment with two opening doors and under them - a freezer, the door of which is pushed forward. This is very convenient, since less cold is lost, but finding products if the box is full is rather difficult. However, now there are offices with several drawers, which simplifies the search. This type of refrigerators occupy much less space than the previous model, but at the same time they are very roomy.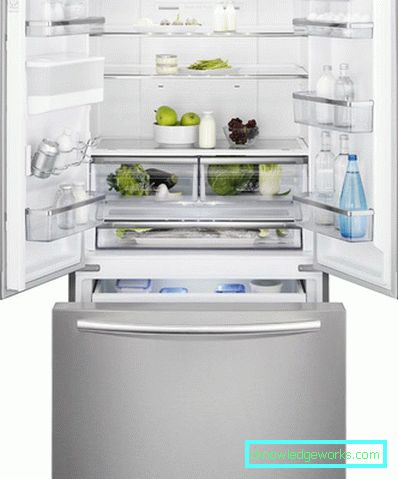 Dimensions of various models
The size of the refrigerator depends on its type. The smallest models are mini-bars. They can often be seen in hotel rooms, but you can easily buy them to your home. They are small and suitable for storing drinks and some small snacks, and also fit perfectly in any small place, in addition, it is very shallow. Its dimensions are fifty centimeters in width and up to one hundred and twenty in height - depending on the models.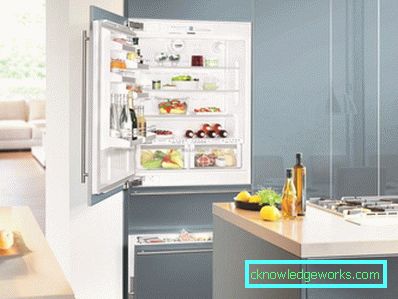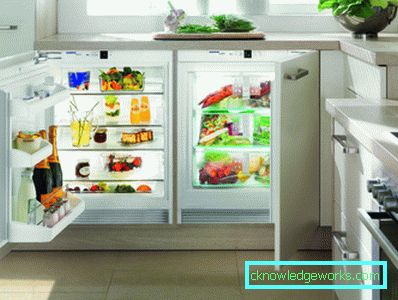 After the baby-fridge followed by medium-sized refrigerators. As a rule, they are single-door and not too high, something like household refrigerators, especially considering their volume, not more than one and a half meters, at least with a freezer that is located at the top. Such models will stand perfectly in a small kitchen, because they are small and 40-45 cm deep.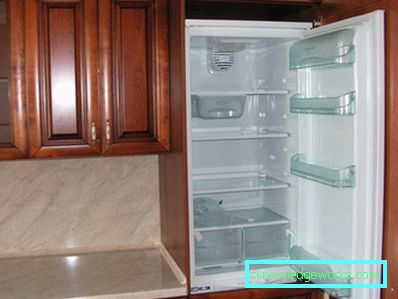 Next are the average high models, reaching up to one hundred eighty centimeters in height. They are issued both with two doors, and from one. Freezer, too, may well be both at the top and below. Such refrigerators are often used as embedded appliances.
Large double refrigerators are not suitable for low people, as their height is usually more than two meters, and in this case it can be very difficult to reach the upper shelves. In addition, it is very wide. Such models have a standard depth of 50-60 cm.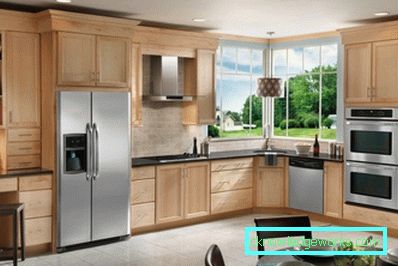 The biggest on our list is the double side by side refrigerator. Impressive dimensions: the width can easily reach one meter, but about the standard depth is a lot. In addition, it is very tall. Such units are bought on a large kitchen and for a large family, and also have a very large weight.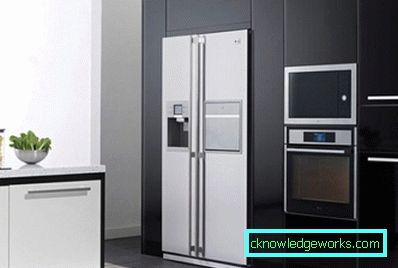 Standards for integrated technology
Selection of modern refrigerators is not easy, but if you buy the entire kitchen set, it is simplified. When buying, you will most likely be offered to install a built-in refrigerator, since it will be in harmony with all other furniture and cabinets. The disadvantage of this solution is that the built-in refrigerators are usually of the same size and you will not be able to keep the old refrigerator or choose the one that you really like very much.
But if something breaks, there will be no problems with the service.
As usually, all the kitchen set is handled by one company, which provides a specialist in repair. As a rule, large companies repair quality and fast.
Some rules for installing embedded equipment:
Need to install the model no less than fifty meters from the battery and plate;
Do not embed it closely to the sink;
It is better to put the selected model. far away from the window so that a lot of sunlight would not fall on it;
Wall to refrigerator there must be some distance - it is impossible to put the unit close;
Be sure to make sure that the open door refrigerator did not block the path.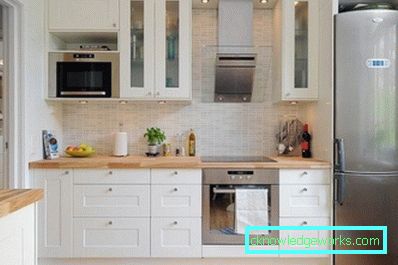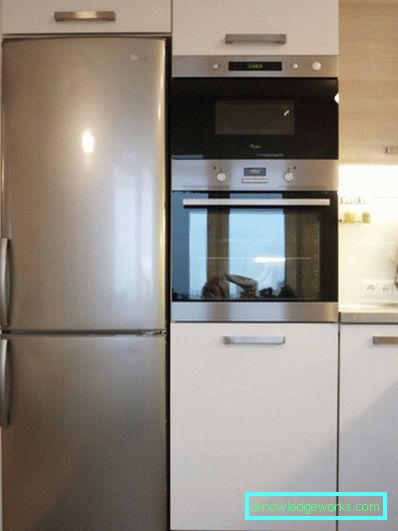 8 photos
Custom models
If you have a very small kitchen, you can always choose models of non-standard sizes. There are those that are made to order, but they will cost many times more. Let's better consider the low versions of refrigerators that are already available.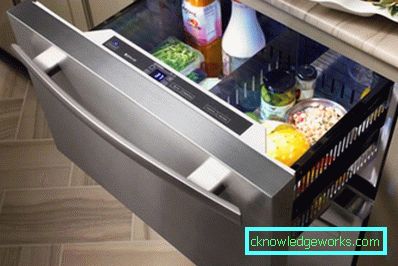 In many stores you can find models with a small width - about forty centimeters, and about the same small depth. There are such models for alcohol and beer, and for the whole family, although there is not too much space there.
The best representatives of such non-standard refrigerators - Ardo COG 1410 SA and Whirlpool ARC 2000. Also, if you need a large refrigerator, in this case there are the highest ones, those in which the depth reaches almost one meter. But you need to understand that such models will not fit everywhere, will take up a lot of space, and you are unlikely to fill it up to the end.
Overview of various models
Choosing a brand is quite difficult. Everyone offers something different. Therefore, we have selected several leading brands and made a general review.
Panasonic refrigerators come in all sizes for all types of kitchens. There are two-door and three-door, as well as models "Side Side"for large rooms. Leading colors - gray and white. Users, for the most part satisfied with the acquired model, note the absence of extraneous odors, the capacity of large refrigerators and their reliability. A multi-door refrigerator with a "zero freeze" compartment can be brought up close to the wall due to the presence of a compressor.
Even the usual two-chamber refrigerator. Panasonic NR-B591BR-N4 very roomy, but many complain about his loud work and the inconvenience of outweighing the shelves.
Sviyaga exclusively produces freezers. There are very different models in size - from a small one, which can be carried with you, to a full-sized one, which occupies its rightful place in the kitchen. They have one exception - a single-chamber refrigerator showcase, the door of which is made entirely of glass. It is not very roomy, but if you live alone, it can be enough for you.
Buyers praise freezers very much - they cool well and work quietly. Some do not have a temperature regulator, but most users say it is not necessary.
Refrigerator "Oka" - an old Soviet unit, pulling the size of the average height and width. It has two doors, for the main chamber and for the freezer. There are also separate freezers of this manufacturer. Despite the quite ordinary design and low cost, this refrigerator has collected many positive reviews.
People say that it is durable, suitable for any interior, and it also has a convenient temperature control switch.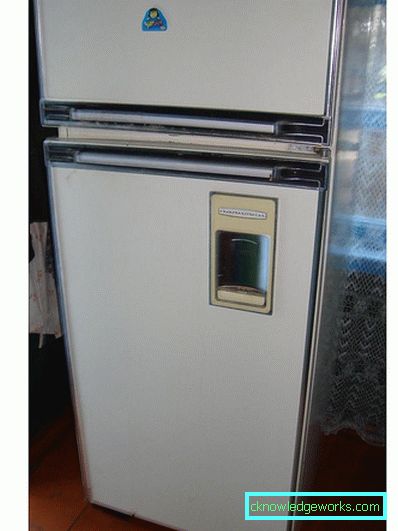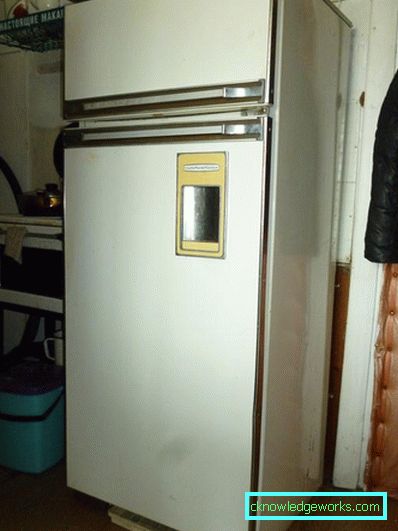 The company "Polyus" produces refrigeration equipment for restaurants and shops. They have large refrigerators and freezers, as well as showcases with temperature control. All this can be ordered at a good price, and those who make bulk purchases are offered a discount.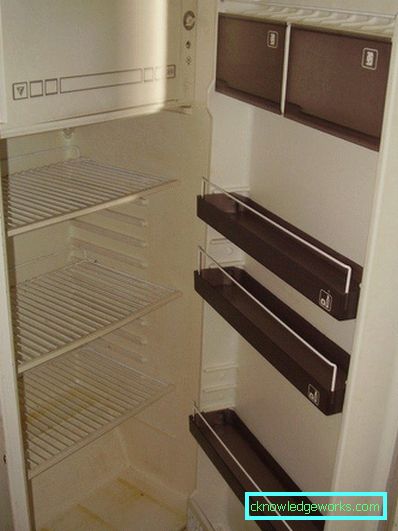 The manufacturer Veko a huge selection of models. These are standard two-chamber refrigerators, and separate freezers and models "Side Side". There are also multi-door refrigerators with ice dispenser and freezer positioning at the bottom and sometimes on top. The predominant colors of this manufacturer are steel and white. Buyers are especially pleased with the model. Beko RCNK 400E20 ZX, in which there is a special ionizer smell and a separate "freshness zone" for long storage of products. The only complaint is that the refrigerator is noisy. In general, the claims to noise are constant, even for other models. In addition, buyers did not notice any particular shortcomings.
Everyone liked the freezer too - and it freezes perfectly, and it is convenient to get everything because of the transparent boxes. The disadvantage of this model is that there is no backlight inside. And everything would be fine, but the manufacturer stated LED lighting.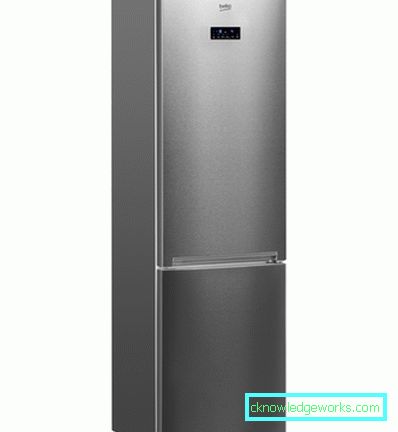 Indesit also offers users a huge selection. They have all the models described above, and also have a separate freezer. This is convenient, since you can easily choose the right refrigerator for any room and price category. The predominant color of the models of this company - white.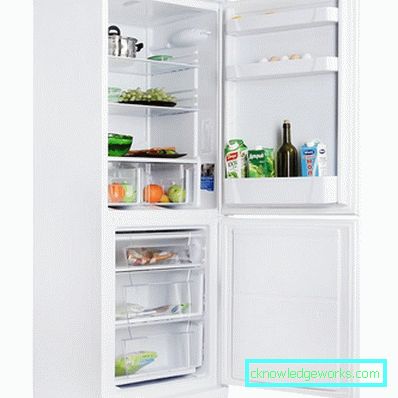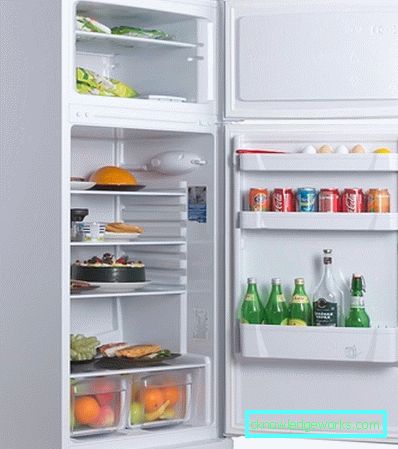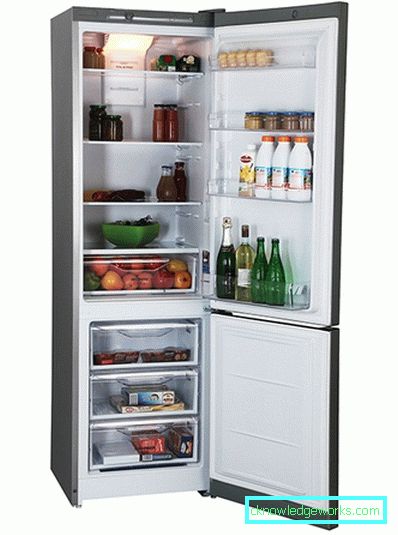 Refrigerators with a top freezer, according to customers, are quite good.
They work reliably and for a long time, rarely break, but by themselves are not very big, and the freezer is very tiny. Freezers also freeze well, the only drawback is that they make a lot of noise.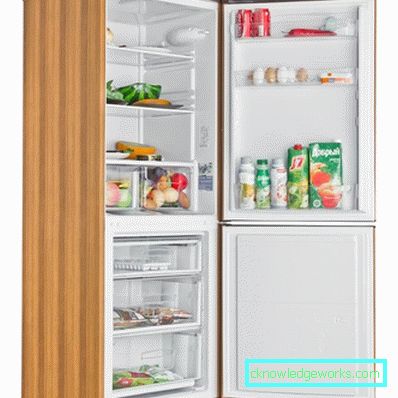 A small one-door refrigerator appealed to hotel owners and those people who often moved. It is convenient to transport it, it does not take up much space, it freezes well. The only drawback is that with time it starts to make noise louder. Regarding the refrigerator with the lower chamber, the reviews are very inconsistent. On the one hand, everybody likes everything, cools well, preserves food and removes odor, and on the other hand, there are enough complaints about its breakdown for several days or weeks.
Designer Tips
The fridge itself is not so difficult to pick up; it is more difficult to make it fit into the kitchen interior. Here you need a competent selection and rather careful study of your own kitchen. Designers offer some tips to simplify this.
The size of the refrigerator in the kitchen is of great importance, especially in small apartments. Overall dimensions should be at the unit, designed for a small room. The design of a small-sized kitchen implies greater functionality with small sizes. Well in such rooms the built-in refrigerating cabinet with the sizes of a narrow refrigerator where enough is located looks.
Places in the Khrushchev, as a rule, not so much and the kitchen does not exceed 8-10 square meters, so you will need the refrigerator about sixty centimeters in width and depth.
The size of the niche for the built-in wardrobe may be even smaller. A medium-sized unit will suit the kitchen more, and it is no longer necessary to build it - you can simply put it in a corner or in the middle of the room. Home models, especially if it is large, can be huge, but it is recommended not to overdo it and buy a model of a size that you can fill with products.
A single-door refrigerator is perfect for giving, especially if you come there occasionally.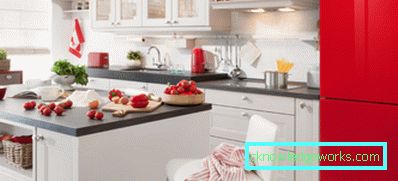 The height of the refrigerator also matters, and it should be selected at the same level as the rest of the headset. If the cooling unit is much higher or lower, it will look ugly.
It is also worth considering the growth of all households and buying a model so that everyone can reach the top shelf.
Standard fridge, in the presence of which it is convenient for everyone - 1.5 meters. In addition, you should not buy too low a refrigerator, otherwise you will have to constantly bend over, getting into it, but this is not very healthy. However, if you have a very small kitchen, it is a good idea to purchase a small unit about the size of an ordinary stove.
Volume is an important thing when choosing. Here it is important to keep a balance between too clogged and too empty a camera. Consider not only the number of your household, but also how often you need to buy products, as well as their quantity. The average size that fits many is about three hundred liters.
The number of cameras in a particular model depends not only on its volume, but also on a variety of functions. Of course, if you have a small kitchen, you should buy a single-chamber or two-chamber refrigerator, but if there is a little more space, then you can consider other options. The zero camera is very popular in which you can keep all sorts of food for a long time and keep it fresh.
In some models, it has a division into fish, meat and vegetables. A large freezer can be useful if you like to freeze berries and mushrooms for the winter.
Before buying a refrigerator, carefully study its functions and decide for yourself whether you need them or not.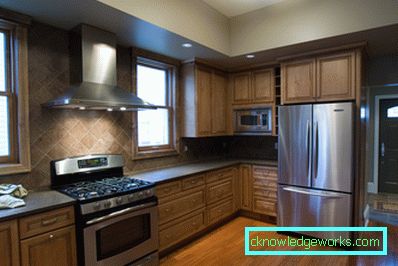 The appearance of a particular model is of great importance. Moreover, now there are refrigerators of different colors and with different coatings. So you can pick up a similar unit for any interior. In addition, you need to make sure that the model does not lose its appearance in a few months.
Especially popular are refrigerators with a glass coating that does not leave fingerprints. Ideal if you have children in the apartment.
The shelves in the main compartment are just as important as the exterior. They must be functional and easy to move, or at least removed. In the presence of a large number of materials for the shelves, it is recommended to opt for those with grills, as they freely allow air to pass through.
Many manufacturers now offer models with antibacterial coating. This is a good way to not only get rid of germs, but also to eliminate odors in the refrigerator.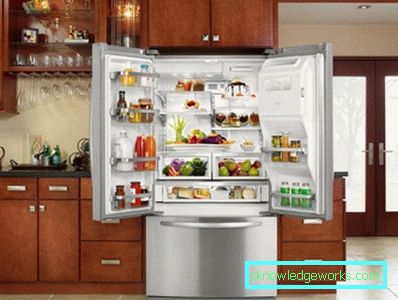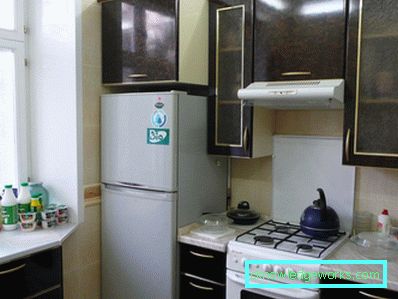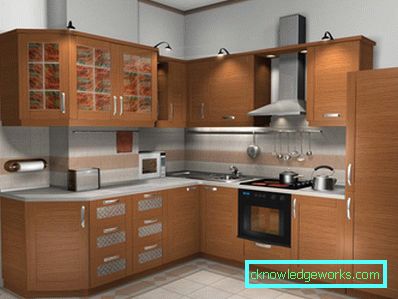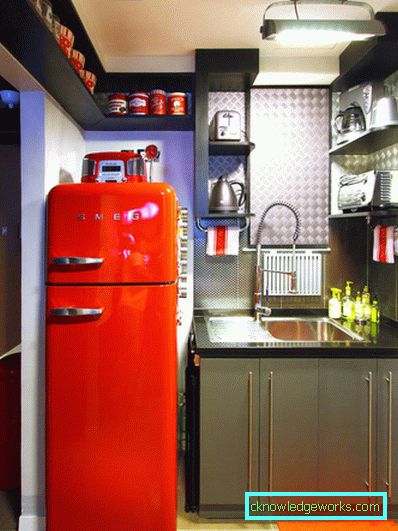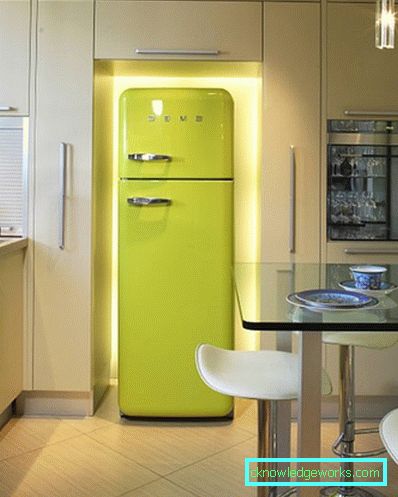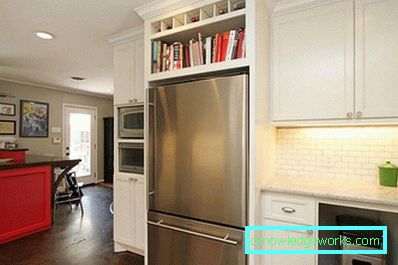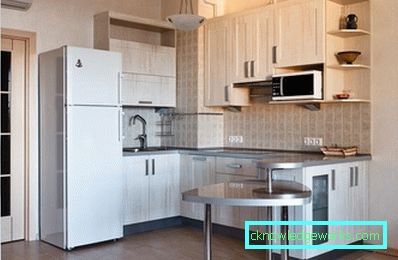 10 photos