Single chamber refrigerator without freezer
Advantages and disadvantages
Optimum model: how to choose
How to care
Bestsellers and Leading Brands
Favorite place for households and guests is, of course, the kitchen. Its aesthetics and functional equipment creates a general mood and a feeling of comfort. Therefore, a certain attention is always paid to kitchen design and household kitchen appliances. This is especially true of refrigeration equipment, which not only contributes to the overall design, but also "responsible" for the freshness and safety of food. At present, single-chamber refrigerators without a freezer are in great demand in the consumer market. In this article we consider the distinctive features of this equipment and the most popular models.
Advantages and disadvantages
Among the refrigeration equipment represented by a wide range on the market, single-chamber refrigerators that do not have a freezer compartment have certain advantages:
Offered as mini-fridges, and high full-size models up to 185 cm tall, which guarantees the usual ease of use;
despite its small size, such refrigerators are equipped with various drawers and shelves for storing a large volume of products (average volume is 250 l);
due to its economy and small size, These models are ideal for cottages, baths, private office, bedrooms, offices (as mini-bars) and hospital wards;
these units fit perfectly into the kitchen with another fridge, if in the house they prefer to have a large number of perishable products;
considered an optimal model of refrigerator for those people, who does not cook at home, i.e. no need for a freezer;
are easily transported;
have almost zero noise;
most models have energy saving class A and A +;
have a fairly low cost compared to other models.
Single-chamber refrigerators without a freezer have certain disadvantages:
fairly limited functionality and the absence of any additional options;
need manual defrost,
due to lack of freezer There may be problems with the storage of "unexpected" frozen foods, but at this time for this purpose, almost all models have a separate box with a particularly low temperature.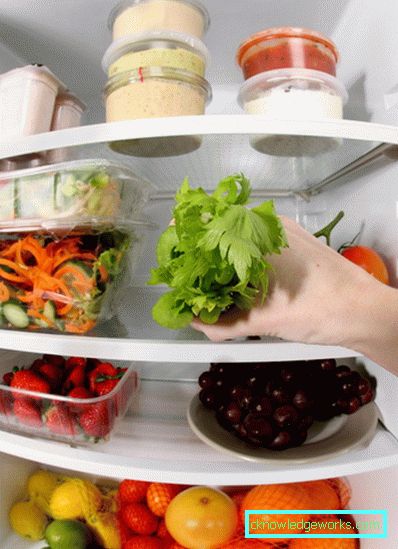 Optimum model: how to choose
When buying any home appliances, it is important to make the right choice, so that later the feeling of regret will not overcome the feeling of joy from the new acquisition. This is especially true of such a device as a refrigerator. Below are general tips on choosing the best model of a refrigerator without a freezer.
Initially, it is necessary to determine the exact future location and the desired amount of refrigeration equipment. Basically, these factors affect the size of the kitchen. When choosing a refrigerator, it is necessary to take into account the presence of the necessary space between the wall and the back panel for adequate ventilation and to extend the life of the unit.
If you buy a built-in refrigerator, then you can productively organize the space under it: put a dishwasher or make a small locker.
Attention should be paid to the type of housing: Steel guarantees durability and reliability. Plastic - strength and lightness, which is important if you plan to periodically transport the refrigerator from place to place.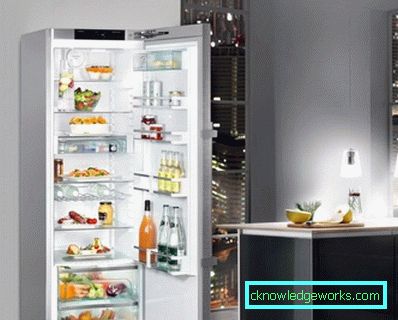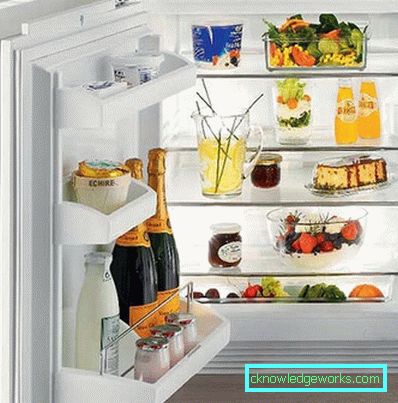 Internal ergonomics should meet the needs of the maximum. Door pockets, adjustable shelves, bottle hanger and extra sections will only improve its efficiency.
Electromechanical control does not depend on voltage drops and is quite simple and convenient.. Refrigerators with touch controls look more stylish. In this question, the model is determined by the general entourage of the kitchen.
Models with power consumption A are slightly cheaper than with class A +, therefore, energy-efficient refrigerators will pay for this criterion for several years.
How to care
Like a fridge freezer, a device without a freezer needs regular maintenance. The following are general tips and recommendations for extending the life of the device.
No need to have a refrigerator near the heating or heating appliances.
After a sudden shutdown of the unit, you must wait a few minutes., and only then turn it on again.
If the model does not provide drip defrosting system, then you should defrost it manually: once every few months.
Outer surfaces required to wipe with a weak solution of soda.
Back surface more convenient to handle with a vacuum cleaner.
Internal walls and shelves rinse with soapy water and rinse with clean water.
Include only after complete drying of the refrigerator.
Vegetable oil stored in the refrigerator the equipment is not worth it, the oil does not need it, and the elasticity of the seal from it is noticeably lost.
Transport the device should in a vertical position or at an angle not greater than 40 °.
Bestsellers and Leading Brands
Having monitored numerous user reviews and a sales rating, one can single out the most popular brands of refrigeration equipment without a freezer:
Hotpoint Ariston;
LG;
"Biryusa";
Siemens;
Bosch;
Beko;
Samsung;
Liebherr;
Smolensk;
Indesit;
Atlant.
Let us consider in more detail some models that have collected a large number of positive feedback from grateful users.
Swiss brand Liebherr presents Ik 3510 - convenient and stylish single-chamber refrigerator without freezer. This model is intended for embedding in a niche or in a furniture set. It has a defrost droplet, an excessively long open door beep, a function "Magiceye"on the screen and a digital display of temperature. The refrigerator compartment has a freshness zone"Biofresh"for long-term storage of perishable products and vegetable origin. With the activation of the regime"Supercool"The temperature is maintained for 12 hours at + 2C. Comfortable ergonomics allow you to store certain products at optimally suitable temperatures on the shelves designed for them, made of tempered glass and plastic.
Electrolux ERN 91400 - A great option for giving or a small kitchen. The model has four glass shelves, a large container, a stand for eggs. The refrigerator is equipped with an automatic defrost and re-hung door. It has an A + power class. This model is very popular among the countries of Europe and the CIS.
AEG SKD71800F0 - embedding model of the German brand, created in factories in Italy. The unit has a system "DynamicAir", which allows you to create the same temperature inside the refrigeration equipment. Due to this, there are no warm zones in the refrigerator, which blocks the appearance of harmful bacteria. energy consumption A and has class A +, which affects the final cost of this single-chamber refrigeration equipment.
Bomann VSE228 E - a small white refrigerator with glass shelves and a defrost drip system. The volume of the refrigerator - 138 liters. Three glass shelves and two plastic containers for vegetables and fruits provide convenience when placing products. The small size and reasonable price make this equipment one of the most popular in the domestic market.
"Smolensk 515-00"perfectly built into a small cabinet or under the table top. In addition to compactness, its advantages include silent operation, ease of maintenance, the ability to change the opening side of the door. Of the minuses, there is insufficient ergonomics (no horizontal grid for storing bottles), energy consumption class - C, manual defrost.
Atlant MX 5810-62 - the refrigerator with a drip defrost system and a volume of 285 liters is a convenient model for offices and private offices. White metal and plastic body looks stylish and fashionable. And the possibility of hanging the door will only simplify the placement of this device in the most optimally suitable place.
Smeg 500R - trendy model with a distinctive red design FIAT 500 and a useful volume of 100l.
Ideal for placement in saunas, nightclubs, entertainment venues.
Electromechanical control and defrost drip system interacting with the magnificent "youth»Appearance and chic determine the cost in the domestic market of more than half a million rubles.
Bosch KSV36VL20 different qualities such as convenience and safety. A stylish silver-colored model with touch controls, LED lighting and comfortable internal ergonomics will only beautify any office space or small kitchen. Dairy products, as well as meat or fish will be stored several times longer thanks to the zone of freshness "VitaFresh". Low noise performance, reliable control and power consumption class A + makes this refrigerator comfortable and popular.
"Biryusa 542"- this domestic manufacturer's refrigeration equipment provides long-term storage of a large volume of various products. The simplicity, quality and budget availability makes this refrigerator a sales leader and has a huge amount of positive feedback from grateful users.