Shelves for railing in the kitchen
The first device for placing objects on the railing, which comes to mind - hooks. Indeed, hooks are present as part of any railing system. They are convenient to have tacks, skimmers, ladles, kitchen scissors and items with a handle that can be hung from the hook. But sometimes the installation of shelves for the railing greatly simplifies the task of placing kitchen utensils.
The range of shelves for railings allows you to place in the open access almost everything - from paper towels to bottles of oil or wine. Before buying shelves, you need to decide: for what purposes they will be installed, what I would like to place on them, what material would be preferable for the style of the kitchen. To make the best choice, we will conduct a brief overview of the railing shelves.
7 photos
Suspended and suspended
Choosing the shelves is primarily necessary depending on whether the horizontal railing system or the vertical system is installed in your kitchen. For horizontal systems, hinged metal shelves are most often offered. They can be installed anywhere on the crossbar after mounting the railing system. Such shelves are characterized by mobility, they can be removed and moved to another place at any time.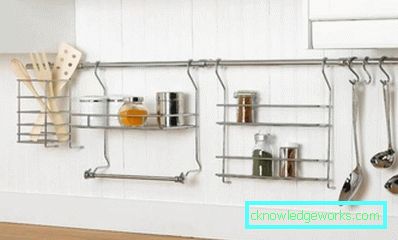 For vertical railing there are suspended shelves of various materials. They can also be mounted after the assembly of the main rod, but for their reliable location a fastening system is necessary. Most often it comes complete with a shelf. To change the height of the suspended structures, you will have to dismantle the shelves from the vertical railing and reinstall them with fasteners.
Materials
Various colors and materials of shelves for railing allow you to support the stylistic decision of any kitchen. Usually on sale you can find:
Metal shelves. The most common option - the shelves of the same material as the crossbar. Stainless steel mesh shelves can be painted in gold, antique, chrome, nickel or cast iron. Their main advantage is high strength and resistance to corrosion and wear. Such shelves will make a harmonious composition together with an installed railing.
Glass shelves. Basically they are designed for storing glasses, mugs and other utensils on vertical rails. The basis of the shelf in this case is extremely durable glass, which is complemented by metal elements that adorn the shelf and increase its strength. Glass shelves in the shape of a bowl can serve as fruit boxes on a vertical rack rail.
Wooden shelves. Particularly good they look in the kitchen in the style of Provence or Country. Unlike metal shelves, wood is usually small. You can place your favorite spices on them, as well as decorative plates or pots with houseplants. Also, these shelves are suitable for decorating the kitchen - they can arrange for souvenirs or plates.
Plastic shelves. They are less common metal, but allow you to add bright spots to the kitchen, as the ability to perform in any color is the main advantage of plastic shelves. This is especially true for high-tech kitchens. White or neutral plastic shelves are also available. As a rule, they are cheaper than analogues from another material.
The form
The shape and size of the shelf for the railing should be selected depending on what is planned to be placed on it. For example, the shelf for vegetable oils in the kitchen can be narrow and deep, and the shelf for the toaster or kettle is square and of such dimensions that they can easily be placed in the shelf above the worktop.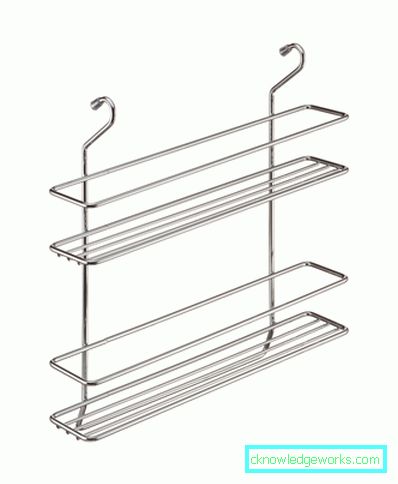 Most often the following forms of shelves for the railing meet:
Rectangular. Depending on the ratio of the length and width of the shelf, you can place anything on it: jars with cereals, detergents, seasonings, mugs, glasses ... You can not limit your imagination and place objects that are not directly related to cooking on a rectangular shelf. For example, photos or other decor to decorate the kitchen.
Corner. Such shelves are appropriate if the kitchen has a corner railing. Most often, it takes up space near the sink, so the corner shelf can be taken under sponges, rags, soap, and also used as a dryer for dishes. An additional advantage of such shelves is that most often they are multi-tier.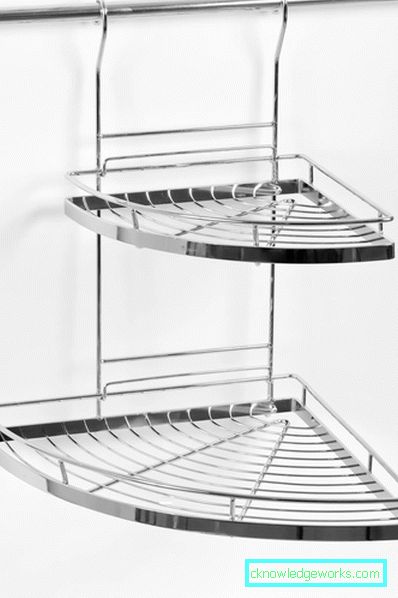 Circular. They are installed only on vertical systems, because for horizontal systems they are cumbersome and less capacious compared to rectangular shelves. Shelves can be with or without bottom, with hooks around the perimeter, in the form of a bowl, carousel, etc. When installing circular shelves, designers recommend placing them in ascending order of diameter from the ceiling to the base of the rail. Thus, the vertical rail system will expand downwards, visually creating a pyramid effect.
Other accessories
In addition to the shelves, there are several other types of accessories for railing:
magnetic board;
paper towel holder;
containers for storing cutlery and kitchen trifles;
cotton or linen bags.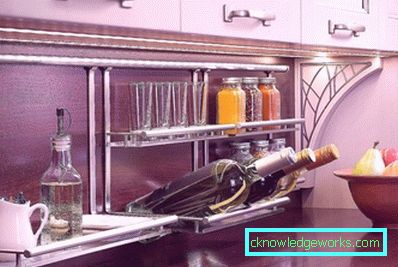 8 photos
Care
Depending on the material of the shelves, their care will be different. Metal and plastic shelves are unpretentious in this regard - they need only occasionally wiped with a rag, and the contaminated places should be cleaned with a dishwasher. Glass shelves must be periodically cleaned from handprints and crumbs - dirt and dust on them is noticed immediately. Choosing eco-friendly materials such as wood and textiles, it should be noted that they absorb kitchen odors and retain a beautiful appearance not as long as metal ones.