Scarlett Mixer
Household appliances greatly facilitate the kitchen work of modern hostesses, for example, a mixer. This device allows in the shortest possible time to beat any liquid products into a lush foam. It is convenient and functional in use. Mixer Scarlett is particularly popular with domestic, and not only housewives.
About brand
Few people know that Scarlett was originally founded as a joint Anglo-Russian venture. But as a result of an incorrect advertising campaign, the idea failed, and today this brand is English.
The factories for the production of household appliances are located in China and are engaged in the production of a wide range of products, in particular, mixers. Thanks to regular marketing research of consumer needs, the company's management manages to produce household appliances that fully meet all customer needs. Despite the Chinese production, absolutely all units are high-quality and most adapted for use by Russian buyers.
The product line of the manufacturer includes several varieties:
ScarlettWhiteEdition. A distinctive feature of the units of this series is their white color.
ScarlettINDIGO consists of premium devices, some of which are classified as semi-professional.
ScarlettSilverLine characterized by the release of home appliances in high-tech style.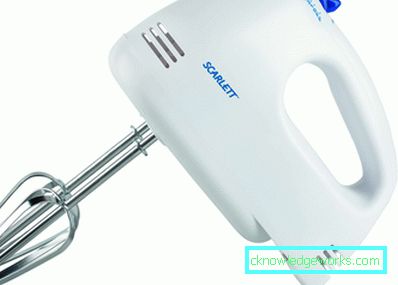 In all these lines, one of the main devices are mixers. And all because of their functionality and reliability.
Description and types
The Scarlett kitchen mixer is not just an easy-to-use kitchen unit. This is a real and indispensable assistant for many years. Its use will make the process of making mousses, cocktails, batter and creams a real pleasure.
A variety of types and models, modern design, simplicity and ease of use all this makes this unit a welcome acquisition for many housewives.
All manufactured by Scarlett mixers are divided into manual and stationary. In the first case, they have a more compact size and lower power. The whipping bowl is not included in their kit, and in the process of work such a mixer is required to be held in the hands. Typically, these units have less power compared to stationary models, fewer speeds and nozzles in the kit, but they often cost an order of magnitude less.
If we talk about stationary mixers from Scarlett, they have quite a lot of power, as a rule, several nozzles are included in the package, they work autonomously, unlike their predecessors, this means that you only need to load products into the jug and turn on the device, it's all will execute independently. Such mixers have several modes of operation, and most models have a turbo mode or even a pulsed cooking mode, which will make it possible to beat the products much faster and more qualitatively.
It is necessary to choose and acquire a specific mixer based not only on the material possibilities, but also on the number of family members, the type of products most often prepared for processing of which this device is purchased.
Do not forget about the volume of the product, the more of them, the more powerful should be the mixer. And in order to make your choice easier, we have prepared a small overview of the Scarlett mixer models of various types.
Model overview
The best and most popular mixers of this manufacturer, we have collected in our list. From it you will learn what characteristics this or that device possesses and for cooking, what kind of dishes and products it fits.
Hand Mixers:
SC-HM40S04 The power of 350 W and the availability of five speeds at once make this device one of the best-selling. The minimalist design, robust housing, smooth gear shifting directly during operation and the presence of 4 additional nozzles allow using this device for kneading even thick dough, as well as beating any liquid products.
SC-HM40S01 the low-power mixer with two types of nozzles and five speeds of work. Ideal for whipping creams and eggs, it can also be used to make dough. It has a turbo mode of operation, which significantly reduces the cooking time.
SC-HM40S07 The mixer has a power of 550 W and four tips on two for creams and dough. A convenient handle that doesn't slip in your hand and a neat switching speed of operation, make use of the instrument simple and convenient.
Stationary mixers are no less in demand than submersible mixers, the following models are most popular today:
SC-048. This is a functional mixer, on a special stand. It has a small capacity and during operation almost no noise. The manufacturer has taken care of two additional nozzles and five speeds, which makes it possible to use this device for various operations.
SC-HM40B01. This model is similar to the previous one, the difference lies in the high power - 450 W and the presence of turbo mode. It is used both for whipping liquid products, and for making all kinds of dough.
One of the most powerful mixers is SC-HM40B02. Its capacity is 500 W, and the volume of the jug is two liters. The number of nozzles and their appearance are similar to previous models, however, this device also has a special compartment for storing nozzles.
As you can see, the specialists of the company made sure that when buying even the simplest hand-held device, the buyer received everything he needed immediately. But the opinion of buyers about this brand as a whole and about the mixers of its production, let's find out together.
Reviews
Most of the reviews about the Scarlett brand are very positive. Most buyers note a wide range, low prices for goods, as well as their very good quality, despite Chinese production.
If we talk directly about the mixers, in general, customers are satisfied with their purchase. Really. The device beats well and quickly liquid products, helps to reduce the cooking time and, when properly used, makes almost no noise during operation and serves faithfully for quite some time. As a minus, some buyers point out the impossibility of mixing thick dough in low-power mixers, despite the fact that the manufacturer includes them in a sales kit.
Household appliances from the Scarlett brand and in particular, mixers, of course, deserve the attention of buyers, and the wide range and flexible pricing policy of the management gives you the opportunity to purchase and try this device in your own kitchen.
You can appreciate all the features of the SCARLETT SC1041 mixer in the following video: