Saturn Mixer
Easy to use
Advantages and disadvantages
Saturn ST-FP1027
New items
Every woman wants to pamper her loved ones with delicious homemade dishes. After all, it is not only tasty, but also useful. Saturn mixer is the perfect indispensable tool in the kitchen.
The Saturn brand has been famous for the remarkable quality of its products for many years. And this product is no exception.
Easy to use
The range of mixers of this company is very large. Each consumer can choose for himself the most convenient model that fits all his requirements.
All Saturn mixers are very simple and convenient to use. It maximally automates any cooking process. Each product has its own, special design, in which such processes as whipping and mixing, pass very quickly, but qualitatively.
Each model has its own power, as well as the number of speeds. This is what makes it possible to completely control the process of cooking your favorite foods.
Saturn household appliances are made exclusively from environmentally friendly, high-quality, durable materials. This, in turn, makes the assembly reliable, absolutely safe to use.
Especially popular now are mixers with a bowl. These are very comfortable devices to use. They can cope with almost any task assigned to them. Stainless steel bowls in such models make it possible to process many more products at a time.
Advantages and disadvantages
Analyzing customer feedback on this product, we can identify categories of positive and negative qualities.
Let's start with the benefits.
The optimum ratio of price and quality.
Mixer power.
The ability to manage speeds.
Sturdy case.
Convenient and compact in storage.
Long time continuous work.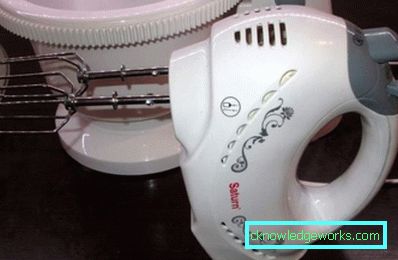 Now list the shortcomings.
Bad whip small amount of products.
Great noise.
Lack of suction cups at the bottom of the device with a bowl.
In fact, this, of course, is not all pros and cons. Since the model range is large, it's almost impossible to list all the qualities, therefore only the main ones are listed here.
Saturn ST-FP1027
This planetary unit copes with all the complex tasks assigned to it. One of its main advantages is a large bowl of 4.2 liters. The power of the mixer is 400 W, which is quite a large indicator among devices of this type. The universal mixing nozzle included in the package can be used in the processing of any products.
Thanks to the planetary movement of the mixer nozzles, products are processed quickly and efficiently.
Is included in the package of the device:
Big bowl.
The Corolla.
Dough hooks.
Nozzle for mixing.
Three modes of speeds of the mixer give the chance to completely control cooking process.
New items
If you want to try something new, we advise you a mixer-saturator.
This is a special apparatus that is used to carbonate liquids. A mixer saturator mixes water with syrup in the required proportions, as well as saturates the liquid with carbon dioxide. This device is used in the production of mineral, carbonated drinks. He works in tandem with a station that delivers CO2. Of course, these devices are quite massive and are capable of processing up to 10,000 liters of liquid per hour.
Detailed information about the mixer can be found in the video: