Saturn Blender
Modern blenders can easily replace a food processor. A variety of manufacturers allows you to choose the device to your taste and according to your budget. Low price does not always guarantee good product quality.
If you decide to purchase a Saturn blender, first understand its purpose and capabilities. The reviews about this brand are the most ambiguous: some standing up applaud them, others - are outraged by the purchase, considering it unsuccessful.
Opportunities
Like all other blenders, Saturn blenders are available in two types:
Submersible. Universal and compact device to which you can choose different types of nozzles: for grinding, grating, shredding and beating. With it, it is easy to prepare or prepare any dish.
Stationary. More bulky device consisting of a motor and a bowl-grinder mounted on it. Its purpose is to whisk and mix fluids. It is less functional, but during the work it is not necessary to hold it in hand.
The main criterion for the purchase of any kitchen appliance is power. In this manufacturer, it ranges from 110 watts to 1100 watts. It depends on the power whether the blender can cope with the tasks.
100 - 300 watts enough to mix liquids.
400 - 500 watts - for grinding not too solid products: vegetables, meat.
0t 600 W - nuts, ice. Other solid foods.
Do not expect a powerful blender to be inexpensive. If his capacity is not too high, then he will not be able to cope with the main daily tasks: cutting, grinding.
Equipment
Its functionality also depends on the model and cost of the blender. So, such accessories as a whisk, a grinder, a shredder, a grater, a mini-mill can be included in the package to more expensive models Saturn. Separately, you can purchase other accessories.
In the cheap category you can buy only the basic package: submersible foot, perhaps a bowl.
Particular attention should be paid not only to the price, but also the material of manufacture of devices.
Plastic will reduce the cost of purchase, but will deprive you of the opportunity to cook hot dishes. Upon contact with hot, it is easily deformed and breaks.
Stainless steel accessories last much longer. In addition, these nozzles can beat and chop hot foods.
Subtleties of work
Blender company Saturn belongs to the budget group of goods. This is a great opportunity to purchase an assistant for a reasonable price. Even the budget unit can properly perform their functions. To do this, before buying and when working directly, consider the following subtleties:
Check if the kitchen assistant has enough power to chop the vegetable. If not, then you should not try to do the impossible.
Hot and liquid mixes start to mix at low speed to avoid splashes and burns. Plastic parts are best not to use for hot cooking, they are deformed.
In low-cost models of equipment simply does not provide overload protection. Therefore, work intermittently so that the equipment does not burn. Load the motor no more than 15 - 20 seconds.
Make it easier for the device to work. The smaller you cut the products, the easier it will be for him to grind them.
Browse popular models
Saturn has a wide range of blenders. You can find both low-cost and low-cost models, as well as more expensive models.
SATURN ST-FP0046 Yellow
A bright and convenient blender will almost immediately catch your attention. Its body is made of durable plastic, which is not afraid of blows. Comfortable shape allows you to firmly hold it in your hands. To control there is only one button. The power of this unit is 200 watts. It is sufficient for mixing liquid products. Knives are made of steel, but it will be difficult to grind hard foods with them. For its price range is a good blender. Additional nozzles are not included in the package.
SATURN ST-FP0048
The power of this device is 400 watts. ITS is enough to cope with more complex tasks than mixing. The device is made of plastic, but the submersible leg is made of stainless steel. This greatly expands the capabilities of the blender. They can cook and mix even hot dishes. The control unit is made by two buttons on the handle. The submersible part is easily removed and cleaned in the dishwasher.
SATURN ST-FP9063
This kitchen assistant hides the power of 800 watts. This allows him to cope with any culinary whim in the shortest possible time. Several speeds allow you to choose the most optimal for the preparation of various dishes. The blender kit includes: chopper bowl, mixing bowl, whisk, shredder, grater and dipstick. All nozzles are made of stainless steel, which only enhances their capabilities. This blender is easy to manage. Thanks to the ergonomic design and reasonableness of the model.
SATURN ST-FP0056
A stylish stationary device can not only decorate, but also make each kitchen more functional. The body is made of metal. Four speed modes are convenient to switch. The control knob is located on the front panel.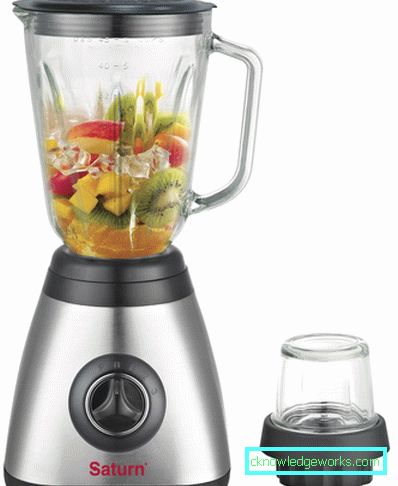 The blender bowl is designed for a volume of 1.5 liters, made of durable glass. It is able to withstand both high and low temperatures. In addition, there are tick marks and a convenient handle on the walls of the bowl. The power of the device is 500 watts. It is sufficient for grinding, mixing and grinding spices and coffee. The kit includes a mini mill with a volume of 150 ml.
7 photos