Color solutions for Samsung refrigerators
Progress does not stand still. Now you can decorate the kitchen with anything, even a refrigerator, as they are available in different colors. Samsung beige fridge will look soft and new in your kitchen. Let's consider what other colors refrigerators this brand produces.
Combination
It is important that the refrigerator you bought fit into the interior.
But it is not at all necessary to buy it in color with all the other appliances in the kitchen. Sometimes the contrast looks fresh and interesting.
If you have not enough space in the kitchen, then the refrigerator can even be built in, but sometimes the detached one causes much more interest and brings something fresh.
If all the furniture and appliances in the kitchen of the same color, it is better to choose a refrigerator in a contrasting color. It also looks good when the room is made in a black and white classic color, and the refrigerator either complements it with one of the shades, or stands out, say, red.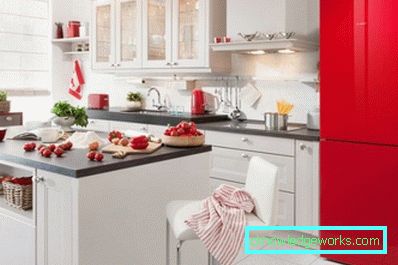 This technique is usually chosen in accordance with the color of the "apron" or the kitchen table and chairs. Another rule - when several parts are made in steel color, it would be good to get a refrigerator in color.
Beige
If you want to create an atmosphere of coziness and warmth in your kitchen, a fridge is beige in color for you. This color will give a feeling of warmth and home, especially in combination with the cold shades in the interior, like blue or green. It will look good in this color in black and white.
Samsung RB-30J3200EF for this purpose fits perfectly. It is light beige, which makes it possible to put it in any kind of kitchen. In addition, it is large and roomy, and is also able to defrost on its own. The freezer is downstairs.
Black glass
A black refrigerator will suit any modern kitchen. And black technology always looks stylish. The only thing that is not worth making the whole kitchen black, because then it will not look very interesting. Instead, add a beige or white color, but do not forget to "support" your newly purchased appliance with a black tint, by embodying it in worktops, chairs or household appliances.
Samsung RL57TTE2C is ideal for any modern kitchen. It is made of tempered glass, resistant to any temperature changes, has two cameras and electronic control. In addition, it has a stylish external display and a freezer compartment that defrosts itself.
Mirror
This fridge is good for expanding the space, but not only. It can be chosen for any interior, because glass has no color as such and reflects what is around. In addition, this glass giant will look stylish and beautiful anywhere.
No need to think that if the refrigerator has glass doors, then it is not too strong and dangerous to others. As a rule, the glass in this technique is very strong, impact-resistant and heat-resistant. Let's see what Samsung offers us.
The Samsung RL57TTE2A model has tempered glass not only on the case, but also the shelves are made of it. But you need to keep in mind that the refrigerator is a two-door, and therefore large and should be placed in the spacious kitchen, trying to make it so that it does not seem bulky.
White
A refrigerator of this color is a classic and there is nothing wrong with it. Such equipment will fit into the light kitchen at once, and the dark room will lighten, give it more space. The manufacturer Samsung has a wide variety of white refrigerators, let's look at the two best.
Samsung RS57K4000WW / WT, undoubtedly, will be useful only to those who have a big kitchen and a big family. It is two-door and very roomy, with electronic tuning on the external screen.
The second model is the Samsung RB-37 J5450WW. It is less spacious and is suitable for a small kitchen and a small number of people. The freezer is at the bottom, and the control is also through the display on the case.
Silvery
The steel color technique adds style and restraint to the room. If your kitchen is decorated in a classic style and you have silver details in the interior, then you can safely put such a fridge there. The only thing that should be taken into account is that the gray color should be combined with the fact that it refreshes the room, otherwise it will look dull. For example, white household appliances can help. Or colored chairs.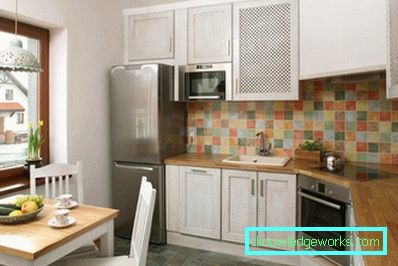 The only minus of the refrigerator of this color is its pollution. After all, we constantly touch such a technique with our hands, and fingerprints remain on the surface. But they are easy to wipe with a simple soft cloth.
Samsung has just two suitable refrigerators to choose from.
The first - Samsung RB-30J3200SS, small, fairly narrow, but tall. Suitable for small families and small rooms, as it can be put in a corner where it will not take up much space. It has good modern lighting, electronic control and a spacious freezer.
The second option, like the previous one, is a two-door large Samsung RS-57 K4000SA refrigerator with independent defrosting and large capacity. In a large kitchen, it is not recommended to put it in a corner, since it looks cumbersome there, but instead it is better to place it by the door or in the center.
"Marble"
These refrigerators appeared not so long ago, but immediately gained popularity. "Marble" color - it is light, almost white with a dull beige tint and divorces throughout the body. It looks beautiful and stylish. Not only will this color suit any room, it will also stand out there, making the kitchen brighter and more interesting.
Samsung RL 52 VEBVB will gladly give you this opportunity. This is a medium sized electronically controlled refrigerator with a roomy freezer that can defrost on its own. It also saves electricity. Many users who decided to purchase this particular model are very satisfied and do not regret it at all.