Russian-made juicers
The Russian-made juicer is often not inferior to Western counterparts. But her price is usually lower. And manufacturers usually take into account not only how well and carefully the spin is, but also the peculiarities of use in our country, such as the amount of work done, the quality of supply and power of energy and the most often pressed products.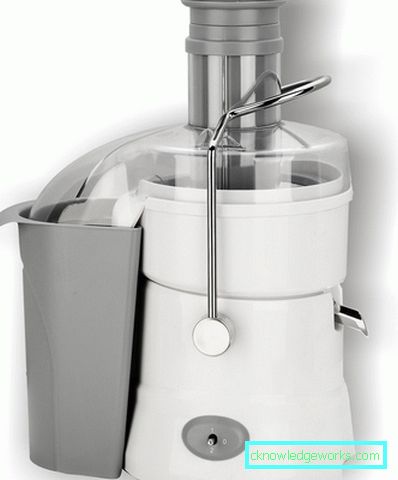 "Country Suite"
Agree, if you collect a juicer every morning, squeeze juice out of it, wash and clean it will get pretty pretty soon. But if you leave the car in the kitchen, then it should not be bulky, comfortable, and at least a little fit into the interior. With the appearance of the domestic juicer problems at all - some models and I want to keep somewhere away, they are too homely. In this, of course, Russian models are inferior to Western ones. But we also found a car that looks good and small and squeezes the juice.
"Dacha Lux" favorably differs from its "dacha" compatriots in appearance. If all the other models do not look impressive, then here it is just that much wins on their background. The idea of ​​manufacturers was, obviously, to make a convenient, compact machine that would have looked like a western design. With a height of thirty centimeters and rubber suction cups holding it in place.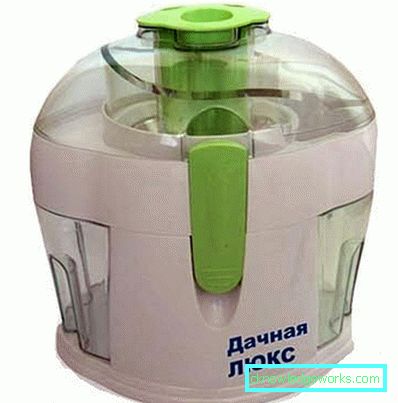 Also, one of the advantages of this model in two separate containers - one for the finished juice, the second for the cake. And there is a separate hole where you can remove the cord with the plug. Using this 260 watt juicer is also very convenient. For example, about two hundred milliliters of unclarified juice are easily obtained from two red apples. Since the country of production is Russia, in the box with this model you will find instructions in Russian. It details what products you can squeeze the juice, how to disassemble and wash the car.
There is in this wonderful juicer and a minus - you can squeeze only one glass of juice at a time. So if you are a lover of blanks, then this type of machine will not work for you. But if you just love to enjoy a glass of juice in the morning, then choose it. Price "Dacha Suite" in the region of a thousand rubles.
Zhuravinka
If you still have a dacha and you are constantly making blanks, then the powerful Zhuravink model is for you. In addition to the obvious application, that is, squeezing the juice, she chops vegetables and fruits, which frees hands and makes preparations much more convenient. The performance of Zhuravinki is mad - it can produce about four hundred grams of juice per minute, and its internal system is made so that it can work for an hour without stopping.
This machine, about twenty-five centimeters high and weighing up to four and a half kilograms, has additional containers for juice of different sizes and replaceable graters, which make the model almost like a food processor. The processing speed can save not only time, but also energy.
Of the minuses - the car is quite cumbersome, does not fit in any kitchen, and not everyone will want to keep it in sight all the time. Because of its shape and size, it is not so easy to wash. But it works properly and it is very easy to use. Pay for it will have about 1600 rubles.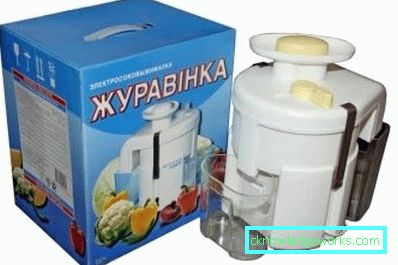 Rodnichok
The Rodnichok juicer is even more productive. Although outwardly he is cumbersome and clumsy, and weighs more than six kilograms, this does not affect his performance at all. For an hour, this model is able to squeeze out fifty kilograms of vegetables and fruits. Unfortunately, the functions for pressing the pulp of the machine are only manual. A cup for juice is also included in the kit, but if it is not enough, you can always substitute a regular saucepan or bowl, because Rodnichka's drain is high just for such purposes.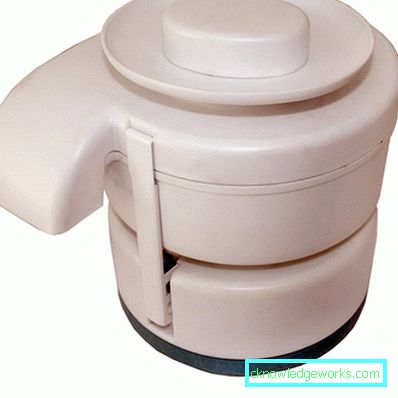 This machine can be easily disassembled and cleaned. And the look of him, though harsh, but productive. However, with such a unit you will not drink juice in the morning - it is too noisy and takes up a lot of space, and collecting it every day is a very laborious task. Such a machine is better to remove sighting on the workpiece. It costs a little more than eight hundred rubles.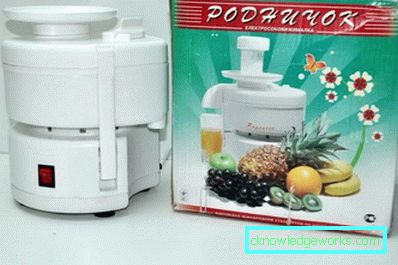 Ladomir
But Ladomir is a more modern version. Although the design of it is also not brilliant, but it looks not so bad anymore. In addition, it is not so bulky and can fit into your kitchen. It is made of stainless steel, strong glass and durable plastic. The quality of the parts makes the juice from this machine environmentally friendly and at times more useful.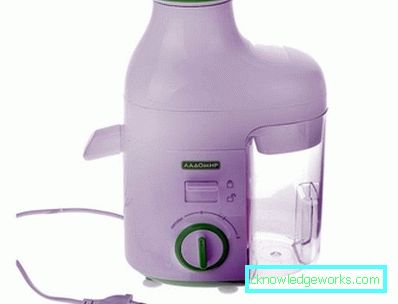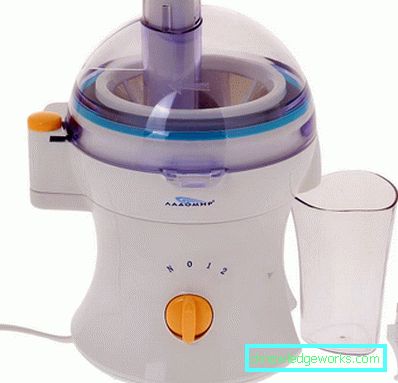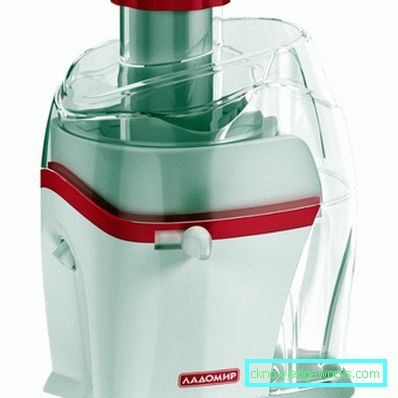 Ladomir has the property of separating the foam from the juice and independently squeezes and discards the cake. It has protection against accidental activation and the drop-stop function, which does not allow the juice to spill. With this model, you can safely make juices at home at least every morning - the juicer is almost silent and works quickly. Also, due to its size, it is not necessary to assemble and disassemble it every time.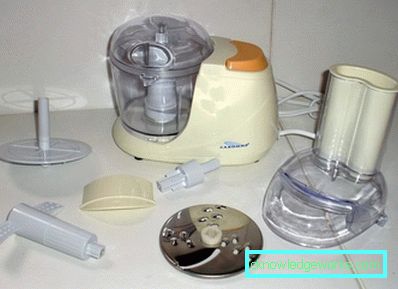 Neptune
Another good juicer for blanks. Here, manufacturers are more concerned that in this machine it is convenient to squeeze juice from apples. Apparently, they adapt to our reality.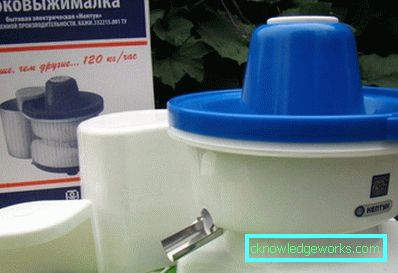 Squeezing juice from apples is really possible. That's just it turns out clearly from durum, while soft ones turn into mashed potatoes. However, if you need a juicer for mashed potatoes, then you found it. The second disadvantage of this machine is that it is not too hard squeezing.
At the same time she squeezes out about sixty liters per hour, weighs eight kilograms and costs around four thousand rubles.
Reviews
Buyers are very different about domestic juicers. Someone is completely satisfied with "Dachnaya" and is happy to drink juice every morning, and she is not satisfied with someone with the design and the fact that it is impossible to make juice at once for the whole family.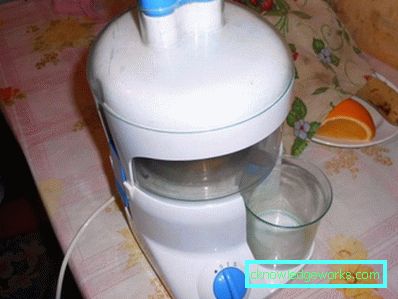 "Neptune" is not very happy with those who expected to use it in the blanks. Too much pulp remains and badly squeezes out, which actually results in the loss of a valuable product. But there are people who celebrate his quiet work and delicious juice.
"Ladomir" and "Spring" did not receive negative feedback. Good at work, especially for blanks, work quickly and productively. And the assembly and disassembly for many no problem.