Small round tables are always associated with comfort and a romantic atmosphere.
But a large round table will add to the design of the room notes of solemnity and elegance.
Therefore, choosing a round table in the kitchen you first create an atmosphere of home comfort.
But then many questions arise: where to put it? How to use textiles for decoration?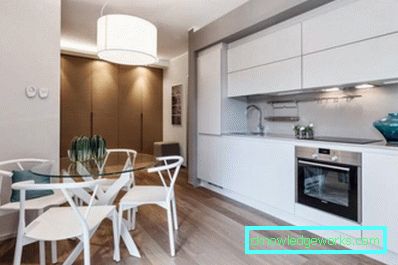 What are the pros and cons of this form of countertops? Answers to all these questions can be found in this article.
What are the advantages of a round table?
Firstly, it is a great solution for families with small children. This is explained by the fact that such a table does not have sharp corners, so the possibility of injury is reduced to zero.
Secondly, a round table in a small kitchen will not take up much space, thus it will be very convenient.
Thirdly, many more people can be seated at a table with a round tabletop. In addition, it is much more comfortable to sit behind it, since there are no corners and the legs do not interfere with sitting normally.
Fourth, a round table makes the interior softer and more romantic.
Despite all the advantages, round tables have their drawbacks, which you should be aware of in order to fit it harmoniously into your interior.
The main disadvantages include: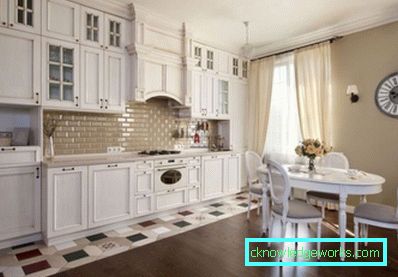 A round table in the kitchen on one leg is not as stable as the usual one on four supports.
Therefore, before buying a table, you should ask how stable your chosen table is, this is especially true for a family where there are children who can easily and easily throw it. Note! Art Deco Kitchen: 77 Photos of the Best Interior Design Ideas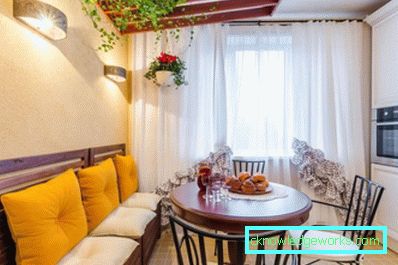 A rectangular table, unlike a round table, will help save space, especially if it is placed in a corner.
If the table is too large, it will be difficult to reach the middle and take the whole dish. However, this problem is solved with the help of a special rotating circle in the middle.
What is the optimal size of a round table?
For two, a table with a circle of 60 cm is enough. But if the size of the kitchen allows you to put a bigger table, then it is better to use this opportunity.
An example would be a round table on a kitchen 80 cm in diameter. In addition, in order to save space, you can put a sliding round table in the kitchen, which allows you to vary the size depending on the need.
But tables more than 180 cm in diameter are extremely uncomfortable and impractical. This is explained by the fact that it will be very difficult to reach common dishes, and the distance between those sitting will be very large.
Therefore, if you need a large table, it is better to prefer a standard rectangular shape.
How to arrange a round table?
The best option is in the center. In addition, above the table you can hang lamps, thereby creating additional lighting.
Such a table is never placed in a corner, since it is impractical. Although, if there is a strong need, you can put a couch and put a table in front of it.
Tips for choosing textiles for the table
Tablecloth can be as square as well as round. And for everyday design, you can use the tableware.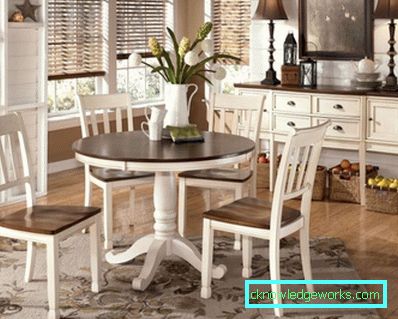 In addition, the round glass table in the kitchen can not cover, but simply use special coasters for plates. But if you want to put a round white table in the kitchen, then it will go well to take care, as the grease stains will be visible on such a table.
As a result, it should be noted that the round table is an excellent solution, as well as for a small and cozy kitchen, and for a large and spacious one.
If you know where to put the table, how to drape it, then you can see photos of the round table for the kitchen in different interiors.
Photo of the round table in the kitchen